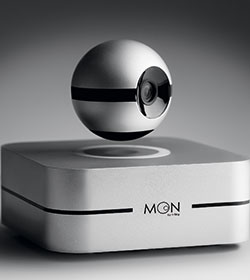 The Moon at home
February 2018, This Week's Editor's Pick, Integrated Solutions, IT infrastructure, Products
Technology start-up, 1-Ring, started a crowdfunding campaign for the Moon, the world's first all-in-one smart home hub with levitating 360-degree camera. The campaign has already passed 300% of its funding goal.
Packed with smart home functionality, the sophisticated hub reveals itself as a full-fledged home automation solution to monitor and control your home and office environments.
The Moon features patented 360° stabilised levitation technology, allowing the camera to rotate freely at the swipe of your fingertip. Including everything you would expect from a modern home security camera (full HD with night vision, motion detection, smart notifications etc.) the Moon features three high-precision microphones to accurately identify the source and direction of incoming sound and rotate the camera accordingly.

Equally impressive is the integration of a programmable IR Blaster and all major home automation standards, ZigBee, Z-Wave and Bluetooth Smart. This turns the Moon by 1-Ring into a powerful, cross-standard smart home hub that integrates seamlessly with Philips Hue, Amazon Alexa, Google Assistant, Apple Homekit and other services in the Internet-of-Things as well as legacy devices such as TV or stereo systems. The integrated temperature, humidity, CO2 and light sensors further enable the camera to monitor the environment and automatically react by turning on the air conditioner or managing the smart thermostat.
"The idea to create the Moon came from a completely trivial problem." said Sergo Oganov, co-founder of Moon, "I was looking for a comprehensive solution to automate and secure my newly renovated house and at the same time not to smash it up. Though the market offers a wide range of gadgets they were offering just a partial solution to my problem. And that was the landmark point where the creation of the versatile and all-in-one solution, came to my mind. Two and a half years of hard work and dedication resulted in the first smart home device – combining the fullest list of smart hub features with wide bouquet of sensors and a levitating 360° security camera within a revolutionary design to become a real jewel for your home interior."
All smart hub features are easily accessible through the Moon Commander, an intuitive mobile application available for Android, IOS and watch OS platforms.
Find out more at www.1-ring.net