Security tech trends for 2018
February 2018, CCTV, Surveillance & Remote Monitoring, Integrated Solutions
As a result of the largest data breach in South Africa's history, as well as a record number of armed robberies against businesses recorded in 2017, security is a New Year's resolution for most local businesses.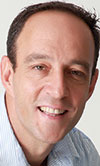 Roy Alves.
Consequently, it is imperative that South African companies stay up to date with the latest security trends in technology, which will enable them to opt for the most effective solutions that protect their property, personnel, customers and assets.
Cybercriminals are ever more sophisticated and well-resourced, and tirelessly look to exploit vulnerabilities in technology across all industry sectors.
Moreover, tech trends such as mobility, BYOD (bring your own device), and the Internet of Things is culminating in many more devices needing to be connected to the network.
This equates to a plethora of new access points that cybercriminals can exploit. There are a number of Axis Communication blogs on cybersecurity (https://www.axis.com/blog/secure-insights/category/cyber-security/) that highlight the issues along with the ways in which businesses can defend themselves against these kinds of threats. Sadly, however, cybersecurity is a continual issue, and unlikely to go away any time soon.
The re-birth of video analytics
For the longest time, CCTV has been purely focused on security-driven applications. However, in the last few years – especially during 2017 – security cameras have been doing more thanks to the rise in sophisticated video analytics solutions.
Today, the analysis of visual data from modern network cameras supports a wide range of functions. Whether this analysis emanates in retail for store optimisation, an enhancement of the customer experience, as a drive towards more sustainable business, or even protecting endangered rhinos in South Africa, the greater ability to analyse the feed of data from network cameras will affect all sectors in the future.
A move towards solutions, not product
The growth in analytics – and the added insight and value this delivers to organisations in specific sectors – is closely related to other trends, namely a move towards integrated solutions and away from specific products.
The retail sector is a great example, where we now talk to customers about solutions for store optimisation (including specific elements like queue management) and loss prevention rather than specific surveillance products in isolation.
It's something we're now seeing across all sectors ranging from education through to banking. There's a desire to solve key business issues and enhance operations, rather than buy a selection of hardware and, in doing so, improving the system reliability, performance and most importantly, getting more return on investment from your surveillance security investments.
More manufacturers are moving towards providing solutions which entail more than just a camera. With more reliable in-house VMS systems, audio speakers and other supporting products, camera manufacturers are offering a more comprehensive surveillance solution which speaks to the needs of the customer.
The potential for deep learning
One trend that shows enormous potential is the opportunity for deep learning. Machine learning and artificial intelligence are making big strides in technology, particularly in mobile where device makers such as Huawei as well as tech companies such as Microsoft and Google are churning out solutions that feature such technology.
Within the video surveillance landscape, deep learning and predictive analytics has an enormous potential for enhancing security through predicting events based on behaviour such as terrorist attacks. This will allow for intervention before an incident takes place.
Some of Axis Communications' partners are already doing very interesting work in this area. For instance, facial recognition software solutions provider Herta is tapping into the power of deep learning in order to dramatically improve the accuracy of its facial recognition algorithms, making these more robust and accurate within the most challenging and complex user scenarios. There'll be more to come in 2018 no doubt, but it's certainly an area that needs further time to reach its full potential.
For more information contact Axis Communications, +27 (0)11 548 6780, sasha.bonheim@axis.com, www.axis.com