printer friendly version
Cyber protection for SMEs
February 2018 News, Cyber Security
J2 Software has launched a packed solution aimed at helping SMEs get a handle on cyber threats. Cyber attacks on an SME can have a far harsher long-term effect than larger businesses. A larger entity will likely have established facilities in place to recover in the event of a cyber-attack. When a SME is hit; it may take days or weeks to fully recover – that is if they can recover at all.
According to the South African Banking Risk Information Centre (SABRIC)[1], SA ranks third highest in the world for cyber attacks. Whilst there do not appear to be stats on the local SME sector, internationally a report by Deloittes[2] reveals that in Holland, cybercrime costs the Dutch SME sector 1 billion Euro each year. At today's exchange rate, that equates to R16704 250 000,00. The figure for the Dutch economy as a whole is put at around €10 billion, or 1,3% of that country's GDP.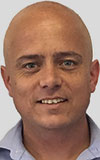 John McLoughlin.
J2 Software MD, John McLoughlin, says that not only are these figures staggering but that the local SME sector is not immune to these international patterns. "In South Africa, the security industry in general has left this sector heavily under serviced and thus reduced to implementing in-house initiatives to fight this very real threat."
He highlights the fact that SMEs in South Africa are increasingly becoming a target for cyber criminals. "An article published earlier this year in SME South Africa[3] cited the lack of resources in the sector as one of contributing factors with a director of the Centre for Cyber Security at the University of Johannesburg urging SMEs to seek consultants to assist with the issue. The sector is reputed to be particularly susceptible to theft of sensitive information with instances of companies being forced to ransom back their data.
"J2 Software's solution set will enable SMEs to get world-class security capabilities without the need for an increased head count to focus purely on these threats. We have been providing information security services and solutions since 2006 and in that time have gained vast experience working with businesses of all sizes. SMEs now have the ability through this offering, to be protected online, ensure data is accessible and secure while allowing their users the freedom to do their work in a connected world."
McLoughlin explains that the new release has been developed by J2 Software's team of experts to provide not only a set of solutions but also a monitoring service that instantly flags threats for customers. "This packed solution set has application in all businesses in the SME arena regardless of size or number of users i.e. it is a good fit for 5, 10 or 50 user businesses," he says.
J2 Software's SME focused security service will provide protection for all users while they are online. This covers the most pressing security needs for the SME, including web security, endpoint protection and a wide range of add-on options that allows customers of all sizes to focus on their business while the J2 Software team work on their information security.
[1] http://businessmediamags.co.za/sa-ranks-worlds-third-highest-cybercrime-victims-2/
[2] https://www2.deloitte.com/nl/nl/pages/over-deloitte/articles/cyber-crime-costs-dutch-sme-sector-1-billion-each-year.html
[3] http://www.smesouthafrica.co.za/17273/SMEs-vulnerable-to-cyber-attacks/
For more information contact J2 Software, +27 (0)87 238 1870, [email protected], www.j2.co.za
Further reading:
Paxton Promotes Blair Bowen to Divisional Director of Manufacturing
Paxton News
International security technology manufacture, Paxton, announce it has promoted Blair Bowen to Divisional Director of Manufacturing to oversee the expansion of its manufacturing operations in the coming years.
Read more...
---
Spend on cloud to accelerate across Africa in 2023
News
More than two-thirds of companies using cloud computing across major African markets plan to increase their spending on cloud services in 2023.
Read more...
---
ChatGPT's impacts will be social, not technical
News
ChatGPT is truly a remarkable achievement, an artificial intelligence (AI) that you can have a conversation with and ask to do everything from writing essays to coding computer programs.
Read more...
---
Artificial intelligence in Africa: levelling the narrative
News
While AI can benefit multiple industries, in Africa the key sectors that stand to gain are financial services (specifically fintech) and agriculture.
Read more...
---
Improving data security for a hybrid society
News
Researchers from Tokyo University of Science develop a method that can perform computations with encrypted data faster and at a lower cost than conventional methods, while also improving security.
Read more...
---
Cybersecurity in 2023: The latest trends and developments
News
In 2023, experts predict that several trends will shape the cybersecurity landscape, including the growing use of artificial intelligence (AI), the increasing focus on the Internet of Things (IoT), and the rise of quantum computing.
Read more...
---
SAN market set for growth
Technews Publishing News IT infrastructure
Storage-area network (SAN) market to hit US$ 26,86 billion in revenue by the end of 2029 due to factors like widespread adoption of Hybrid SAN-NAS solutions.
Read more...
---
Enterprise threats in 2023
News Cyber Security
Large businesses and government structures should prepare for cybercriminals using media to blackmail organisations, reporting alleged data leaks, and purchasing initial access to previously compromised companies on the darknet.
Read more...
---
Trends in the proptech industry for 2023
News
By mixing real estate with technology to optimise industries, create new ones, and generate efficiencies or capabilities that improve revenue generation, something as fundamental as the concept of parking has been turned on its head.
Read more...
---
CA Southern Africa unmasks container security
Technews Publishing IT infrastructure Cyber Security
Adoption of software containers has risen dramatically as more organisations realise the benefits of this virtualised technology.
Read more...
---