printer friendly version
Ransomware defined 2017
November 2017 Editor's Choice, Cyber Security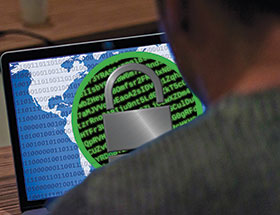 Sophos has released its SophosLabs 2018 Malware Forecast, a report that recaps ransomware and other cybersecurity trends based on data collected from Sophos customer computers worldwide during 1 April to 3 October 2017. One key finding shows that while ransomware predominately attacked Windows systems in the last six months, Android, Linux and MacOS platforms were not immune.
"Ransomware has become platform-agnostic. Ransomware mostly targets Windows computers, but this year, SophosLabs saw an increased amount of crypto-attacks on different devices and operating systems used by our customers worldwide," said Dorka Palotay, SophosLabs security researcher.
The report also tracks ransomware growth patterns, indicating that WannaCry, unleashed in May 2017, was the number one ransomware intercepted from customer computers, dethroning long-time ransomware leader Cerber, which first appeared in early 2016. WannaCry accounted for 45.3 percent of all ransomware tracked through SophosLabs with Cerber accounting for 44.2 percent.
"For the first time we saw ransomware with worm-like characteristics, which contributed to the rapid expansion of WannaCry. This ransomware took advantage of a known Windows vulnerability to infect and spread to computers, making it hard to control," said Palotay. "Even though our customers are protected against it and WannaCry has tapered off, we still see the threat because of its inherent nature to keep scanning and attacking computers. We're expecting cyber criminals to build upon this ability to replicate seen in WannaCry and NotPetya, and this is already evident with Bad Rabbit ransomware, which shows many similarities to NotPetya."
The SophosLabs 2018 Malware Forecast reports on the acute rise and fall of NotPetya, ransomware that wreaked havoc in June 2017. NotPetya was initially distributed through a Ukranian accounting software package, limiting its geographic impact. It was able to spread via the EternalBlue exploit, just like WannaCry, but because WannaCry had already infected most exposed machines there were few left unpatched and vulnerable. The motive behind NotPetya is still unclear because there were many missteps, cracks and faults with this attack. For instance, the email account that victims needed to contact attackers didn't work and victims could not decrypt and recover their data.
"NotPetya spiked fast and furiously, and did hurt businesses because it permanently destroyed data on the computers it hit. Luckily, NotPetya stopped almost as fast as it started," said Palotay. "We suspect the cyber criminals were experimenting or their goal was not ransomware, but something more destructive like a data wiper. Regardless of intention, Sophos strongly advises against paying for ransomware and recommends best practices instead, including backing up data and keeping patches up to date."
Cerber, sold as a ransomware kit on the Dark Web, remains a dangerous threat. The creators of Cerber continuously update the code and they charge a percentage of the ransom that the "middle-men" attackers receive from victims. Regular new features make Cerber not only an effective attack tool, but perennially available to cyber criminals. "This Dark Web business model is unfortunately working and similar to a legitimate company is likely funding the ongoing development of Cerber. We can assume the profits are motivating the authors to maintain the code," said Palotay.
Android ransomware is also attracting cyber criminals. According to SophosLabs analysis, the number of attacks on Sophos customers using Android devices increased almost every month in 2017.
"In September alone, 30.4 percent of malicious Android malware processed by SophosLabs was ransomware. We're expecting this to jump to approximately 45 percent in October," said Rowland Yu, a SophosLabs security researcher. "One reason we believe ransomware on Android is taking off is because it's an easy way for cyber criminals to make money instead of stealing contacts and SMS, popping ups ads or bank phishing which requires sophisticated hacking techniques. It's important to note that Android ransomware is mainly discovered in non-Google Play markets – another reason for users to be very cautious about where and what kinds of apps they download."
The SophosLabs report further indicates two types of Android attack methods emerged: locking the phone without encrypting data, and locking the phone while encrypting the data. Most ransomware on Android doesn't encrypt user data, but the sheer act of locking a screen in exchange for money is enough to cause people grief, especially considering how many times in a single day information is accessed on a personal device. "Sophos recommends backing up phones on a regular schedule, similar to a computer, to preserve data and avoid paying ransom just to regain access. We expect ransomware for Android to continue to increase and dominate as the leading type of malware on this mobile platform in the coming year," said Yu.
For access to the full report, go to https://www.sophos.com/en-us/en-us/medialibrary/PDFs/technical-papers/malware-forecast-2018.pdf?la=en (short URL: www.securitysa.com/*so1).
Further reading:
The same security assessment for different reasons
Issue 7 2020, Alwinco , Editor's Choice
Like everything else in life, a security risk assessment also has two sides: one is the proactive approach, and the other is the approach taken 'after the fact'.
Read more...
---
Risk intelligence the key to a sustainable future
Issue 7 2020 , Editor's Choice
Only by building risk intelligent organisations will leaders be able to overcome six distinct global threats identified by the Institute of Risk Management South Africa (IRMSA).
Read more...
---
Profile D for access control peripherals
Issue 7 2020 , Editor's Choice
Profile D provides interoperability for devices such as locks, credential/biometric readers, PIN pads, LPR cameras, door phones, sensors and displays.
Read more...
---
Security investments and culture
Issue 7 2020 , Editor's Choice
Organisations must embed security into the culture of the company and approach security investments with this culture in mind.
Read more...
---
Elastic storage pricing
Issue 7 2020 , Editor's Choice
With elastic pricing, users can switch from one storage model to another without having to pay a premium or a penalty, and without having to physically move any data.
Read more...
---
Use technology as a differentiator
Issue 7 2020 , Editor's Choice
Juni Yan, director of Transport, Logistics and Automotive at BT, shares her insights on how logistics companies can leverage digital transformation to become a real market differentiator – no matter the state of the pandemic.
Read more...
---
Management of PPE allocation made simple
Issue 7 2020, Powell Tronics, Technews Publishing , Editor's Choice
Of all the roadblocks and challenges COVID-19 has introduced us to over the past few months, one of the tasks organisations have to manage is the issuing of PPE to staff.
Read more...
---
Robots in warehousing and freight, a security perspective
Issue 7 2020, FSK Electronics , Editor's Choice
The logistics industry needs support from technology to meet its ongoing demands and ongoing security concerns.
Read more...
---
The new training normal
Issue 7 2020, Leaderware , Editor's Choice
Insights from running my first CCTV Surveillance Skills and Body Language and Advanced courses at physical training venues since COVID-19 started.
Read more...
---
An exciting journey in security
Issue 7 2020, Technews Publishing, BTC Training Africa , Editor's Choice
Errol Peace describes his 40-plus year career in the security industry where he was and is a great proponent of training as an "exceptionally exciting journey".
Read more...
---