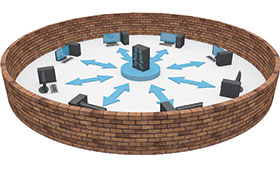 Sophos XG Firewall
November 2017, Cyber Security, Products
Sophos has announced the latest version of its next-generation Sophos XG Firewall that delivers a breakthrough in network traffic visibility. Using Synchronised Security to obtain information from the endpoint, XG Firewall can identify, classify and allow the control of all previously unknown applications active on the network, such as those which don't have signatures or are using generic HTTP or HTTPS connections.
Synchronised app control can reduce the security risks associated with unidentified traffic by allowing administrators to see exactly what is on their network.
Synchronised app control will automatically associate discovered applications with appropriate categories where possible and adminsistrators can assign unknown apps to categories that will block or prioritise them as desired. Interactive application reporting provides deep insight into daily traffic activity.
"In a recent study, IT professionals admitted that about 60% of network traffic is unknown, and the security risks associated with this tops their list of concerns," commented Dan Schiappa, senior vice president and general manager of enduser and network security groups at Sophos. "Sophos can identify this traffic because the endpoint knows exactly what applications are running and it can share this data with the firewall through the Sophos Security Heartbeat."
Sophos XG Firewall is available for on-premise and cloud deployment, on all the major virtualisation platforms as well as through the Microsoft Azure marketplace. Both Sophos Endpoint Protection and the next-generation anti-ransomware solution Intercept X will provide the XG Firewall with the Synchronised Security data required for this new level of traffic identification.
In addition, Sophos has introduced new XG Series hardware appliances that provide a modular system for connectivity with a wide variety of integrated connectivity and FleXi Port modules. The addition of two fail-safe bypass port pairs on-board every 1U appliance and an optional bypass FleXi Port module for all 1U and 2U XG Series models, plus optional Power over Ethernet (PoE) modules make it easy to enable Synchronised Security in any environment.