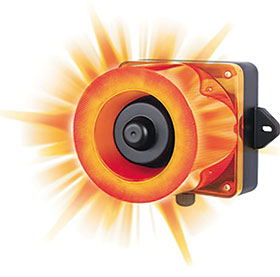 Alarm signal innovation
November 2017, Perimeter Security, Alarms & Intruder Detection, Products
The QWCD series LED strobe signal light and electronic siren combination is set to make an impact in the market place as a 'sound with sight' alarm.
"This is a new concept where a traditional electronic siren is now available with a flashing enclosure. The siren cover lights up like a light globe by using ultra bright LED lights" says Don Smith, technical director of Mimic Components. Not only is it affordable, the many features available on the QWCD series are very useful.
"For example, the MP3/SD card option allows you to create, record and play personalised instructions such evacuation plans or assembly points during an emergency. These messages not only act as powerful instructions during a time of crisis but can also install a sense of calm to workers who could otherwise be panic ridden."
In operations where noise is an everyday factor and ear-plugs worn to deafen sound, the flashing light is a visual warning solution. The QWCD horn covers are made with a polycarbonate (PC) material, making it highly durable and weather resistant. They are ideal for offshore rigs where machines and waves compete to be heard, and can be used in arctic conditions where temperatures reach -50°C.
The QWCD series is available as emergency vehicle light bars and aviation obstruction Lights, in colours red, yellow, green or blue.
For more information contact Mimic Components, +27 (0)11 689 5700, sales@mimic.co.za