printer friendly version
New Fire Orbs in South Africa
November 2017 Fire & Safety, Products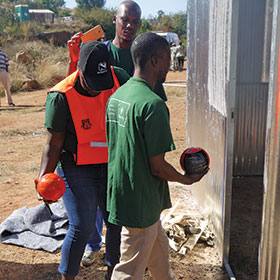 A simple-to-use, cost-effective new fire-extinguishing device is being introduced to the local market by Fire & Security Techniques of Centurion. The FST Fire Orb is a self-activating, portable fire-extinguishing device that activates automatically when in contact with open flames.
The FST Fire Orb is effective for use against all types and classes of fires, from electrical shortages to fat, oil, and paraffin stove fires, vehicle fires, and workshop and factory fires. The FST Fire Orbs can be wall-mounted for maximum effectiveness, explains Fire & Security Techniques' CEO, Neil Hughes.
Each FST Fire Orb weighs only 1.3 kg, making it lightweight and easy to handle and operate. It consists of a lightweight case of frangible material, with a protective exterior sheathing. The internal cavity contains a pyrotechnic detonator at or near the centre of mass.
It is activated by fuse cords extending to the surface. The device is filled with mono ammonium phosphate, a non-conductive dry chemical powder, which means it can be used on any electrical product without resultant damage. The detonator incorporated in the FST Fire Orb is a small, non-lethal explosive mechanism.
The force of the bursting device is non-harmful to humans, animals, or property, and the effect is minimised further by the use of low-density, low-mass components. This means no part of the device has sufficient mass or density to constitute a ballistic hazard or result in concussive shock.
The FST Fire Orb activates automatically upon direct contact with open flames and not heat. Upon activation, it emits a loud bang of between 119 dB to 138 dB as a warning signal, and disperses the dry chemical powder in order to extinguish the fire. The device is simply rolled or thrown into the fire, whereupon it activates within three to seven seconds.
The FST Fire Orbs have passed tests conducted by the PSB Corporation and Sirim Qas International for Class A, B, and C fires. Additional tests carried out include thermal resistance, burst effect, sound level, compression resistance, and drop tests. The devices are regulated and certified in accordance with ISO 9001: 2001. They have also been approved and classified by the South African Police Service.
"We offer a free risk-assessment service for all clients interested in the product, whereby our risk-assessment manager advises suitable installation requirements pertaining to customer specifications," Hughes highlights.
"The product is far more effective than traditional fire extinguishers, which must be operated manually in order to be effective. In addition, fire extinguishers have no fire-alert activation to warn any bystanders and are bulky devices that weigh 10 kg to 15 kg on average."
Fire & Security Techniques demonstrated the Fire Orbs at the City of Tshwane's Winter Awareness Day in the Kopanong Informal Settlement on 14 June. "One of the many applications of the new technology is fire prevention in informal settlements," Hughes points out.
These not only have a high risk of fires, especially in the cold and dry winter months, but often lack the necessary firefighting equipment and skills. In this regard, the company is also championing its own Fire Heroes programme to promote fire-prevention awareness, and to assist in generating employment opportunities in local communities.
Further reading:
Avenar fire alarm panels
Issue 7 2020, Bosch Building Technologies , Fire & Safety
Avenar panel 2000 and 8000 are new fire alarm panel platforms offer connectivity and scalability from small to large-sized installations.
Read more...
---
Linear heat detection under difficult conditions
Issue 5 2020, Technoswitch , Fire & Safety
Securiton's SecuriHeat ADW535 linear heat detector prevails where conventional fire detectors reach their physical limits.
Read more...
---
High-precision aspirating smoke detectors
Issue 5 2020, Technoswitch , Fire & Safety
The SecuriSmoke ASD range by Securiton offers three VdS approved models and makes the lightning-fast detection of fires both scalable and cost-effective for any area.
Read more...
---
Competency in the fire industry
Issue 5 2020, FDIA (Fire Detection Installers Association) , Fire & Safety
Persons who design, commission, install or service fire protection equipment or systems should have the required level of competence for the task they perform.
Read more...
---
Public address/voice alarm partnership
Issue 5 2020, Johnson Controls Global Products , Fire & Safety
Johnson Controls customers now have single-source access to a complete line of fire detection products, including high-quality PA/VA systems.
Read more...
---
Hochiki Europe's L@titude system distributed by XtraVision
Issue 5 2020, XtraVision , Fire & Safety
Hochiki Europe's L@titude range of fire alarm control is both sophisticated, yet simple to use.
Read more...
---
Long-distance UHF readers
Residential Estate Security Handbook 2020 , Access Control & Identity Management, Products
The U1000 and U2000 are long-distance RFID access control systems with an IP66 protection certification.
Read more...
---
Serverless ANPR solution
Residential Estate Security Handbook 2020, XtraVision , CCTV, Surveillance & Remote Monitoring, Products
Serverless ANPR automatically controls the movement of up to 1000 listed cars through barriers and provides carpark management information.
Read more...
---
Hochiki shines a light on luxury
Issue 5 2020, XtraVision , Fire & Safety
Luxury hotel chooses fire safety equipment from Hochiki as part of extension and restructuring works.
Read more...
---
Self-test for fire alarms
Issue 4 2020, Johnson Controls Global Products , Fire & Safety
Johnson Controls notification appliance self-test technology receives UL Verification Mark.
Read more...
---