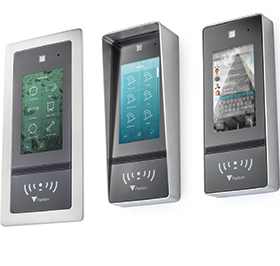 Net2 Entry Touch Panel
November 2017, Products, Access Control & Identity Management
Launched in March 2017, the Net2 Entry Touch Panel is the latest addition to Paxton's video door entry range, Net2 Entry.
Available in three design options, flush mount, surface mount and rain hood, the panel comes with a host of features, including a quality 7-inch colour touch screen and personalisation options, making it suitable for more sites than ever before.
The panel has an IK7 impact protection rating with an easy-to-read anti-glare screen for optimal daytime viewing. The new user interface is simple and straightforward to navigate, offering dynamic search functionality alongside customisable branding options. The touch panel also includes a versatile grouping feature enabling smarter management of multi-tenant buildings and gated perimeter sites, plus SIP compatibility allowing more sites to enjoy the flexibility of answering their door via a SIP-enabled smart device or handset.