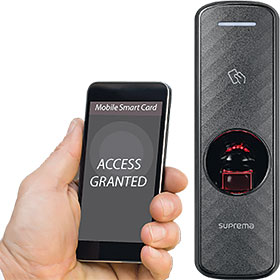 BioStar 2 Mobile Card
November 2017, Products, Access Control & Identity Management
Suprema BioStar 2 Mobile Card is an application for storing Personally Identifiable Information (PII) in the user's own smartphone, enabling organisations to support the needs of mobile credential solutions for access control.
Imagine you need to issue access cards to hundreds or thousands of employees and manage your access cards for visitors. Taking all of the cost of buying raw cards, the cost of printing access cards, and the cost of managing them together will be time consuming and costly. Imagine, however, using BioStar 2 and the BioStar 2 Mobile app to issue mobile cards that store biometric information and access privileges to employees and issue mobile cards for visitors to use for a specified period of time. You will be able to operate the system at a much more convenient and economical cost.
BioStar 2 Mobile Card supports BLE (Bluetooth Low Energy) and NFC (Near Field Communication) and therefore works with almost every smartphone today. There is no need for third-party portal services and readers.
Suprema's BioStar 2 mobile card can be issued directly from BioStar 2 or BioStar 2 Mobile app without using portal services like other systems do. In addition, the BioStar 2 Mobile app, which allows you to directly control the functions of BioStar 2 or monitor system logs, is used together to provide users with a unified user experience (UX).