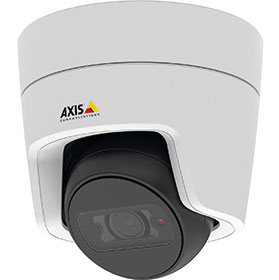 4 MP network camera
November 2017, Products, CCTV, Surveillance & Remote Monitoring
The M31 4 MP video surveillance with built-in IR illumination, is an affordable, discreet fixed mini dome with a flat-faced design that suppresses reflections. Using WDR technology and IR illumination, it provides compact HDTV surveillance even in challenging light conditions or total darkness. The M31 provides users with multiple, individually configurable streams in H.264, H.265 and Motion JPEG.
The smart design allows for easy repainting, or using the optional black accessory casing to blend the camera into its environment. Axis Zipstream technology reduces bandwidth and storage requirements. It is also IP42 water and dust resistant. A variety of accessories are available for flexible and easy installation.
For more information contact Axis Communications, +27 (0)11 548 6780, sasha.bonheim@axis.com, www.axis.com