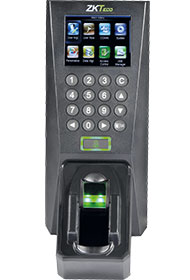 Finger vein and fingerprint terminal
November 2017, Products, Access Control & Identity Management
Fingerprint recognition has been around for quite a while and is used for many different reasons, but security and identity confirmation are technology's main purpose. Using biometric systems such as fingerprint readers can greatly increase the security of your electronic devices, including your personal computer, company computers and the priceless data on your devices. If you are concerned about the security of your company, a fingerprint reader may provide the secure, convenient protection you need.
The FV18 is a multi-biometric reader capable of capturing and processing finger vein and fingerprint biometric data at the same time. The new hardware platform uses ZMM220 core-board with 1.2 GHz CPU. With optimisation of both hardware platform and algorithm, FV18 is one of high recognition rate, high security and high-speed terminal. The device offers flexibility of both standalone installation and installation with any third party access control panels which support standard Wiegand signal.
It features a webserver (optional), anti-pass back, access control interface for third-party electric locks, door sensors, exit button, alarm and doorbell, highly accurate finger vein recognition technology and new firmware.
For more information, contact ZKTeco (SA), +27 (0)12 259 1047, sales@zkteco.co.za, www.zkteco.co.za