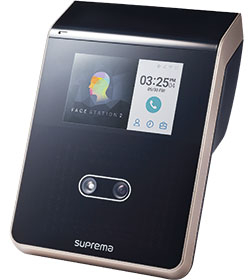 Suprema FaceStation 2
November 2017, Products, Access Control & Identity Management
FaceStation 2 is Suprema's flagship face recognition device for access control and time and attendance. It accommodates up to 30 000 users on a single device, so it easily caters for sites large or small, and it's loaded with Suprema's latest face recognition technology, so you can expect fast matching speeds of up to 3 000 matches per second with accuracy, including built-in countermeasures for fake face threats.
In FaceStation 2 Suprema has combined cutting-edge technology with its advanced proprietary algorithms. A dual camera system is used to capture both visible and IR images which are then processed using advanced image analysis techniques and intelligent machine learning based classifiers, allowing a fake face to be detected by estimating specific features and their distribution compared with reference models of real faces.
One of the highlights of FaceStation 2 is its ability to overcome interference from dynamic lighting conditions, including sunlight and ambient light, enabling it to operate in lighting conditions between zero lux to 25 000 lux which covers day and night and basically includes total darkness to bright light, but excludes direct sunlight.
An optional tilt-bracket, which allows for a greater height range of 145 cm to 210 cm, is available for sites that provide for wheelchaired persons and children.
In terms of usability, near-zero training is required, for both users and system administrators, to operate the FaceStation 2. Using the latest Android 5.0 OS and featuring visual elements of material design concept, FaceStation 2's wide touchscreen LCD delivers an intuitive graphic user interface that is extremely easy to use.
For RF card support, FaceStation 2 incorporates dual-frequency, multi-card reading technology. The device features both LF (125 kHz) and HF (13.56 MHz) RFID and reads most types of RFID card standards with a single device including MIFARE, HID iCLASS, DESFire, FeliCa, HID Prox, EM and NFC. For the first time in face terminals, FaceStation 2 also supports authentication by BLE (Bluetooth Low Energy) which makes it a future-proof investment for today's evolving credential technology.