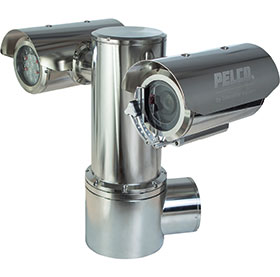 ExSite enhanced cameras
November 2017, Products, CCTV, Surveillance & Remote Monitoring
Engineered and designed to survive harsh conditions, Pelco's ExSite Enhanced Cameras are a comprehensive solution for the oil and gas industry. The Pelco ExSite Series is comprised of fixed and PTZ, explosion-proof IP cameras designed to meet the rigorous requirements for the hazardous locations such as the oil and gas industry.
Pelco ExSite cameras are virtually indestructible with a robotically welded housing, and a direct drive positioning system devoid of belts, gears and pulleys for use in extreme weather conditions. This minimises ongoing maintenance, thus reducing maintenance costs. The direct drive positioning system is extremely fast and accurate and can hold position in high winds up to a category 3 hurricane.
In recent years, real-time video surveillance solutions have become the standard for securing oil and gas facilities, chemical plants, manufacturing and marine facilities and numerous other demanding environments. The ExSite cameras feature a 1080p, 30X integrated optics package, multiple compression formats, and both upright and inverted operation to improve image quality and reliability with variable lighting conditions.
From their indestructible design and low-light technology to their multiple compression formats, ExSite Enhanced HD cameras improve overall safety, operations, and security by ensuring high-quality video across the enterprise.
For more information contact Yvette Venter, Pelco by Schneider Electric, +27 (0)11 254 6400, yvette.venter@schneider-electric.com