How to implement physical security
November 2017, Government and Parastatal (Industry), CCTV, Surveillance & Remote Monitoring
Managers of both suburban and rural power substations are faced with many challenges today, including safety, power density, right-of-way issues and cost. One of the key factors attributed to these challenges is the increasing migration activity of people from rural areas to urban homes and workplaces, which in turn, drives up the demand for municipal power distribution systems.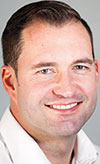 Brent Cary.
In essence, city dwellers – or those who have maintained residence in an urbanised setting – are recognised as higher per-capita energy consumers, which consolidates the premise of 'more users equals more power needed'. In order to address these challenges, a new strategy should be developed and implemented, which can be enacted upon after conducting a thorough and comprehensive risk assessment process.
One key concern with respect to the maintenance of control centres and substations is security. Power utility facilities have to deal with situations like theft, vandalism and the need to comply with set international security standards. In fact, a potential attack or emergency situation on these facilities underscores the risks associated with physical security breaches and their possibly disastrous effects.
Across the region, control centres and substations utilise basic technologies like perimeter fencing, outdoor lighting and CCTV surveillance. Some are still known to be using key-based access control and previous generation analogue video systems – hindering immediate intervention or quick action should a situation come to light. The grainy analogue video feeds will possibly be able to catch an intruder on camera, but will lack the sophistication that today's high definition (HD) IP cameras can offer, that can result in an image for positive identification.
The emergence of these challenges, combined with the need to integrate newer technologies to help further enhance security measures should prompt the utilities industry to make a transformational shift towards more modern, advanced and highly-efficient Internet protocol (IP) solutions. Regulators should implement stronger security mandates and urge power providers and operators to make the bold move of upgrading their present security systems – especially across mission critical areas.
However, operators and providers must first conduct a review and assessment of security risks and vulnerabilities of their facilities, which will give them an idea on how to execute a security strategy should any situation arise. At the same time, these companies and organisations should put their own security standards in place – effective and efficient measures designed to address physical attacks, cyber attacks and the occurrence of natural disasters.
Utility providers and operators will now have to upgrade better security systems to help tighten security. Industry experts have recommended the use of specific system features to ensure a successful upgrading of equipment and have suggested the following;
• Implementation of network connected systems: Having all devices connected to a singular network presents many advantages and benefits, like real-time information, the immediate detection of potential threats, on-site modification and configuration and the easy management of the system itself.
• Utilisation of a strategic unified platform: With multiple security systems like CCTV video surveillance, access control, automatic licence plate recognition (ALPR) and perimeter detection running at each site, it is essential to utilise an open-architecture platform that can accommodate easy customisation and integration across a diverse range of security and business systems.
• Control and access to one central station: If there are multiple sites and substations to secure, centralising security operations becomes highly beneficial and cost-effective. The creation of a federated architecture will give operators and providers the ability to manage all sites and systems as one global operation. All video and data is sent back to a central location, where alarms and events from various sites can be received and acknowledged.
• Shift to open architecture: The move towards newer and more advanced systems will need a key feature like open architecture – which can facilitate the integration with other systems and provide complete freedom in the device selection process.
• Mapping and mobility: Using a map-based interface simplifies system navigation, which in turn can help effect quicker responses to arising situations. Meanwhile, mobile connectivity gives essential personnel the capability to access the facility's systems though their phones, tablets or any mobile device – a pivotal advantage especially during critical situations that happen at odd hours of the day.
In conclusion, power utility providers and operators should develop and implement a comprehensive set of security strategies to aid them in their efforts to upgrade security systems that are also in compliance with international standards and guidelines. These utility facilities should understand the need to be up to speed with today's technological advancements, particularly across the safety and security segment, thereby guaranteeing the safety and the security of these very essential utilities' control centres and substations.
For more information contact Brent Cary, Genetec, bcary@genetec.com, www.genetec.com