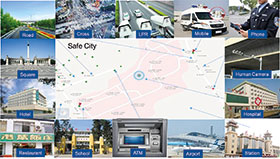 Three stages of safe city surveillance
November 2017, CCTV, Surveillance & Remote Monitoring
Developing a safe city is a major task, especially when one has to build on older infrastructure that was not designed for the communications and interactivity we are capable of today. There is therefore no easy approach to the project, but Gino de Oliviera, Kedacom representative at Forbatt SA advises there are three phases one must deal with on the surveillance front if one wants the project as a whole to succeed over the long term.
infrastructure
De Oliviera says the first step has to be ensuring you have the basic infrastructure in place to support the demands of all the technical components of your safe city. South Africa is generally behind in this area, although we are seeing modern communications technologies like fibre being installed in major cities.
As yet, however, there is a lack of surveillance technology to cover the roads and other public areas in cities. In places where there is good surveillance coverage, many of the cameras and storage solutions are owned and operated by private companies, making it a challenge to centralise information in one place where it can be used to support police and emergency services.
De Oliviera recommends that cameras, no matter who owns them, are linked to a central communications backbone in a grid structure to ensure there is no single point of failure, and to allow for easier management and maintenance. This could include all the cameras deployed, whether stationary or mobile, and whether linked via wired or wireless communications.
The Kedacom camera range supports a variety of uses, from Starlight bullet or dome cameras for road monitoring, through to the company's 3 km and 5 km Laser PTZ cameras. These devices can be installed on high points, such as the top of buildings, to allow operators to zoom into areas of interest up to 5 km away with a 60x optical zoom.
The surveillance company also has a tracking system which can be used to identify and track people in open public areas. The solution allows operators to monitor large areas with a limited number of cameras, while the intelligent software allows them to track the movement of a person or vehicle at the same time.
In the mobile space, Kedacom also provides complete solutions, from vehicle PTZ cameras, mobile NVRs, and mobile network options. It also provides body-worn cameras for police and guards patrolling on foot.
Resource integration
Integrating the front end and back end of the safe city seamlessly is critical to the success of the project – including the integration of privately owned cameras. Kedacom's VMS (video management system) is able to integrate and manage up to 100 000 cameras by cascading and stacking the VMS and storage solutions. Importantly, De Oliviera notes that the whole system is managed as one platform.
Compatibility issues are dealt with via ONVIF compliance and the company's analogue-to-IP converter. There is also a third-party gateway that allows for the inclusion of additional products from other manufacturers, as well as a software development kit (SDK) that other companies can use to integrate their products into the Kedacom platform with ease.
Deep application
Once you have your surveillance solution in place, the question arises as to how one is going to deal with all the data collected and ensure operators are only presented with useful information to act on. Kedacom has created dedicated intelligent software and has a range of analytical solutions that have been proven in safe cities around the world. It also has more than 1600 active developers.
De Oliviera also notes that the company has worked on more than 700 safe cities projects in China. One of these was a project with 100 000 cameras for a province with more than 50 million inhabitants. Another is the Nanning safe city, where cameras are located at 100 metre intervals on the roads.