printer friendly version
Integrated border management
November 2017 Editor's Choice, Perimeter Security, Alarms & Intruder Detection, Integrated Solutions, Government and Parastatal (Industry)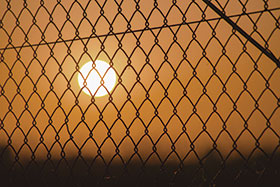 Border management is complex and multifaceted as it involves multiple government departments, including national and provincial authorities responsible for agriculture, health, revenue and tax, state security and transport services. Integrated Border Management (IBM), a concept first used by the European Union in the early 2000s, calls on the collaboration between these various key government departments to improve border management.
IBM states that individual border authorities are generally more effective when cooperation is in place. This translates to cooperation between the various departments involved in border management in the same country as well as cooperation with the border authorities of neighbouring countries.
In the SADC region, South Africa's borders, for example, are managed by five different departments. With the Border Management Authority Bill, the government intends to establish one centralised authority to handle all matters of border management, including policing and customs. The Bill clearly states that "There is a need for integrated and coordinated border management that facilitates secure travel and legitimate trade in accordance with the Constitution, [and] international and domestic law." Although the Bill was passed by the National Assembly in June this year, it has been criticised by opposition parties, who argue that setting up and operating the authority could be fraught with complexities."
While some countries have merged border agencies and others have set up formal structures for cooperation, the aim of these integrated border management systems tend to be the same: facilitating legitimate travel and commerce while preventing illegal cross-border activities.
Physical border security
With the growing threat of terrorism, syndicated crime, poaching and smuggling, and the unlawful movement of people, drugs and contraband, protecting national borders is a priority. One of the key components of border management is physical border security. With proven experience of border protection solutions around the world, Betafence has established specialised physical security solutions that have been specifically configured for border security.
To provide effective protection against the multiple and diverse threats faced by border authorities, comprehensive border security would mirror the idea put forth by Integrated Border Management: the combination of various systems into one integrated solution. For border security, an integrated solution would ideally consist of the following components:
• Physical perimeter
• Long range surveillance systems
• Perimeter intrusion detection systems (PIDS)
• Access control
• Integration and maintenance
The physical perimeter of a border comprises the actual demarcation of the international boundary and provides a physical barrier against illegal crossing. Depending on the risk factors of each individual border area, fencing solutions can provide hardened protection against cut and climb attempts, hostile and unauthorised vehicles, and even ballistic and rocket-propelled grenade attacks.
A critical feature required from border fencing is good visibility that enables border protection officers to perform surveillance. Fence visibility is also important for camera surveillance. When integrated into a total solution, long range radar, CCTV and security lighting offer reliable detection and surveillance, which aids border officers in accurately assessing situations and responding effectively to potential threats.
A vital security system that will ensure that teams are deployed in time, is Perimeter Intrusion Detection Systems (PIDS). PIDS augments the physical perimeter to provide early warnings of breach attempts (climbing, cutting and bending of fence fabric) and triggers alarms, cameras and lighting for effective detection and inspection.
Lawful crossings
For the control and management of lawful border crossings, border authorities use access control systems at authorised border checkpoints. The physical barriers and structures employed at border checkpoints include vehicle wedges, bollards, tyre killers, turnstiles, gates and guard houses. The design of a checkpoint must include access control in such a way that: border officers are protected and supported in performing their duties; vehicle traffic and speeds are managed; unauthorised entry is prevented.
Where hostile vehicles pose a threat to security, crash-rated barriers can provide mitigation. Wherever crash-rated solutions are used, border authorities need to verify that the systems have been tested and certified according to relevant standards.
The final component in the deployment of a physical security solution is the integration of all of these systems into one solution. This ultimately enables border authorities to assess the intelligence gathered from the different components to effectively respond and report any and every security event. The purpose of an effective border security solution is not only to prevent illegal cross-border activities, but also to empower border authorities with the ability to detect and react to breach attempts and facilitate legal crossing at designated checkpoints.
As miscreants become more sophisticated, security systems must be a step ahead to anticipate, detect and mitigate against threats to protect our citizens, infrastructure and economy.
This article was supplied by Betafence.
Credit(s)
Further reading:
Keeping our changing environment secure
August 2019 , Editor's Choice, Security Services & Risk Management
For a crime to take place there needs to be a victim and a criminal who sees an opportunity. For a cybercrime to take place we need the same set of circumstances.
Read more...
---
Augmented security with drones
August 2019, Drone Guards , Editor's Choice, Integrated Solutions
Drone Guards is moving into an untapped market of using drones to secure residential estates and other high-value assets such as mines, farms and commercial properties.
Read more...
---
The importance of real security risk assessments
August 2019, Sentinel Risk Management , Editor's Choice, Security Services & Risk Management, Residential Estate (Industry)
Andy Lawler, MD, Sentinel Risk Management, says a security risk assessment is an onerous task, but is not something estates can consider optional or a luxury item anymore.
Read more...
---
Risk assessment or product placement?
August 2019, Technews Publishing, Alwinco, SMC - Security Management Consultants , Editor's Choice, Security Services & Risk Management, Residential Estate (Industry)
Hi-tech security solutions asked a couple of experts to provide estate managers and security managers with some insights into what a 'real' risk assessment includes.
Read more...
---
Securing Savannah Hills Estate
August 2019, Rhyco Risk Projects , CCTV, Surveillance & Remote Monitoring, Perimeter Security, Alarms & Intruder Detection
Savannah Hills Estate in Midrand planned a security upgrade which was awarded to Rhyco Risk Projects. The project started in March 2019 and was completed in May 2019.
Read more...
---
10 things to consider when shopping for a VMS
August 2019, Genetec , CCTV, Surveillance & Remote Monitoring, Integrated Solutions
Today's video management systems (VMS) provide a wide range of tools and capabilities that help make security personnel more efficient by allowing them to focus on what really matters.
Read more...
---
How far are we really at with artificial intelligence?
August 2019, Axis Communications SA , Editor's Choice, CCTV, Surveillance & Remote Monitoring, IT infrastructure, Residential Estate (Industry)
Justin Ludik unpacks exactly how far AI has come and what it potentially can do for society and more importantly, surveillance.
Read more...
---
The importance of effective perimeter security
August 2019, Elf Rentals - Electronic Security Solutions, Stafix , Editor's Choice, CCTV, Surveillance & Remote Monitoring, Residential Estate (Industry)
Protecting the perimeter is critical for any residential estate; how does one go about making sure your perimeter is as secure as possible?
Read more...
---
From fog to foxes
August 2019, Axis Communications SA , Perimeter Security, Alarms & Intruder Detection, CCTV, Surveillance & Remote Monitoring, Integrated Solutions
What makes radar devices so valuable is the fact that they can provide a high range of accurate data while barely relying on external factors, such as weather or light.
Read more...
---
The hidden claws of proof of concept
August 2019 , Editor's Choice, Integrated Solutions
Proof of concept is a proven methodology for testing new technologies, but it isn't perfect, and it can be more of a hindrance than a help.
Read more...
---