Sequeira joins Centurion
November 2017, News, Conferences & Events, Training & Education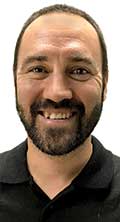 Emmanuel Sequeira
Centurion recently appointed Emmanuel Sequeira in the role of sliding door specialist. In this newly-created position Sequeira will be responsible for developing and maintaining relationships with prospective clients involved with sliding door automation in its different incarnations. Furthermore, he will be conducting product training at both sales and technical levels.
"I started my career as a salesperson in the information and communications technology industry," says Sequeira, " assisting clients and organisations meet their voice and data needs. In 2017, after seven years in sales, I took up an opportunity as a product manager for an ICT distribution company where I managed brands and products related to VoIP, FTTx and surveillance".
Asked what he will be bringing to the team, he responded by saying that he has a passion for sales and client relations, a keen willingness to learn, as well as a dedication to hard work.
For more information contact Centurion Systems, +27 (0)11 699 2400, charl.mijnhardt@centurionsystems.co.za, www.centsys.co.za