Cathexis Africa appoints national sales manager
November 2017, News, Conferences & Events, Training & Education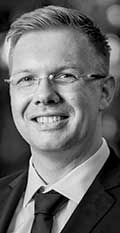 Dene Alkema
Cathexis Africa has announced the appointment of Dene Alkema as national sales manager (South Africa) with immediate effect.
Alkema joined Cathexis Technologies four years ago as a senior account manager for the Gauteng region, and according to the Cathexis Technologies management team, his commitment and dedication to the company, have been instrumental in the significant growth and development of this region. As part of his new role, Alkema will be responsible for all sales and pre-sales operations for Africa.
Cathexis Technologies is on a growth path with its current expansion into various African markets, through various strategic appointments at its subsidiary, Cathexis Africa. Despite a turbulent economic environment, Cathexis Africa, is still seizing new opportunities in the market. Cathexis has identified several secur-ity challenges in the African region, which it believes its IP Video Management Software solution, CathexisVision, can easily address.