Datacentrix achieves Level One B-BBEE status
November 2017, News
Datacentrix has achieved certification as a 52.13 percent black-owned Level One Broad-Based Black Economic Empowerment (B-BBEE) Contributor, with 135 percent procurement recognition.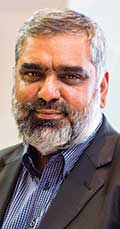 Ahmed Mahomed
Completed in alignment with the amended ICT Codes gazetted in November last year, the certification was awarded through EmpowerLogic, a SANAS-accredited B-BBEE verification agency.
Datacentrix is also classified as a designated supplier, which will allow anyone purchasing from the company to gain additional B-BBEE points on their scorecard. The organisation has both a 52.13 percent black ownership as well as a 42.67 percent black female ownership.
Says Datacentrix CEO, Ahmed Mahomed: "Datacentrix is pleased that the strategies put in place over a number of years have enabled it to reach a Level One status. As part of our commitment to ongoing transformation, we will continue to foster an environment that will deliver substantively on empowerment objectives including skills, socio-economic and enterprise development."