printer friendly version
Physical and cyber defence centre
November 2017 Editor's Choice, Cyber Security, News
XON and NEC Africa launched their joint Cyber Defence Operation Centre (CDOC), the only such facility from a single service provider in Africa that offers end-to-end physical and cyber defence services, with all the underlying IT infrastructure necessary for a turnkey solution.
The key difference between this and other similar operations is the bridged physical and cybersecurity services combined into a single service, focused on safety and security for organisations ranging from state entities to individual commercial operations.
"The service we provide from our purpose-built facility in Midrand, ensures people are safe and secure in a world beset by many difficult issues," says Vernon Fryer, who heads up NEC Africa's African cyber business and CDOC.
NEC collaborates closely with Interpol and various other global organisations in the fight to secure the safety and wellbeing of citizens in many countries. NEC has established several cyber defence and operations centres around the globe to assist in that ongoing cause.
XON and NEC Africa's centre differs markedly in that it provides that same world class service in Africa, from Africa, and also integrates the dependable solutions and services of XON's enterprise-class systems integration business for the complete solution.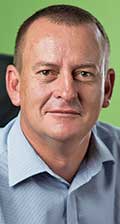 Bertus Marais, GM of Public Safety and Security at XON.
"Our customers get the full range of services and solutions from creating data centres to field infrastructure and services, even including alternative energy, and the networks that connect everything," says Bertus Marais, GM of public safety and security at XON. "The CDOC unites the worlds of physical and cybersecurity and include analytics and biometrics systems. The individual services are too numerous to mention but range from access and perimeter control and surveillance to fingerprinting, iris recognition, to big data analytics to provide facial recognition at scale, crowds in public areas behaviour monitoring and control, and then the increasingly crucial cybersecurity technologies and services."
Africa, like other parts of the world, faces several challenges from terrorism to political instability, crime, and other socio-economic-related trials.
The City of Cape Town's recent three-phase disaster plan outlines the deployment of army and police personnel to issue rationed water in the severest scenario. The CDOC from XON and NEC Africa could provide surveillance, monitor the situation, manage the emergency resources, and facilitate a smooth and successful water distribution process. To do so it would tap into social media channels, even limited by geography, monitor conversations, establish tone of discussions among citizens for any imminent threats to public safety, combine visual and other surveillance from several sources, overlay emergency resources, and provide emergency control personnel options for dealing with several potential scenarios.
The same technology can be used elsewhere in Africa to monitor and manage terrorism threats, including scanning tens of thousands of faces at ports, facilitate electoral security, counter narcotics and other smuggling, help the fight against human trafficking, monitor and manage natural resources, key infrastructure, and much more.
"The CDOC centre is a specialised combination of technologies and skilled personnel who monitor cyber situations 24-7 on behalf of clients who don't have the expertise to do so themselves," says Fryer. "The reality is that this is a rapidly evolving scenario that few organisations have the resources to effectively mitigate.
"The recent Deloitte hack is still being investigated. Although, they say few customers were affected. In another case, last year November, it emerged that someone used the Mirai botnet to conduct a denial of service (DDoS) attack against Liberia. Much closer to home, an unscrupulous person used Twitter to lure unsuspecting candidates into his fake South African Defence Force enrolment scheme, charging them, and essentially keeping them prisoner at a property in Pretoria. A South African woman was also rescued from a human trafficking syndicate in Malaysia after being lured in by a fake modelling competition online that attracted women from 14 countries.
"These examples combine the cyber world with the physical world," says Fryer. "The borders between the two are increasingly blurred as the ramifications span from one to the other and back. The ability to reveal a wealth of personal information, from our physical locations to contacting us, anonymously, and tapping our supposedly restricted personal data, means criminals and other nefarious elements have unprecedented power to corrupt and subvert our safety and security. It's a difficult world for the authorities and emergency responders to navigate as it relies on skills and infrastructure usually foreign to them."
For more information, contact www.xon.co.za
Further reading:
The same security assessment for different reasons
Issue 7 2020, Alwinco , Editor's Choice
Like everything else in life, a security risk assessment also has two sides: one is the proactive approach, and the other is the approach taken 'after the fact'.
Read more...
---
Risk intelligence the key to a sustainable future
Issue 7 2020 , Editor's Choice
Only by building risk intelligent organisations will leaders be able to overcome six distinct global threats identified by the Institute of Risk Management South Africa (IRMSA).
Read more...
---
Profile D for access control peripherals
Issue 7 2020 , Editor's Choice
Profile D provides interoperability for devices such as locks, credential/biometric readers, PIN pads, LPR cameras, door phones, sensors and displays.
Read more...
---
Security investments and culture
Issue 7 2020 , Editor's Choice
Organisations must embed security into the culture of the company and approach security investments with this culture in mind.
Read more...
---
Elastic storage pricing
Issue 7 2020 , Editor's Choice
With elastic pricing, users can switch from one storage model to another without having to pay a premium or a penalty, and without having to physically move any data.
Read more...
---
Use technology as a differentiator
Issue 7 2020 , Editor's Choice
Juni Yan, director of Transport, Logistics and Automotive at BT, shares her insights on how logistics companies can leverage digital transformation to become a real market differentiator – no matter the state of the pandemic.
Read more...
---
Management of PPE allocation made simple
Issue 7 2020, Powell Tronics, Technews Publishing , Editor's Choice
Of all the roadblocks and challenges COVID-19 has introduced us to over the past few months, one of the tasks organisations have to manage is the issuing of PPE to staff.
Read more...
---
Robots in warehousing and freight, a security perspective
Issue 7 2020, FSK Electronics , Editor's Choice
The logistics industry needs support from technology to meet its ongoing demands and ongoing security concerns.
Read more...
---
The new training normal
Issue 7 2020, Leaderware , Editor's Choice
Insights from running my first CCTV Surveillance Skills and Body Language and Advanced courses at physical training venues since COVID-19 started.
Read more...
---
An exciting journey in security
Issue 7 2020, Technews Publishing, BTC Training Africa , Editor's Choice
Errol Peace describes his 40-plus year career in the security industry where he was and is a great proponent of training as an "exceptionally exciting journey".
Read more...
---