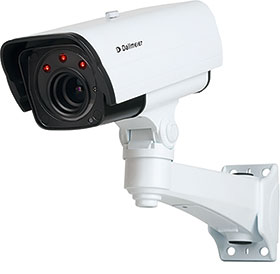 Keeping watch 24x7
November 2017, CCTV, Surveillance & Remote Monitoring, Products
Dallmeier has introduced a new high definition IR network camera. The camera is equipped with an ambient light sensor and a removable IR cut filter and can automatically switch between day and night mode. In addition, different day and night presets for the exposure settings can be defined and adjusted.
The automatic day/night operation is supported by a uniform IR illumination by means of semi-covert 850 nm high power LEDs. In the IR mode at night, the camera provides excellent results due to the high infrared sensitivity and thus meets the most demanding requirements in a 24-hour operation.
The adjustment of zoom, focus and iris is made conveniently using a web browser. The manual lens setting directly at the installation site of the camera is not required.
The Digital Image Shift function allows a comfortable fine adjustment of the captured image section (horizontal and vertical at 16:9 resolutions, horizontal at 4:3 resolutions) via a web browser ensuring a quick and easy installation of the camera. Depending on the selected resolution, the used area on the image sensor can be moved and adapted to the local conditions. The manual fine alignment of the camera directly at the installation site is not necessary.
The integrated Video Content Analysis (VCA) detects movements and objects in the uncompressed image and analyses them in real-time (depending on the analysis resolution) with highly developed analysis functions such as Intrusion Detection or Line Crossing. The detected events can be used to trigger the recording of a SMAVIA recording system. Together with the detected objects and the corresponding metadata, they are stored in a database. This allows the targeted search and evaluation of the recordings by SMAVIA Viewing Client with the function SmartFinder.
The camera is equipped with a RAM memory that is used by the EdgeStorage function for storing the video stream in case of a network failure. When the network is restored, the SmartBackfill function ensures a fast transmission to the SMAVIA recording system. This stores the video stream with high speed and then continues the recording of the live stream seamlessly.
For more information contact Dallmeier Southern Africa Office, +27 (0)11 510 0505, dallmeiersa@dallmeier.com, www.dallmeier.com