printer friendly version
The danger of dust
October 2017 Security Services & Risk Management, Products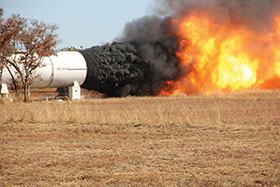 Dust collection systems and dust control is common practice in all industries and excellent solutions and procedures are available. However, monitoring the efficiency of dust collection systems and monitoring for unexpected events can save a lot of time, money and headaches.
The Dumo is a compact dust monitoring device developed to continuously measure solid particles in ambient air. High dust concentration in the workplace affects human health. Dust causes problems for machines and can cause low product quality. Dust explosions are environmentally harmful and can cause loss of human life.
The Sintrol Dumo is a monitor to improve worker health and protect industrial equipment. The new DustLog 8 is a data logging system and reporting tool that gives the user greater access to the monitor than ever before. Reports can be generated to see historical trends in the measurement, with the ability to generate monthly, daily or hourly averages charted on graphs.
Additionally, the easy user interface gives the plant full control of the device's parameters so they can be read, transmitted or configured directly from the control room. After installation of the monitor, almost all access to it can be done remotely, using the DustLog 8. With the new IECEX/Atex-certified instrument, the Dumo can now be used in higher risk areas to detect abnormal levels of potentially explosive dust concentrations.
Dumo monitors total suspended particles (TSP) in ambient air, based on particle charge transfer. Particles interact with a sensor in the device's sampling channel causing an electrical signal which is detected. Test measurements in the laboratory and in the field showed that Dumo is capable of monitoring dust concentrations below 1 mg/m³ and particle sizes as small as 0.3 micrometres.
Structure and measuring principle
DUMO has an in-built fan to draw ambient air through the measuring chamber producing a steady constant flow. Particulate flowing through the chamber will interact with the sensor rod causing a small electrical charge to pass between the particulate and sensor. The small electric charges provide the signal monitored by the electronics. The generated signal is proportionate to the ambient dust levels.
Domo is easy to commission, easy to use and virtually maintenance free. It can be used in mines, foundries, the wood industry, the cotton processing industry, textile mills, food and tobacco industries, the chemical industry and paper mills.
For more information contact Marihette Hattingh, Sperosens, 086 177 3767, marihette.hattingh@spero.co.za, www.spero.co.za
Credit(s)
Further reading:
Where are your crown jewels?
June 2019, Wolfpack Information Risk , Commercial (Industry), Cyber Security, Security Services & Risk Management
Understanding what data they store and analyse is gaining increasing urgency for organisations that are now accountable to new(ish) privacy regulations such as the GDPR and our PoPIA.
Read more...
---
Changing of the guard, AI style
June 2019, Active Track, Technews Publishing , Integrated Solutions, Security Services & Risk Management
Active Track is launching a raft of new AI-based products and services with which it intends to turn the security world as we know it on its head.
Read more...
---
Partnership to reduce farm violence and agricultural crime
June 2019, Fidelity ADT Security , News, Security Services & Risk Management, Agriculture (Industry)
Agri SA has partnered with Fidelity ADT, a subsidiary of the Fidelity Services Group, to offer a range of services and products to its members and the rural community.
Read more...
---
The safest way to pay
June 2019 , Security Services & Risk Management, Financial (Industry)
Establishing a relationship of mutual trust between a bank and a customer is crucial. It creates a secure foundation, while giving customers the confidence to engage without security concerns.
Read more...
---
Intrusion detection with visual ­verification
June 2019, Secutel Technologies , Perimeter Security, Alarms & Intruder Detection, Integrated Solutions, Products
Secutel Technologies' Visual Verifier is an effective intrusion system designed specifically to accommodate for low bandwidth availability and low power usage.
Read more...
---
Password awareness critical
June 2019, Kaspersky Lab , Cyber Security, Security Services & Risk Management
A recent study revealed that digital identity data and information holds significant value to cybercriminals – who craft ways of gaining this data and exploit it on the dark Web for as little as $50.
Read more...
---
Fully automated cash logistics
June 2019 , News, Security Services & Risk Management
Cash management company, Izicash, announced its adoption of Transtrack, a software solution, supported by a South African company, AllCash, which streamlines the cash logistics process.
Read more...
---
Throwing the book at qualification fraud
June 2019, LexisNexis , News, Security Services & Risk Management
Until now, qualification fraud has not been punishable by law. However, this is set to change with the introduction of the National Qualifications Amendment Bill.
Read more...
---
Home automation made easy
June 2019, HiTek Security Distributors , Home Security, Residential Estate (Industry), Products
Home automation makes is possible for apps, devices, alarm systems to integrate with each other seamlessly, allowing the consumer to customise their functions to their taste and priorities.
Read more...
---
Smart access keypad
June 2019, Salto Systems Africa , Home Security, Access Control & Identity Management, Products
Danapad is an easy-to-install, wireless, smart access keypad that enables homeowners and businesses to manage secure access control to their houses.
Read more...
---