Powell Tronics attends Camprosa 2017
October 2017, Access Control & Identity Management, Conferences & Events, Training & Education
The Camprosa (Campus Protection Society of Southern Africa) 2017 conference, held at the picturesque Kwa Maritane Bush Lodge in the North West province's Pilansberg area, was once again a successful networking event for both its sponsors and delegates.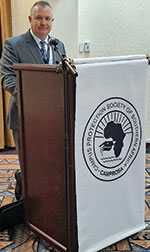 David Bousquet, President of IACLEA.
Topical presentations included one from guest speaker David Bousquet – president of IACLEA (International Association of Campus Law Enforcement Administrators) – on the US campus security perspective. Of particular interest and perhaps a plausible idea for South African campuses, is the presence in the US of dedicated law enforcement precincts at each university. There is a highly synergistic relationship between the formalised police presence and the universities' security forces, allowing greater control over risks.
Ken Annandale, founder of IntraSafe, was once again the master of ceremonies for the event and hosted the panel discussion – 'Security within the new norm', with participation by Dr Diane Parker (deputy director-general at the Department of Higher Education for Universities), Major General Mkhwanazi (SAPS), Roland September (acting executive director – properties and services at the University of Cape Town), Derek Huebsch (director – security services at Nelson Mandela University) and Paul Maritz (ex-SRC president at North-West University).
Leonie Mangold, senior key account and business development manager at Powell Tronics and chairperson of ESDA, was invited to present a paper which focused on the company's customised integrated solutions aimed at the education sector.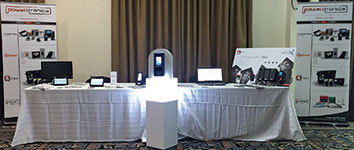 The Powell Tronics display at Camprosa 2017.
A strong player in the education sector, Powell Tronics has developed a number of solutions that include a student self-service web application, whereby students can check their own access status, a number of CCTV integrations, visitor management which incorporates handheld scanners for capturing accurate driver and vehicle information (PT-Guest), portable biometric solutions used for T&A (ATOM Mobile) and in some cases for verification on buses and campus transport.
"In addition, PT-AD minimises fraudulent manual access security allocation, as one is given access based on the department or course code one is issued with by the IT or student management and HR departments. Active Directory becomes the source of all tag holder data and access rights are issued based on Active Directory's security rules, fully integrated with Impro's IXP400 and Portal access control systems," Mangold explains.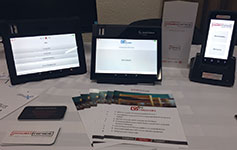 Powell Tronics' PT-Rollcall.
The trending Powell Tronics' offering to the education sector is the PT-Rollcall student biometric exam verification solution. This software, used in conjunction with a MorphoTablet 2, a portable biometric-enabled Android tablet, has resulted in minimised examination attendance fraud, through its biometric and visual confirmation of students who are scheduled for a specific exam session. The unit has enhanced robustness for extended lifespan, making it the ideal device for repeated use by multiple users. The device has a toughened glass screen and a die-cast magnesium reinforced structure, both of which allow it to withstand multiple drops from a height of 0.65 metres.
The PT-Rollcall solution, which is directly integrated into the education facility's examination system caters for student verification across multiple devices per venue, which allows for multiple exams per session. Currently PT-Rollcall caters for three exam sessions across 50 venues at one time.
As an indication of Powell Tronics' ability to remain flexible with their customised integrated solutions, during the 'Fees must fall' protest actions in late 2016, PT-Rollcall was quickly adapted for a customer to serve as a portable biometric verification solution at examination venues before students entered the venues. This allowed verification of students at the entrances to the venues, so that only students who were registered to write the exam were allowed into the venue. This minimised the potential of disruptive action by protestors inside the venue during the exam session.
For more information contact Powell Tronics, +27 (0)861 787 2537, marketing@powelltronics.com, www.p-tron.com