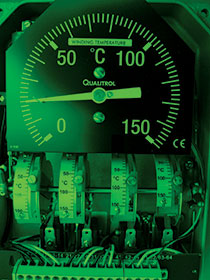 Thermals beyond security
October 2017, CCTV, Surveillance & Remote Monitoring, Perimeter Security, Alarms & Intruder Detection
Thermal cameras are old news these days as we have seen them being used very successfully in a variety of security projects all over the world. That doesn't mean there's nothing new in the thermal technology world. As with all other areas of the surveillance market, thermal technology is an area of intense focus and development as new opportunities are uncovered and prices decrease even further. And this is not only in the hardware field, software in the form of analytics is always improving to assist in better monitoring and detection that ever before.
Hi-Tech Security Solutions asked three companies for their take on the thermal market at the moment and where they see it going. Two of the companies are manufacturers, Axis Communications and Hikvision, while the third is an integrator, Secu-Systems. We started by asking what additional uses there are for thermals apart from their proven utility on the perimeter.
Hi-Tech Security Solutions: Thermal cameras are a regular occurrence for perimeter security, but what other applications can thermals be used for?
Rudie Opperman, Axis Communications: The trend of using thermal cameras for security purposes is a well-known fact, but thermal cameras can also be a valuable operational tool:
• In mining: monitoring mission-critical equipment and components for overheating due to friction caused by failed bearings.
• In oil and gas: process monitoring of storage tank levels. In addition, using radiometry to measure the temperature of surfaces to detect gas under pressure escaping, cooling local areas.
Toby Chao, Hikvision: Most of the application scenarios are perimeter defence, but apart from the perimeter, thermals also can be used for fire detection, security patrols, abnormal temperature detection, and long distance monitoring.
Andrew Griffiths, Secu-Systems: Other applications include heat detection (coal stock pile heat detection, for example), and 360-degree wide-area situation awareness.
Hi-Tech Security Solutions: Are video analytics used with thermals advancing to the point where they can tell the difference between humans and animals without relying on visual camera confirmation? What analytical functions do you offer with your thermals?
Opperman: Object-based analytics can, to some extent, distinguish between a vehicle, human and a small animal, although it is not foolproof and large animals will pass for a person in many cases. Axis Perimeter Defender has various sensitivity adjustments and can monitor for a crawling person if so required.
Chao: By using thermal cameras we can easily recognise humans or animals without using visual cameras, even if the targets are behind trees or bushes. The main advantage of thermal cameras are environmental suitability and long distance detection. When it is foggy or rainy, visual cameras will not be able to see the target clearly, but thermal cameras can. Hikvision offers line-crossing, intrusion, region enter/exit, fire detection and abnormal temperature detection analytics.
Griffiths: The video analytics mentioned can only be achieved using radar technology. We use MTI analytics which detects movement only, visual confirmation is still required.
Hi-Tech Security Solutions: In your thermal range, what are the specifications users can choose from? In other words, what distances can your cameras cover, what resolutions, etc?
Opperman: The thermal camera lens will determine the maximum distance to detect, starting with a 7 mm wide option up to 69 m and ranging up to 60 mm that can detect at over 500 m in camera friendly conditions.
There is an often misunderstood perception that VGA resolution thermal as opposed to QVGA resolution thermal cameras detect further, but most people do not consider that the larger detector size equates to a wider angle and the same lens selection on a VGA thermals typically do not add to the distance, but rather just cover a wider angle.
Axis offers an easy-to-use design tool to determine distances for all models based on site conditions.
Chao: Right now, we provide two types of resolution, 384x288 and 640x512. We have multiple models with different lenses to cover different distance ranges.
Griffiths: Long range thermal cameras can detect up to 17,8 km using an array format (NTSC) of 640x480.
Hi-Tech Security Solutions: What are the latest thermal products from your company?
Opperman: There have been recent improvements to Axis Perimeter Defender analytics, offering much longer distances on the same thermal camera models than before at no additional cost. You get more for less. Axis is also adding to its thermal portfolio by introducing the new range of thermal positioning cameras and also dual-purpose cameras, including optical with infrared capabilities.
Chao: We now offer the bullet camera DS-2TD2136, DS-2TD2625/2635 series, the master slave system DS-2TX3636/6636 series and DS-TS/TP03 handheld series.
Griffiths: A-Series FLIR thermal cameras gives you long-range and heat detection capabilities. We also use FLIR PTZ thermal cameras with HD lenses.
For more information, contact:
• Axis Communications, +27 (0)11 548 6780, sasha.bonheim@axis.com, www.axis.com
• Hikvision South Africa, Janis Roux, +27 (0)10 035 1172, support.africa@hikvision.com, www.hikvision.com
• Secu-Systems, +27 (0)11 794 7834, charles@secusytems.co.za, www.secusystems.co.za