printer friendly version
X-ray designed for purpose
October 2017 Mining (Industry), Security Services & Risk Management, Products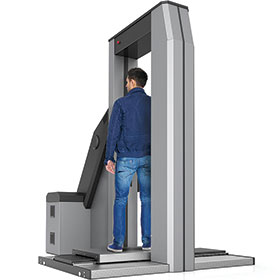 Mining operators across the world produce billions of dollars worth of precious metals and gems every year. Undoubtedly, security and revenue protection is a major issue for the producers. X-ray security systems have been available for many years, but with the technology development and higher detection rates, producers are now ready to offer more sophisticated solutions than ever before. These range from conventional bag scanners to state-of-the-art X-ray body scanners and vehicle inspection systems.
Each one of the product groups has its own application within the mining sector, but all of the screening solutions are directed at preventing theft, tackling the issue of contraband and strengthening security of the industrial facility.
However, improvement of checkpoint efficiency in line with strengthening the security of a mining facility is something which needs to be additionally considered and evaluated by end users. Using the Adani Conpass full body scanner is something that can tackle both abovementioned issues. The product is able to detect concealed contraband, ranging from diamonds to narcotics, on or inside the body of any individual in less than seven seconds.
This functionality offers security managers the most comprehensive and, at the same time, most efficient personnel inspection system which can both improve inspection efficiency and also provide the most comprehensive searching capability.
Most manufacturers within the industry focus on developing 'off-the-shelf' products and selling those without making them flexible enough to perfectly fit into the end user operations. Adani believes that the customer must always obtain a solution to solve a particular problem, rather than obtaining a device which addresses only part of the issue and will not fully become part of the security operational system.
The company's strong focus on product development, as well as the company's capability to develop fully customised devices, allows for the solutions to be well integrated into the access control systems, local data sharing networks and any other types of data gathering devices, ranging from barcode readers to iris scanners. This adds extra value for customers as it allows for them to ensure that the X-ray screening device is used as part of the fully integrated security system and operational efficiency is not negatively impacted.
The benefits of integrating X-ray solutions into the security operational processes within the mining sector range from ensuring that mines are free from narcotics and weapons, to eliminating theft within facilities that extract and process precious metals and gems.
Adani recently launched a new improved Conpass DV (Dual View) solution which is able to detect diamonds as small as one carat hidden on an individual's body is aimed at the mining and mineral processing market segments.
The product arguably provides the best X-ray imaging capability at the lowest radiation dose of any system available on the market. Application of this technology within the mining sector can eliminate the issue of industrial theft within mining facilities and strengthen security.
When adopting X-ray solutions as part of a company's security measure, one of the main considerations is to make sure the device can function well within the current operational system of a mine. Particular issues include software integration and redesign of the operational process in order to ensure that efficiency is not affected by introducing the product whether it is a bag, body or a cargo screening system.
For more information, contact Adani, +375 17 349 0039, info@adanisystems.com, www.adanisystems.com
Further reading:
24-hour emergency response for staff
August 2019 , News, Security Services & Risk Management
The FirstRand Group has partnered with PanicGuard to create a 24-hour emergency response programme for staff.
Read more...
---
Emergency lighting and fire detection combination
August 2019 , Fire & Safety, Products
Hochiki Europe has launched FIREscape+, a system which combines emergency lighting, fire detection and wayfinding technology.
Read more...
---
Keeping our changing environment secure
August 2019 , Editor's Choice, Security Services & Risk Management
For a crime to take place there needs to be a victim and a criminal who sees an opportunity. For a cybercrime to take place we need the same set of circumstances.
Read more...
---
The importance of real security risk assessments
August 2019, Sentinel Risk Management , Editor's Choice, Security Services & Risk Management, Residential Estate (Industry)
Andy Lawler, MD, Sentinel Risk Management, says a security risk assessment is an onerous task, but is not something estates can consider optional or a luxury item anymore.
Read more...
---
Risk assessment or product placement?
August 2019, Technews Publishing, Alwinco, SMC - Security Management Consultants , Editor's Choice, Security Services & Risk Management, Residential Estate (Industry)
Hi-tech security solutions asked a couple of experts to provide estate managers and security managers with some insights into what a 'real' risk assessment includes.
Read more...
---
Residential security – caveat emptor
August 2019, Stafix , Integrated Solutions, Security Services & Risk Management
When it comes to improving your property's security, make sure you take all the options into account as you build a layered approach to keeping people safe and assets secured.
Read more...
---
Ensuring your electric fence is compliant
August 2019, Stafix , Perimeter Security, Alarms & Intruder Detection, Security Services & Risk Management
A challenge facing both existing and potentially new perimeter electric fence installations is how to economically meet the legal requirements required in the SANS 10222-3:2016 standards document.
Read more...
---
Addressing risks by means of access control layout and design
August 2019 , Access Control & Identity Management, Security Services & Risk Management
In order to develop a suitable, practical and appropriate security system for any organisation, it is essential to first develop a master security and life safety plan strategy.
Read more...
---
Extended two-way radio communications
August 2019 , Security Services & Risk Management, Residential Estate (Industry), Products
The two-way radio communication industry has been enhanced by the introduction of Halo PTT radio networks, which are GSM based.
Read more...
---
Outdoor access terminals
August 2019, Suprema , Access Control & Identity Management, Residential Estate (Industry), Products
Rugged, dust- and weather-proof access control solutions that provide exceptional durability in extreme conditions is a strong requirement for many residential estates.
Read more...
---