printer friendly version
Secure mining with integrated solutions
October 2017 Mining (Industry), Integrated Solutions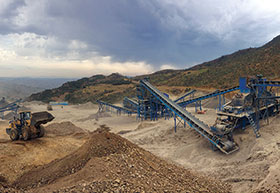 Securing a mine is a vast undertaking requiring one to use almost every security technology and process if you are to get it right. Mining security starts at the perimeter, with long boundaries measuring kilometres, potentially situated in remote areas far from any power lines. And despite the best precautions mine management can take, mines today are targets of well organised syndicates with criminal and political backing.
From there, one moves further into the mine's property and you need to secure access and egress points, multiple buildings, plants and offices, as well as large industrial operations. And of course, there are dangerous goods that need protecting, such as explosives and other deadly chemicals. Only then can you think about what happens in terms of security under the ground.
Gino de Oliviera, Kedacom representative at Forbatt SA, offers a few insights into what technology can be used to assist in securing mines from the many challenges they face.
• It is vitally important to cover the perimeter of the mine. The perimeter covers a large area and mines therefore need long distance cameras with auto-tracking and analytics to cover these points of entry effectively. Ideally, we should be able to see details such as car number plates and human faces from far away.
• In South Africa we also have a lot of illegal miners on mining sites, better known as 'Aliens' or 'Zama Zamas'. These miners work in close proximity to the existing operations and make it dangerous for people living in the area as well as permanent and contract staff on the mines. And that doesn't even begin to consider the dangers they put themselves in when ignoring safety standards.
• The next phase would be HD cameras over smelters, high-powered machinery, and for a general overview of the working areas. This is for health and safety reasons as well as security – and often the health and safety operations benefit more from these cameras. In extreme situations, explosion-proof cameras are also available to take care of securing special areas (such as locations where dangerous goods are stored.
• Human recognition cameras at entrances and exits will monitor who is coming in and who is leaving. Most mines have security and check points, so there is enough time to capture a face clearly. Kedacom has developed its Falcon system that includes human comparison functions to recognise people and prevent suspects or people who have been blacklisted from entering the mine's premises.
• I would also suggest placing cameras in common areas to watch the movement of staff and to catch any internal theft that may occur. Kedacom's cameras are all equipped with intelligent algorithms that are helpful in securing important areas and watching the movement of people.
• When it comes to security underground, things get more challenging as these are extremely harsh areas with very low light. Kedacom's new generation body-worn cameras may be a solution for supervisors, and there are also explosion-proof cameras from the company, as mentioned above.
The benefit mines can achieve from deploying systems such as those mentioned above is that they will obtain security peace of mind, while also gaining insight and assistance into many of the health and safety issues mines contend with.
Risk, health and safety, and security are enormous issues on South African mines. Kedacom has a range of technologies that can be combined in a turnkey solution that provides the
necessary solutions, from the foundational hardware through to Kedacom's intelligent software.
Credit(s)
Further reading:
A customised solution for backup power
August 2019, Specialised Battery Systems , News, Integrated Solutions
Specialised Battery Systems designed and implemented a bespoke solution for Stallion Security Electronics to deploy at almost any site.
Read more...
---
Augmented security with drones
August 2019, Drone Guards , Editor's Choice, Integrated Solutions
Drone Guards is moving into an untapped market of using drones to secure residential estates and other high-value assets such as mines, farms and commercial properties.
Read more...
---
10 things to consider when shopping for a VMS
August 2019, Genetec , CCTV, Surveillance & Remote Monitoring, Integrated Solutions
Today's video management systems (VMS) provide a wide range of tools and capabilities that help make security personnel more efficient by allowing them to focus on what really matters.
Read more...
---
More than simply a camera
August 2019, Forbatt SA, Secutel Technologies , CCTV, Surveillance & Remote Monitoring, Residential Estate (Industry)
With the human element being the weakest link in all security solutions, Hi-Tech Security Solutions looks at the pros and cons of using body-worn cameras in estates.
Read more...
---
Integrated residential estate surveillance
August 2019, Forbatt SA , Integrated Solutions, CCTV, Surveillance & Remote Monitoring, Residential Estate (Industry)
Integrated solutions bring the best-of-breed out of each technology to give personnel all the tools they need for access control management and security.
Read more...
---
From fog to foxes
August 2019, Axis Communications SA , Perimeter Security, Alarms & Intruder Detection, CCTV, Surveillance & Remote Monitoring, Integrated Solutions
What makes radar devices so valuable is the fact that they can provide a high range of accurate data while barely relying on external factors, such as weather or light.
Read more...
---
The hidden claws of proof of concept
August 2019 , Editor's Choice, Integrated Solutions
Proof of concept is a proven methodology for testing new technologies, but it isn't perfect, and it can be more of a hindrance than a help.
Read more...
---
Local manufacturing – challenges and opportunities
August 2019, Centurion Systems, Technoswitch, ZYTEQ Fire , Integrated Solutions
Local companies manufacture a diverse range of products for the security industry, and although they face challenges, there are opportunities out there too.
Read more...
---
Corporate SA not in love with 4IR
July 2019 , Industrial (Industry), Integrated Solutions
The technologies that make up the so-called fourth industrial revolution (4IR) have yet to be adopted with any enthusiasm by South African enterprises.
Read more...
---
Accommodating company growth
August 2019, Bosch Building Technologies , Healthcare (Industry), Integrated Solutions
Bosch equips two offices of Italian pharmaceutical company Alfasigma with a future-proof security and fire safety solution.
Read more...
---