printer friendly version
PDS for Sasol coal mines
October 2017 Editor's Choice, Perimeter Security, Alarms & Intruder Detection, Asset Management, EAS, RFID, Mining (Industry)
Monitech Mining Monitoring Systems was recently commissioned to supply and install a proximity detection system to a number of Sasol Mining's underground operations.
The project, completed in good time, was an initiative by Sasol Mining to have a proximity detection system (PDS) put in place to assist with the compliance of the Department of Mineral Resources' regulations requiring integrated proximity detection systems on underground trackless mobile machinery (TMM) at its underground operations in South African coal fields.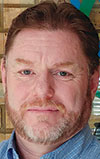 Nick Murray.
The project, which included supply, installation, commissioning and maintenance of the PDS as well as associated training, was awarded to Monitech Mining Monitoring Systems, whose portfolio spoke to the project's need for a reliable, effective, accurate, low-cost-of-ownership solution backed by around-the-clock qualified service and support. "Integration of the system had to be timeously completed with minimal impact on mining operations," says Nick Murray, chief sales and marketing officer at Monitech.
Working closely with the third main project stakeholder, US-based equipment OEM Matrix Design Group, Monitech ran the project on a turnkey basis. "Together, we were responsible for supplying and installing the new Matrix IntelliZone proximity detection systems. We also supplied and integrated Cap Lamp Locators (CLL) to all personnel working underground with minimal disruption to mining activities. This is to be complemented by training and round the clock technical support, project and application-related consulting as well as managing the logistics of the project."
IntelliZone PDS
The IntelliZone PDS and its associated Cap Lamp Locator are fully approved for use underground in fiery mines and meet DMR standards for Proximity Detection Systems to be fitted to all TMM in the South African mining sector.
The system creates awareness of the danger areas around TMM. This is achieved by means of two zones, namely the 'Warning Zone' and the 'Shutdown Zone'. The Warning Zone alerts personnel to impending danger when in close proximity to a TMM, allowing them to take the necessary avoiding action. The TMM is also put into 'crawl' mode if the Warning Zone is breached.
The Shutdown Zone is closest to the TMM. If personnel breach this zone an immediate shutdown of the TMM occurs. The TMM remains in this state until the Shutdown Zone is cleared.
A safe zone can be created for the operator/s of the TMM. The operator/s can associate with the specific TMM and while they are inside the Operator Safe Zone the TMM can be operated freely. If the operator steps out of the Safe Zone a shutdown of the TMM will occur.
"These zones can have any shape desired and are easily customisable to different types of equipment and their intended applications," says Murray. "The system comes with a host of built-in benefits including: long-range detection; rugged personnel locators; precise worker location within zones for accurate alerting and control, as well as intelligent linear and dynamic zones.
"The system that has been implemented for Sasol Mining uses a proven technology. It accurately tracks personnel around moving machinery in a way that is specifically programmed for that particular piece of equipment; this is a globally patented technology. Other aspects that make this system unique are its long-term low cost of ownership and the OEM qualified and trained team that we have cultivated."
Workflow and opportunities
The original project time line was one year, starting in mid-2016, which was drastically reduced due to impending legislation. "Even so, with full cooperation from all stakeholders, these reduced time lines were achieved," says Murray. "At Monitech, we believe it takes an empowered, motivated and invested team to achieve success with due credit shared by all. The shrinking project time lines were very well managed by Sasol's programme managers and our qualified underground staff, whose initiative on the project was second to none; the work changes were received and resolved with enthusiasm, with customer satisfaction being the primary aim."
Twenty direct employees from Monitech were engaged in the project, including a fully qualified underground project manager, engineers and specialist technicians. "Through the project, Monitech was able to train and offer sustained employment and skills development to members of the local community and in turn, this has allowed the company to grow. The project has also made the empowerment of its staff through extensive training and experience possible, which has further galvanised the company and its employees," Murray notes.
Further to this, the undisputable dedication of both Monitech and Matrix Design Group were key to the success of the project. "Tackling this project together strengthened both our relationships with our clients as well as our partnership and showcased once again our commitment to supplying new technologies to the mining sector."
Conclusion
Monitech has fostered long and successful relationships with all of the major mining houses in the South African coal industry. "Our products are consistently of the highest quality as we employ the ISO 9001 Quality Management System and we have a solid reputation for developing products that are relevant to our customers' needs," Murray asserts.
"The success of the Sasol Mining project highlights Monitech's capabilities, not only in delivering top class products to the mining sector, but in doing so comfortably under challenging expectations. The rollout of this project reinforces our commitment as a reliable service partner with the goal of improving the safety of mining personnel. By establishing and maintaining long-term and mutually beneficial partnerships, this project brings us one step closer to our vision of zero harm in the mining industry."
For more information, contact Monitech, +27 (0)11 395 4312, nick@monitech.co.za, www.monitechmining.com
Further reading:
Platforms and community lead the future
May 2019, Milestone Systems , Editor's Choice, CCTV, Surveillance & Remote Monitoring, News, Integrated Solutions
Milestone Systems took a look into the future of open platforms and the power of community at MIPS EMEA in Copenhagen in March this year.
Read more...
---
30 years of business continuity
May 2019, ContinuitySA, Technews Publishing , Editor's Choice, Security Services & Risk Management
ContinuitySA is celebrating its 30th anniversary this year and Hi-Tech Security Solutions spoke to CEO Michael Davies about the changes he has seen in the business continuity and disaster recovery markets.
Read more...
---
The consequences of false alerts
May 2019, Leaderware , Editor's Choice, CCTV, Surveillance & Remote Monitoring, Integrated Solutions
Craig Donald discusses the impact of false alarm rates on the utility of intelligent security technology systems.
Read more...
---
The enemy within – insider ­security threats
May 2019, Wolfpack Information Risk , Editor's Choice, Cyber Security, Financial (Industry)
Insider threats in today's financial world are insidious and destructive and your defence against insiders should start long before the person assumes his/her position.
Read more...
---
Protecting people's money, and their data
May 2019, Cathexis Technologies, CA Southern Africa, IDEMIA , Editor's Choice, Integrated Solutions, Financial (Industry)
The temptations inherent to the banking sector, and financial institutions more generally, pit them in an eternal and increasingly high-tech battle to secure themselves against threats from within and without.
Read more...
---
Access authentication with a wave
May 2019, IDEMIA , Editor's Choice, Access Control & Identity Management, Integrated Solutions, Financial (Industry), Commercial (Industry)
Financial organisations are making the move to contactless fingerprint biometrics in order to meet the increasing burden of regulatory and compliance demands.
Read more...
---
The benefits of background screening
May 2019, iFacts, Managed Integrity Evaluation , Editor's Choice, Security Services & Risk Management
Companies need to be more vigilant about the people they employ by making sure comprehensive background screening checks are conducted.
Read more...
---
Does your control room add value?
May 2019, Fidelity Security Group, G4S South Africa, Progroup , Editor's Choice, CCTV, Surveillance & Remote Monitoring, Integrated Solutions, IT infrastructure, Commercial (Industry)
Whether on- or offsite, control rooms are a critical aspect of security today and care must be taken in the design and rollout of these nerve centres.
Read more...
---
Intruder detection is becoming smarter and more mobile
May 2019, Elvey Security Technologies , Regal Distributors SA , Editor's Choice, Perimeter Security, Alarms & Intruder Detection
Alongside the new technologies continually being developed, existing technologies are being co-opted into not only performing an intrusion detection role, but combatting that bane of the electronic security industry: false alarms.
Read more...
---
iLegal 2019: Augmented surveillance - realising the full potential of CCTV
May 2019, Technews Publishing , Editor's Choice, News, Conferences & Events, Training & Education
iLegal 2019 will look at what is becoming known as Augmented Surveillance – using technologies and people interactively to maximise results from operators and control rooms in order to make intelligent security and business decisions.
Read more...
---