New appointments at Anviz SA
October 2017, News
Anviz SA has announced the appointment of Bianca Verheyen into the position of sales and marketing.

Bianca Verheyen.
Bianca brings new skills, capabilities and a fresh approach to the growing Anviz brand. She holds a B.Com Marketing and Business Management (Level 6) degree and brings with her experience in the biometric industry. She will be responsible for all sales and marketing functions into assigned territories in sub-Saharan Africa.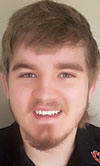 John Rocco de Villiers.
To improve technical support for distributors, system integrators and installers, Anviz SA has appointed John Rocco de Villiers as first line technical support, based in the Johannesburg office. With existing support structures in Cape Town and the expansion of online technical support via the Service One smartphone application, the addition of John Rocco will improve support structures greatly.
For more information contact Anviz SA, +27 (0)11 454 6006, deon@anviz.com, www.anviz.com