New operations coordinator for Powell Tronics
October 2017, News
In line with Powell Tronics' mission to enhance the customer experience, Matthew Bushell recently joined the team in the role of operations coordinator. Bushell has a solid sales and administrative background, having worked for a law firm in the fast-paced London business environment for six years and for a number of years for the UK and South African automotive sectors.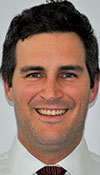 Matthew Bushell.
CEO John Powell says that Bushell's strong interpersonal skills and ability to broker synergistic relationships between stakeholders will be a great asset to Powell Tronics. "He will not only perform a critical role in ensuring that the company's widespread resources are deployed where and when they are most needed, but I will now be able to focus more closely on the tactical direction of the company," Powell points out.
Bushell adds that, from a competitive perspective, the company will thrive on having the correct reporting components in place. "It is vitally important to ensure that we have all the resources needed to remain at the cutting edge of technology delivery and support. By implementing carefully considered systems, all processes will work together in a seamless manner to ensure uncompromising customer service."
"Given the company's growth over the past 10 years, we needed a certain amount of introspection to ascertain not only the success of the current status of the company, but moreover the necessity for a strategic plan to grow and sustain our operations. It goes without saying that customer-centricity forms the core of our successes to date, so our three identified focal points are: service, support and solutions," says Powell.
For more information contact Powell Tronics, +27 0861 787 2537, marketing@powelltronics.com, www.p-tron.com