printer friendly version
PTZ auto-tracking solution
September 2017 CCTV, Surveillance & Remote Monitoring, Products
Graphic Image Technologies (GIT) has announced the local availability of FLIR's PTZ (Pan/Tilt/Zoom) auto-tracking solution for Quasar CP-4221-301 PTZ cameras. This auto-tracking solution makes it possible to use a surveillance camera to automatically follow a moving object or person should it move out of the frame – something fixed cameras cannot do.
With fixed cameras, monitoring high-risk areas like airports and warehouses is challenging. This is because once an unauthorised person or object has been identified, it is impossible to track visually on-screen if it moves beyond the camera's line of sight.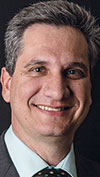 Laurence Smith.
"This camera solution from FLIR changes everything. It is ideal for use in high-risk areas that require constant monitoring and comprises three-part devices, namely, the smart PTZ Tracker video encoder device, FLIR's enterprise-grade Latitude network video management system and the Quasar 1080p sWDR PTZ camera," says Laurence Smith, executive at GIT.
Compact, self-contained analytics
The TRK-101-P PTZ Tracker is a small, self-contained video encoder capable of analysing captured video signals in order to issue warning of people, vehicles and objects crossing perimeter lines or entering into pre-defined zones. Helping to prevent an object from being removed or left behind, this technology is particularly useful in airports and critical infrastructure sites.
"With this video encoder, security operators can configure customised perimeter and detection rules. When used in combination with PTZ cameras, once a moving object is detected the unit takes control of the cameras and moves them to autonomously track and zoom in on the threat," Smith continues.
The encoder features both analogue and IP streaming video outputs to enable hybrid connectivity to legacy and IP-based CCTV networks. "It supports black and white, colour, infrared and thermal cameras and is capable of integration with existing analogue PTZ cameras. Making this the ideal solution for retrofitting existing camera installations to add the much-needed functionality of being able to autonomously track moving objects within a surveillance environment," Smith notes.
Versatile, effortless management
FLIR's Latitude network video management system (NVMS) is an enterprise-level IP surveillance system that delivers forensic-quality imaging and user-friendly operations with dedicated web and mobile client software. "It provides a modern interface for effortless viewing, playback, search and export functionality. All of which makes Latitude a powerful and versatile system that offers unparalleled flexibility in managing IP video, audio and data," Smith says.
Crisp, clean visuals
Probably the most important piece in this solution, is the Quasar 1080p sWDR PTZ. This surveillance camera empowers security operators to identify and track moving objects or people within the surveillance area. The camera can handle a wide variety of motion and lighting conditions.
"Available in an indoor and outdoor model, this camera is capable of multi-streaming H.264 video to delivers crisp, clean video that enables superior identification while offering the lowest bit rates regardless of scene complexity. The fact that frame rates are guaranteed even in complex high-motion scenes, reinforces the suitability of this solution in the use of visually securing airports, city surveillance applications, critical infrastructure sites, commercial offices and campuses," Smith says.
"This bundle from FLIR is the ultimate solution that enables surveillance operators to add the much-needed functionality of being able to track and trace moving threats within their environment, without requiring a complete re-do of the camera set-up. The PTZ Auto-tracking solution can be retro-fitted into existing installations, making this an attractive alternative that will enhance the effectiveness of the overall system without incurring massive expense to do so," Smith concludes.
Credit(s)
Further reading:
Retail solutions beyond security
Issue 8 2020, Axis Communications SA, Technews Publishing, Hikvision South Africa , Editor's Choice, CCTV, Surveillance & Remote Monitoring
The need for security technology to deliver more than videos of people falling or stealing from retail stores is greater than ever.
Read more...
---
A 'step-change' in tracking and monitoring
Issue 8 2020, Dahua Technology South Africa , CCTV, Surveillance & Remote Monitoring, Products
View an overall scene while monitoring a specific person or vehicle, or obtain a panoramic view while being able to zoom in and track particular targets.
Read more...
---
AI-powered hardhat detection
Issue 8 2020, Hikvision South Africa , Industrial (Industry), CCTV, Surveillance & Remote Monitoring
Hardhats save lives, but only if people wear them. Intelligent, AI-powered hardhat cameras are helping to ensure workers in dangerous locations stay safe at all times.
Read more...
---
AX PRO wireless alarm solutions
Issue 8 2020, Hikvision South Africa , Perimeter Security, Alarms & Intruder Detection, Products
Hikvision announced its new generation of wireless alarm systems – the AX PRO – delivering comprehensive alarm solutions for both residential and commercial applications.
Read more...
---
Scanning for gold
Issue 8 2020, Saflec , Asset Management, EAS, RFID, Products
The metal detection market is such that customers looking for a specific point solution are becoming a rarity and the primary desire is for a solution.
Read more...
---
Red G advances with 2020 vision
Issue 9 2020 , Fire & Safety, Products
Red G has reached its 18th year of trading while maintaining focus as South Africa's premier fire-suppression systems supplier.
Read more...
---
AI surveillance protects valuable stock
Issue 9 2020, Dahua Technology South Africa , CCTV, Surveillance & Remote Monitoring
Hyundai Somerset West branch store equipped with AI-enabled Dahua WizMind surveillance solution to keep valuable stock safe 24 hours per day.
Read more...
---
Dahua's new eco-thermal cameras for SMBs
Issue 9 2020, Dahua Technology South Africa , CCTV, Surveillance & Remote Monitoring
Dahua Technology has released new eco-thermal cameras which offer advanced technologies like thermal imaging, AI and active deterrence.
Read more...
---
Hikvision introduces Dedicated DeepinView series
Issue 9 2020, Hikvision South Africa , CCTV, Surveillance & Remote Monitoring
Cameras in this sub-series come equipped with multiple dedicated algorithms that can be selected and engaged discretely based on the needs of the installation, then switched as the security needs change
Read more...
---
Emotion analysis service
Issue 9 2020 , CCTV, Surveillance & Remote Monitoring
NEC Corporation and Realeyes have jointly developed a new emotion analysis service that combines NEC's biometric identification and video analytics technologies with Realeyes' emotion analysis technology.
Read more...
---