printer friendly version
Fire suppression for server rooms
September 2017 Fire & Safety, Products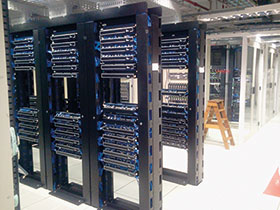 Server rooms, electrical switches and power distribution cabinets are second only to human capital, which is why effective fire suppression systems in the workplace are so important.
The implementation of fire suppression systems is a job often given to in-house information technology architects, who would require an expert in fire to achieve an integrated solution. Accordingly, they tend to rely heavily on outside experts to safeguard their environment against fire, one of the main causes of the downtime of critical hardware, with an often-devastatingly negative effect on business operations.
In many workplaces, IT racks and servers are protected by high pressure gas systems which can be pressurised to up to 400 bar and which use gases that rapidly displace oxygen levels in order to suppress the flames. These traditional go-to fire suppression systems, however, come with a number of disadvantages.
For one, if anyone is in the server room at the time the gas is released, they could be seriously injured or die from suffocation. Secondly, the shock and pressure emissions are powerful enough to blow out windows and doors, and destroy fragile hard drives. The gases are also extremely cold and tend to leave behind a messy residue.
C3 Shared Services has therefore introduced a clean agent fire suppression system based on cool gas nitrogen (N2) generator technology. This pressure-less, long-life storage system has none of the undesirable after-effects of conventional suppression systems and is therefore the perfect replacement for chemical and inert pressurised gas bottles.
Unlike traditional gas release systems, this new technology fire suppressant is stored in a solid state within the chemical block inside the generator. When triggered, the initiator will start the decomposition of the propellant in order to release the nitrogen gas (IG100) at ambient temperature without any residue. The nitrogen changes the air composition by lowering the oxygen level, and thereby preventing the fire from starting or re-igniting.
There is no danger of the equipment being damaged by the fire suppressant and there are no cleaning costs afterwards. And its benefits don't stop here. The patented technology eliminates the need for filtering or cooling, thus giving it high storage efficiency and resulting in a 30% smaller, lighter system. The cool gas generator allows for maintenance-free storage of the nitrogen gas for over 15 years, a considerable cost advantage when taken over the total lifetime of the system. In comparison to other high pressure fire suppression systems, the cool gas generator fire suppression system only requires maintenance on the smoke detectors. And when the system is deployed, only the cool gas generator needs to be replaced, which is easily done and with very little downtime.
Most importantly, however, the pure nitrogen gas has no effect on the ozone or global warming, and poses no threat to human safety or wellbeing, a major advantage over chemical gasses. In addition, the gas production has a low pressure release profile and accordingly a low noise level.
The system is equipped with three optical sensors that operate independently of each other and is only activated once two of the three sensors detect smoke particles in the air. This makes the system both robust and dependable when it comes to preventing false alarms.
Designed in such a way that it can protect multiple types of enclosures, including server racks, e-cabinets, power distribution units, switching cabinets and cabinets with high valve or mission-critical equipment, the system can be installed inside the server rack or the desired protection area. The control system is based on the XP95 protocol and therefore compatible with other fire alarm panels.
For more information, contact C3 Shared Services, +27 (0)11 312 2040, [email protected], www.c3ss.co.za
Credit(s)
Further reading:
Texecom launches the Midnight Black Collection
Technews Publishing Perimeter Security, Alarms & Intruder Detection Products
Working in harmony with darker environments, the Midnight Black Collection has been created for businesses and sites that require or prefer a security solution which offers discreet protection that compliments their surroundings.
Read more...
---
Optimising remote technical support
Technews Publishing Asset Management, EAS, RFID Products
Sanden Intercool Kenya improves efficiency, removes manual processes with FIELDForce from MACmobile, making its technical backup and support staff more productive, while also optimising record keeping.
Read more...
---
Advanced server performance and energy efficient design
Editor's Choice IT infrastructure Products
Dell PowerEdge server portfolio expansion offers more performance, including up to 2.9x greater AI inferencing while Dell Smart Flow design and Dell Power Manager software advancements deliver greater energy efficiency.
Read more...
---
Gallagher to showcase new Controller 7000 single door
Technews Publishing Access Control & Identity Management Products
Gallagher will be showcasing its latest access control innovation, the Controller 7000 Single Door on its stand at Intersec Dubai from 17-19 January 2023.
Read more...
---
Batteries creating false alarms due to load shedding
Uniross Batteries Smart Home Automation Products
A local security company has solved the problem of receiving false alarms during loadshedding by replacing its customers' 12 V lead batteries with lithium batteries.
Read more...
---
Minimising fire risks in automotive logistics
Hikvision South Africa CCTV, Surveillance & Remote Monitoring Products Logistics (Industry)
Automotive logistics company uses thermal imaging solution from Hikvision to ensure its stores of lithium batteries for electric vehicles never overheat and cause a fire.
Read more...
---
Incorporate fire safety in the design phase
Fire & Safety
ASP Fire CEO Michael van Niekerk says companies can prevent their infrastructure project from going up in flames by incorporating fire safety in the design phase.
Read more...
---
Olarm product highlights for 2022
Olarm Perimeter Security, Alarms & Intruder Detection Products
Olarm rapidly expanded its ecosystem in 2022 with several new products, the launch of its training academy, and a presence in Gauteng.
Read more...
---
Smart home security
Olarm Smart Home Automation Perimeter Security, Alarms & Intruder Detection Products
The applied use of smart technology within the Olarm ecosystem, through smart features coupled with existing systems, extends the benefits of technology into different spheres.
Read more...
---
Smart car parking solution eases traffic flow
Dahua Technology South Africa CCTV, Surveillance & Remote Monitoring Integrated Solutions Products
Ethiopia's first smart parking lot, designed to improve traffic flow and management efficiency, has been built and installed using Dahua Technology's smart parking solutions.
Read more...
---