printer friendly version
Fire suppression for server rooms
September 2017 Fire & Safety, Products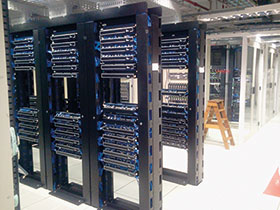 Server rooms, electrical switches and power distribution cabinets are second only to human capital, which is why effective fire suppression systems in the workplace are so important.
The implementation of fire suppression systems is a job often given to in-house information technology architects, who would require an expert in fire to achieve an integrated solution. Accordingly, they tend to rely heavily on outside experts to safeguard their environment against fire, one of the main causes of the downtime of critical hardware, with an often-devastatingly negative effect on business operations.
In many workplaces, IT racks and servers are protected by high pressure gas systems which can be pressurised to up to 400 bar and which use gases that rapidly displace oxygen levels in order to suppress the flames. These traditional go-to fire suppression systems, however, come with a number of disadvantages.
For one, if anyone is in the server room at the time the gas is released, they could be seriously injured or die from suffocation. Secondly, the shock and pressure emissions are powerful enough to blow out windows and doors, and destroy fragile hard drives. The gases are also extremely cold and tend to leave behind a messy residue.
C3 Shared Services has therefore introduced a clean agent fire suppression system based on cool gas nitrogen (N2) generator technology. This pressure-less, long-life storage system has none of the undesirable after-effects of conventional suppression systems and is therefore the perfect replacement for chemical and inert pressurised gas bottles.
Unlike traditional gas release systems, this new technology fire suppressant is stored in a solid state within the chemical block inside the generator. When triggered, the initiator will start the decomposition of the propellant in order to release the nitrogen gas (IG100) at ambient temperature without any residue. The nitrogen changes the air composition by lowering the oxygen level, and thereby preventing the fire from starting or re-igniting.
There is no danger of the equipment being damaged by the fire suppressant and there are no cleaning costs afterwards. And its benefits don't stop here. The patented technology eliminates the need for filtering or cooling, thus giving it high storage efficiency and resulting in a 30% smaller, lighter system. The cool gas generator allows for maintenance-free storage of the nitrogen gas for over 15 years, a considerable cost advantage when taken over the total lifetime of the system. In comparison to other high pressure fire suppression systems, the cool gas generator fire suppression system only requires maintenance on the smoke detectors. And when the system is deployed, only the cool gas generator needs to be replaced, which is easily done and with very little downtime.
Most importantly, however, the pure nitrogen gas has no effect on the ozone or global warming, and poses no threat to human safety or wellbeing, a major advantage over chemical gasses. In addition, the gas production has a low pressure release profile and accordingly a low noise level.
The system is equipped with three optical sensors that operate independently of each other and is only activated once two of the three sensors detect smoke particles in the air. This makes the system both robust and dependable when it comes to preventing false alarms.
Designed in such a way that it can protect multiple types of enclosures, including server racks, e-cabinets, power distribution units, switching cabinets and cabinets with high valve or mission-critical equipment, the system can be installed inside the server rack or the desired protection area. The control system is based on the XP95 protocol and therefore compatible with other fire alarm panels.
For more information, contact C3 Shared Services, +27 (0)11 312 2040, [email protected], www.c3ss.co.za
Credit(s)
Further reading:
Avoiding human error at ports
LD Africa Transport (Industry) CCTV, Surveillance & Remote Monitoring Products Logistics (Industry)
LD Africa introduced a local port to the AxxonSoft Port Security System ,a solution that helps overcome the element of human error and eliminate paperwork.
Read more...
---
FlameSpec flame detectors from Technoswitch
Technoswitch Fire Detection & Suppression Fire & Safety
The FM-approved FlameSpec detectors address slow-growing fires and fast eruptions of fire while maintaining high performance and reliable detection in all weather and light conditions.
Read more...
---
Improved hydraulic performance and efficiency
Johnson Controls Global Products Fire & Safety
Tyco 5.8K LFII sprinkler from Johnson Controls Global Products brings improved hydraulic performance and efficiency to residential fire protection.
Read more...
---
One-bolt coupling
Johnson Controls Global Products Fire & Safety
The G-Fire One-Bolt Figure 579A is a grooved, rigid coupling ready for out-of-the-box, push-on installation including self-lubricating gaskets for a smooth installation experience.
Read more...
---
Olarm launches PRO 4G communicator
Olarm News Perimeter Security, Alarms & Intruder Detection Products
Olarm has announced an additional 4G/LTE version of its Olarm PRO smart communicator. It is aimed at areas suffering from poor connectivity by providing support for 4G, 2G and Wi-Fi networks.
Read more...
---
Ensure your generator is fire-safe
Fire & Safety
A backup power supply such as a genset is critical during loadshedding, however, it is vital that such important equipment is maintained properly and serviced regularly to be able to cope with outages.
Read more...
---
Technoswitch Awards dinner for 2022
Technews Publishing News Fire & Safety
Technoswitch hosted its fifth awards dinner at Montecasino in September, where customers and suppliers celebrated a year of success.
Read more...
---
Mass transportation requires massive security
Fire & Safety
The technologies and design styles behind transit hubs may have changed over the years, but from a fire safety perspective the threats have remained constant.
Read more...
---
Reliable, low-maintenance video appliances
Technews Publishing Editor's Choice CCTV, Surveillance & Remote Monitoring News IT infrastructure Products
Symetrix, part of the Agera Group, has added the AES range of video recording servers, storage appliances and workstations to its portfolio.
Read more...
---
ZYTEQ Fire Engineering Summit 2022
ZYTEQ Fire Fire & Safety News
Cape Town-based ZYTEQ Fire hosted its inaugural Engineering Summit at the Commodore Hotel in Cape Town and the Leonardo Hotel in Sandton, Johannesburg.
Read more...
---