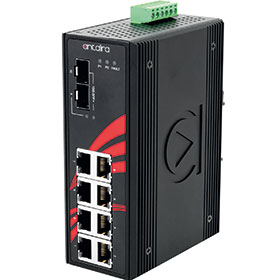 Industrial 10G Ethernet switch series
September 2017, Products
Antaira Technologies has announced the expansion of its industrial 10 G Ethernet switch series. With flexible connectivity and high network bandwidth support, users can easily leverage gigabit Ethernet port and 10 G SFP slots in different environments to maintain the high efficiency and perform-ance of the systems in demand for comprehensive data transmission.
In automation markets, machine vision is increasingly used in the inspection systems to require greater accuracy and precision and to enhance yield. In order to support devices in factory environments, Antaira provides an industrial 10G PoE+ switch which is equipped with power booster technology for supporting 24 Vdc power input to supply up to 30 W per port, also enable users avoid the inconvenience of power sourcing and unnecessary cabling cost.
On the other hand, in the security surveillance market, Antaira's industrial 10 G Ethernet switch series not only improves the expansion of the surveillance networks via its fibre connectivity, but also help users maintain the efficiency of comprehensive data communication via 10 G data bandwidth support while they use high resolution video surveillance for holding the critical clues in every situation.
Nonetheless, in some cases, IP surveillance still adopts low resolution cameras. To maintain the reliability and efficiency of current networking systems, most cases have to choose lower resolution cameras in the systems due to the restriction of the slow upload speed of gigabit Ethernet switches. However, the increasing demand for high resolution cameras is followed by the need for high network bandwidth. Therefore, high network bandwidth plays an indispensable role in the systems that require high-precision inspection.
As high-precision inspection is required, once users adopt high resolution cameras, taking advantage of Ethernet switches that provides higher bandwidth transmission becomes a must to maintain a reliable transmission for comprehensive data communication and to achieve high efficiency in the surveillance or high-precision inspection process. In view of this, Antaira Technologies provides an industrial 10/12-port industrial 10 G Ethernet switch series for higher bandwidth data transmission demands.
To ensure industrial-grade reliability, Antaira's industrial 10 G Ethernet switch series is manufactured with 100% industrial-grade design and components. This series possesses IP30 rated metal casing, supports DIN-rail and wall mount deployments and industrial level EMI/EMC shielding.
For more information, contact Antaira Technologies at sales@antaira.com.tw