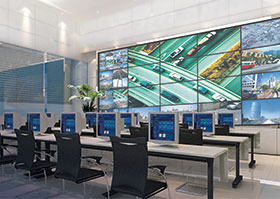 Monitor 60 moving targets simultaneously
September 2017, Asset Management, EAS, RFID, CCTV, Surveillance & Remote Monitoring
Kedacom has released the Kedacom Recognitive Tracking System (KRTS), an intelligent analytics solution that surveys large open areas to acquire moving targets and then track them individually as they move around.
The KRTS system is capable of analysing the essential characteristics of people and cars, such as size, speed, clothing colour, car colour and direction of movement. When implementing the system, instead of requiring control room employees to monitor a range of people or objects simultaneously, they can be assigned to more important work while the system constantly moves from one target to another, providing a comprehensive perspective to operators.
The analytics algorithm is integrated into Kedacom cameras, which means customers do not need to purchase any additional technology.
To make use of the new KRTS functionality, customers will require at least one box or bullet camera, and one PTZ camera. To cover larger areas, the system can expand to a maximum of one box or bullet camera, and two or three PTZ cameras per unit-set, allowing one PTZ to track a target up close without losing the full field of view.
To support the KRTS, Kedacom has made a range of Recognitive NVRs available. Customers can use the Recognitive NVRs to trace people or vehicles by the characteristics the KRTS system recognises. The NVRs are intelligent storage and management devices which offer the latest in IP-based video synopsis, using algorithms to compress lengthy video by summarising and displaying key moments from it as defined by the user.
This video summarisation reduces the amount of time and manpower needed as only essential information is extracted from this data. Once a video is compressed and relevant details sequenced from therein, it is indexed and time-stamped for quick retrieval and further analysis. In addition, the NVR will seamlessly work with all ONVIF-compliant cameras.
When using KRTS, organisations can improve the return on their surveillance investment by reducing the number of operators required to run and manage the system, as well as keep a sharp eye that is never distracted on specified areas 24x7. Kedacom has committed to regularly update the system with the latest analytics software. In addition, an SDK (software development kit) is also available to Kedacom partners.
For more information contact Forbatt SA, +27 (0)11 469 3598, sales@forbatt.co, www.forbatt.co