Reducing risks at airports and seaports
September 2017, Transport (Industry), CCTV, Surveillance & Remote Monitoring, Integrated Solutions
Airports and seaports continue to present among the most vulnerable potential targets for terrorists. Within the past two years, attacks at airports in Brussels, Istanbul, and Fort Lauderdale have claimed the lives of more than 80 people and injured more than 500. And while there have been no major terrorist attacks recorded yet at seaports in the U.S. or abroad, you don't have to look far to see the catastrophic consequences that could result from one. Although it may be impossible to prevent every airport and seaport attack, comprehensive security systems that include video surveillance along with other elements offer the best chances to reduce the risk of such attacks and to support the official response to incidents in these areas.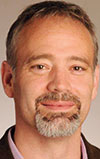 Mike Prysock
Airports and seaports have many inherent security challenges above and beyond the typical baggage and passenger screening functions that are familiar to travellers. Compared to other secure areas such as office buildings they are geographically large and spread out, have a mixture of public and private areas, and have large numbers of vehicles, workers, and visitors moving about the property. Securing and protecting the entire premises requires a comprehensive security system made up of many elements, including fencing and gates, access control, intrusion detectors, video surveillance and much more.
The perimeter of an airport or a seaport presents a particular challenge. For example, many airports have no more than a chain-link fence between the Air Operations Area (AOA) and the outside of the airport. At seaports, this may be true for the entire premises. At an airport, runways, taxiways, aircraft, and other assets protected only by that fence are incredibly vulnerable to anyone with reasonable climbing skills – while, at seaports, ships, containers, vehicles etc. are at risk. It's not difficult to use a vehicle to break through a chain-link fence, as shown by several recent high-profile perimeter breaches where civilians have taken their car for a joyride down an airport runway. Likewise, virtually anyone with a boat can paddle up to airports that are near water, or any seaport, and gain access. Reports find that airport perimeter security is breached almost once every 10 days.
Solutions for automated perimeter security can help to address this challenge. Today's surveillance systems can incorporate analytics to monitor the fence line, detect breaches or potential breaches, filter out time-wasting false alarms from animals or blowing debris, and alert authorities quickly when action is needed. And when perimeter security is seamlessly integrated with the airport or seaport's surveillance system, there is no need to train personnel on a new system or increase your personnel deployment to compensate for new security operations. These solutions are easily deployable, and they function in all environments and weather conditions – a vitally important factor for a security system deployed outdoors and in areas where wind, rain and shaking can be common occurrences.
Video surveillance augments the observations of security personnel and enables operators to effectively engage in real-time monitoring and situation management while supporting investigative and forensic needs. In particular, an open platform approach combined with the ability to integrate with other third-party systems, allows organisations to benefit from other best-in-class technologies to promote a stronger security posture and support a coordinated emergency response when necessary.
Airport and seaport video solutions should be combined with cameras that deliver the best possible images in difficult lighting conditions. Panoramic cameras are ideal for capturing a view of both large open areas and high-interest locations such as entry gates and other sensitive areas. The VMS solution chosen should offer an intuitive platform that displays critical security and video data together to help security officials make quick, effective decisions. It should integrate with third-party hardware and software systems to allow users to build a
tailored best-in-class solution that closely matches the needs of their particular facility.
The threats facing airports and seaports are not going to go away any time soon and video surveillance remains a vital early detection tool. Whether it is spotting a fence jumper or a potential terrorist inside a passenger terminal, video surveillance gives security personnel actionable intelligence they can rely upon. As the data generated by cameras becomes even greater in the years ahead, it is paramount that airports and seaports position themselves to grow with technology.
For more information contact Yvette Venter, Pelco by Schneider Electric, +27 (0)11 254 6400, yvette.venter@schneider-electric.com