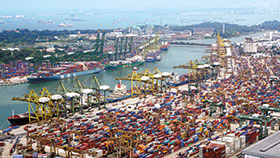 Importing made simple
September 2017, Security Services & Risk Management
One area of logistics one tends to ignore unless you are directly involved is importing. South Africa's manufacturing sector has a few companies focused on the security industry, but precious few, meaning that technology must generally be imported.
If you haven't been involved in importing products before, the process can be confusing, frustrating and expensive. If you have done it before, the process can still be frustrating and expensive. There is negotiating with your supplier, setting up payment terms and times (and currencies), shipping issues, port and offloading complexities, customs delays, VAT and other payments, and then getting the goods to your warehouse or factory. And that's the simple list.
Investec Import Solutions offers importers a solution that handles all the complexities of importing goods. The company manages the importation task with the importer, makes payments in whichever currencies are required, overseeing the whole process until the goods are delivered to the customer's warehouse or factory. At delivery, the customer receives a single account, based in Rand, that covers all the expenses.
Greg Cline, head of corporate accounts at Investec Import Solutions explains that the solution offered runs on the company's BlueLink platform. Customers can plan their entire importing process on the platform, from choosing the routes and services that get the goods into their warehouse or factory as fast as possible, through to the lowest-cost process.
BlueLink also assists in future ordering as buyers can view the historical performance of their suppliers, as well as the speed, cost, timing and processing issues faced in various ports and with different shipping companies. Planning your importing logistics therefore becomes simpler and ordering the next batch of goods much more convenient.
With an international shipping database, Investec clients can obtain electronic quotes from various suppliers to allow for quick comparison and acceptance on the platform. Due to the economies of scale of the system, Investec can also negotiate the best freight costs and even streamline customs clearance.
BlueLink is a web-based client portal that provides clients with full visibility into their import supply chain. "It allows them strategic oversight of the import process as well as improved control of their supplier relationships, costs and availability of product," says Cline. "They have access to real-time information on their orders, foreign exchange, shipments and payments."
The BlueLink platform was designed and built locally and can be used with minimal training. It updates on an hourly basis to ensure that users are continually in the loop as to the status and location of their goods. Different users have different access permissions, depending on their responsibilities in the client's business, permitting everyone to instantly access the information they require for their jobs. And for increased security, all actions are logged and recorded.
For its part, Investec Import Solutions is able to create various payment options for customers, including a facility (similar to an overdraft account) that is used to make the various payments across the supply chain (clients simply authorise various payments and the rest is handled by Investec). The facility can include terms of payment if required. Cline says there is a dynamic and personal relationship between Investec and its clients, which allows for seasonal and other adjustments to the facility as demand changes.
Cline says the service offered makes things much simpler for importers as they can focus on their own businesses and rely on Investec Import Solutions to handle the processes and complexities related to importing products. Among other benefits, this could even mean the customers import more, as they will be free to focus on moving the stock they have already imported rather than organising a new batch or fighting to get the last batch through customs.
To ensure transparency throughout the process, BlueLink provides customers with standard reports and the ability to create customisable reports to meet their specific requirements. Standard reports include:
• Orders in production,
• Shipments and deliveries,
• Supplier performance,
• Historical and future payments to suppliers,
• Forex position on an overall and per order basis, and
• Product detail.
Cline says Investec Import Solutions imported around R16 billion worth of goods for clients in the past year, with that amount set to approach R20 billion in the coming year. Currently, the customers Investec Import Solutions services via BlueLink range from the smallest importing (around R10 million of goods per year), to the largest importing (about R350 million per annum.)
More information on BlueLink can be found at https://www.investec.com/en_za/business-finance/owner-managed-businesses/import-solutions.html