printer friendly version
Security that pays its way
September 2017 Transport (Industry), Access Control & Identity Management, Asset Management, EAS, RFID, Products
Growing traveller numbers represent one of the biggest challenges for airports, road, rail and port security, but this needn't be. In fact, growing traveller numbers should be viewed as an opportunity to generate income.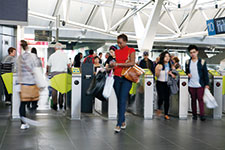 Automated fare collection.
Traditionally, security systems and solutions have been viewed within the framework of ensuring that the correct people enter the correct areas and do not take anything dangerous with them, and we agree that this is paramount to any security product installed in a mass transit area. But, we also believe that your security should add value, and with the range of solutions offered by Gunnebo, and designed specifically for the airport and public transport sectors, we are able to provide that.
They say 'time is money' and that has never been more apt than in an environment that is driven by time. Gunnebo understands the need to process people quickly while ensuring their safety and security.
Products offered by Gunnebo that facilitate the safe and secure movement and improved mobility of people include: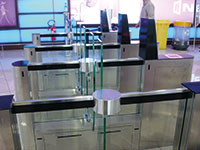 Boarding pass checks.
• Boarding pass checks which are installed prior to security checks and are highly efficient as a self-checking option if the passenger has a boarding pass.
• Automated self-boarding gates which allow passengers, with the correct documentation, access to the aircraft and frees up agents to assist passengers requiring help.
• Automated immigration systems providing cross-border security and biometric verification which reduces waiting times.
• Exit lane breach control ensuring the correct flow of people from air to land and making passage return almost impossible.
In the public transit sector, Gunnebo offers an ergonomic range of Automatic Fare Collection gates suitable to withstand the everyday rigours of mass transit use. These gates require minimum servicing with low running costs. The following range of gates is available as a standard offering or can be fully customised:
• Bi-parting gates consist of retractable flaps with unobtrusive designs that do not discriminate between passengers. The elderly, people with special needs and people with luggage have equal access with a valid ticket.
• Full panel gates offer high security prevention through the use of tall retractable glass panels which slide into the cabinet when the passenger's ticket is authorised.
• Flap panel gates offer a high aesthetic solution constrained within a narrow cabinet, offering varying levels of passage control with a high degree of local customisation.
• Tripod turnstiles operate around traditional technology and are simple in operation yet suitable for integration into any modern-day fare collection system.
However, the true value of these products lies in the ability to integrate them into existing management reporting systems. Imagine the value of the information you, as the manager of a public transport facility, could make available to retailers or suppliers on site? For example, retailers would be able to ascertain exactly how many people travelled through any given point, how long they spent in any given area and base the availability of staff and product on these flow numbers, thus ensuring that retail spend is maximised.
Similarly, contractors, such as cleaning companies would be able to calculate how many staff should be stationed, in which areas of the facility, at any given time, not to mention the benefits of ordering consumables based on the exact volume of people and not merely on averages.
This type of integration has already been taken to the next level with public transport providers partnering with businesses to facilitate the use of electronic fare payment cards as a means of payment for other services. In fact, some operators around the world already allow passengers to use their travel card for other functions such as entry ID. Not only does this make things easier for passengers as they have fewer cards to carry, it helps transport operators build better partnerships with business and ensures an all-round more integrated and efficient way in which to operate.
The next big thing?
We believe Near Field Communication technology might become an integral part of ticket validation. Since consumers are using their
smartphones for just about everything, why not ticket validation too? Near Field Communication (NFC) enables smartphones and other devices to communicate with each other by placing them together or putting them close to one another. This is definitely an option for access control in a mass transit environment.
So, view the securing of your airport or public transport facility as an opportunity to engage with business partners and suppliers and to generate income while providing world class transport facilities.
Credit(s)
Further reading:
Gallagher launches Tech Talk
Gallagher News Access Control & Identity Management Perimeter Security, Alarms & Intruder Detection
Gallagher has announced the launch of its new Security in Focus podcast series called Tech Talk, hosted by chief technology officer Steve Bell.
Read more...
---
IDEMIA and Ideco demonstrate their value stacks
Technews Publishing Ideco Biometrics IDEMIA Conferences & Events Access Control & Identity Management News
Ideco and IDEMIA recently hosted a travelling show where attendees were given an update on the companies, as well as the full value stack they offer.
Read more...
---
Hikvision releases panoramic camera range with ColorVu
Hikvision South Africa CCTV, Surveillance & Remote Monitoring Products
Hikvision has released a new range of panoramic cameras that use integrated ColorVu technology to provide vivid and full-colour video imaging for a wide field of view in light conditions as low as 0,0005 lux.
Read more...
---
Water deluge fire suppression system
FS Systems Editor's Choice Fire & Safety Mining (Industry) Products
The FS Group custom-designed and installed an electronically actuated water deluge fire suppression system for an underground explosives magazine, ensuring both the safety of miners and operations, as well as regulatory compliance.
Read more...
---
Have biometrics changed the way mines operate?
ZKTeco Mining (Industry) Access Control & Identity Management
The mining industry continues to improve conditions for mine workers, striving for zero harm, however, innovations which improve worker safety and increase operational efficiency are still needed.
Read more...
---
All-mobile people management solution with facial recognition
Editor's Choice Integrated Solutions Security Services & Risk Management Products
The new mobile Incident Desk People Management platform with facial recognition combines identification data on suppliers, staff, sub-contractors and even people on watch lists, for less than the cost of traditional service management tools.
Read more...
---
CathexisVision integrated with Suprema's BioStar2
Technews Publishing News Access Control & Identity Management Integrated Solutions
This integration uses BioStar2 access control events to trigger automated actions on the CathexisVision system, including alerts, recording a camera and commands such as locking and unlocking doors, and clearing an alarm.
Read more...
---
Gallagher releases Command Centre v8.70
Gallagher News Integrated Solutions Products
Command Centre v8.70 introduces a range of features and enhancements to create operational efficiencies and improved site security, including a next-generation integration with HALO Smart Sensors.
Read more...
---
Linux-based biometric access control
ZKTeco Products Access Control & Identity Management
The SpeedFace M4 is a Linux-based multi-biometric access control and time attendance terminal with visible light facial recognition and palm verification.
Read more...
---
GJD launches the GEM external curtain detector
Perimeter Security, Alarms & Intruder Detection Products
The GEM is a wired outdoor PIR curtain detector with up to 12 m selectable detection range and a narrow invisible curtain beam, making it highly effective in protecting properties against crime.
Read more...
---