printer friendly version
Human readiness training
August 2017 Cyber Security, Training & Education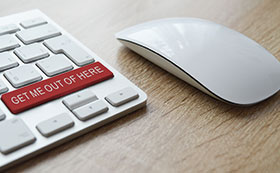 Most cyber breaches start with phishing attacks. Security research shows that employees regularly fall victim to phishing attacks, and thus represent the weakest link in any defence against illegal access to corporate infrastructure.
Phishing is the attempt to obtain sensitive information such as usernames, passwords and credit card details (and, indirectly, money), often for malicious reasons, by disguising the criminal as a trustworthy entity in an electronic communication.
While the majority of corporate employees won't fall victim to a phishing attack, at some point some will. When they do, it typically involves:
(a) Clicking a link that leads to a download website,
(b) Posting sensitive information to websites, or
(c) Opening high-risk attachments.
Phishing is prevalent because it provides big rewards for relatively little effort on the part of a hacker. Most security training programmes aimed at transforming employee behaviour fail at doing so, but it is not simply destiny, there is actually much more to be done.
What is required is a comprehensive awareness and behaviour change initiative focused on the most significant cyberthreat to organisations. CybeReady, a complete and interactive solution with a globally proven and well-established programme, systematically enables, measures and monitors behaviour change of staff (and risk profiles associated with phishing threats) over a prolonged period (one year). The initiative also provides management with customisable, on-line measurements and information on risk profiles, at all levels (individual, group, organisational), thereby providing management with a quantifiable means of measuring the extent of behaviour change of staff and organisational risk profile with respect to phishing attacks.
Four pain points
Existing anti-phishing programmes fail to adequately protect your organisation against an enormous threat. CybeReady's data-driven learning solution minimises the risk of falling prey to even the world's most sophisticated phishing attacks, so that employees can focus on their core business offerings – not on security threats.
Solving this complex problem involves an even more complicated solution. CybeReady has developed a hassle-free solution that enables organisations to offer the most advanced phishing readiness training without adding to security executives' workloads or causing unnecessary operational headaches.
Security awareness programmes consume untold amounts of organisational resources. CybeReady helps companies save money by avoiding ineffective, costly anti-phishing options that don't solve their problem. Within just 10 minutes a year per employee, the solution provides top value in demonstrated training outcomes without wasting precious resources.
With CybeReady, ease-of-use and optimal results go hand in hand, freeing up an organisation's staff to tackle other critical objectives. This state-of-the-art smart learning engine constantly adapts personalised simulations and just-in-time training content. As phishing attempts evolve, so does CybeReady's technology, constantly formulating new attacks and varied content – driving up engagement rates and providing proven results in the process.
Gold N' Links Cyber, the providers of the CybeReady solution in South Africa, places great emphasis on assisting companies in preparing their members of staff to withstand and respond to the threats posed by cyber attacks. GNL Cyber offer a constantly adapting training service that addresses a range of training requirements and is a leading provider of next generation security solutions, services, technologies and education for corporate employees.
For more information contact Graham Wright, Gold N' Links Cyber, +27 (0)83 252 5727, [email protected], www.gnlcyber.com
Further reading:
Governing cybersecurity from the top as a strategic business enabler
Cyber Security
C-Suite executives still do not take cybersecurity seriously enough, while boards are not nearly as engaged in cybersecurity as they are in other areas of oversight.
Read more...
---
It is time to take a quantum leap in IoT cybersecurity
Drive Control Corporation Cyber Security
IoT has become integrated everywhere, including enterprises. While it offers many benefits, such as increased productivity and the rollout of mission critical applications, it can also lead to (enterprise) cyber-attack vulnerabilities.
Read more...
---
What to do in the face of growing ransomware attacks
Technews Publishing Cyber Security Security Services & Risk Management
Ransomware attacks are proliferating, with attackers becoming more sophisticated and aggressive, and often hitting the same victims more than once, in more than one way.
Read more...
---
Can we reduce cyberattacks in 2023?
Cyber Security
Zero-trust cybersecurity strategy with simplicity and risk reduction at the heart is mandatory to reduce exponential cyberattacks in 2023, says GlobalData.
Read more...
---
Key success factors that boost security resilience
Cyber Security
Adoption of zero trust, secure access service edge and extended detection and response technologies, all resulted in significant increases in resilient outcomes, as are executive support and cultivating a security culture.
Read more...
---
Enterprise threats in 2023
News Cyber Security
Large businesses and government structures should prepare for cybercriminals using media to blackmail organisations, reporting alleged data leaks, and purchasing initial access to previously compromised companies on the darknet.
Read more...
---
CA Southern Africa unmasks container security
Technews Publishing IT infrastructure Cyber Security
Adoption of software containers has risen dramatically as more organisations realise the benefits of this virtualised technology.
Read more...
---
Shifts in threat landscape to industrial control systems
Cyber Security
Kaspersky's ICS CERT researchers' predictions include increased attack surface due to digitisation, activities of volunteer and cybercriminal insiders, ransomware attacks on critical infrastructure as well as the technical, economic and geopolitical effects, and the rise of potential vulnerabilities being exploited by attackers.
Read more...
---
Advanced persistent cybercrime
Cyber Security
FortiGuard Labs predicts the convergence of advanced persistent threat methods with cybercrime. Advanced persistent cybercrime enables new wave of destructive attacks at scale, fuelled by Cybercrime-as-a-Service.
Read more...
---
Digital razor wire: sharpening endpoint protection
Cyber Security
Crypto-mining, hacking, vulnerabilities, and threats – protecting the organisation's endpoints has never been more important than it is today, says Reggie Nkabinde, consultant: modern platform-security at Altron Karabina.
Read more...
---