printer friendly version
Assisting African fire fighting
August 2017
Fire & Safety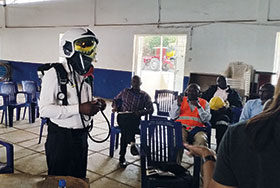 The latest donation of an advanced, energy-efficient Bauer compressor to fill self-contained breathing apparatuses (SCBAs) follows an original donation by MSA Pittsburgh of 400 refurbished SCBAs and fire helmets to Africa Fire Mission for distribution to under-equipped fire departments on the continent.
In 2015, MSA Africa representatives travelled with Africa Fire Mission to Kenya and Zambia to conduct training on the donated equipment. "We demonstrated to the end-users the basic application and care of the equipment. MSA Pittsburgh refurbished the units at its own expense to ensure they were all in safe, good working order," Tshepo Lebona, product manager, portable gas detection at MSA comments.
This initial trip was an eye-opener for the MSA Africa representatives in terms of understanding the difficulties experienced by under-privileged African countries in terms of fire-fighting services, mainly due to a lack of resources and infrastructure.
MSA Africa continued punting the project actively in South Africa, which resulted in the Shell and BP, Sapref division in Durban donating a working Bauer compressor to the NPO with which to charge SCBA systems.
Bauer distributor, HPS of Cape Town, was tasked to refurbish the compressor, whereupon it decided to donate a newer model that was more energy efficient and user friendly, aimed specifically at fire-fighting applications where Africa Fire Mission was active.
In 2016, the MSA Africa team and Africa Fire Mission returned to Kenya to donate the compressor to Fire Chief David Machakos of Machakos County.
Africa Fire Mission director Dave Moore comments that the NPO is committed to boosting the capacity of fire departments across Africa. "We accomplish this through training, empowerment, support, and encouragement."
Further reading:
Incorporate fire safety in the design phase
Fire & Safety
ASP Fire CEO Michael van Niekerk says companies can prevent their infrastructure project from going up in flames by incorporating fire safety in the design phase.
Read more...
---
Fire-fighting force at Vergelegen
Editor's Choice Fire & Safety Residential Estate (Industry)
Vergelegen wine estate in Somerset West, and its neighbours, are set to enjoy greater peace of mind this summer, thanks to the delivery of a brand new fire truck .
Read more...
---
Rhino103 extinguishing control panel
Technoswitch Fire Detection & Suppression Fire & Safety Products
Technoswitch has released the Rhino103 extinguishing control panel range, designed and manufactured in South Africa to comply with EN54 parts 2 and 4, and EN12094.
Read more...
---
Technoswitch partners with Ciqurix for video fire detection
Technoswitch Fire Detection & Suppression News Fire & Safety
Technoswitch is pleased to announce the signing of an exclusive distribution agreement with Ciqurix (UK), a leading supplier of video fire detection products.
Read more...
---
Fire protection for new Fuchs warehouse
Fire & Safety
The new warehouse at Fuchs Lubricants South Africa in Isando, Johannesburg, not only incorporates the latest technology but complies with stringent fire detection and prevention requirements.
Read more...
---
Fire-safety risks during load shedding
News Fire & Safety
The current load shedding implemented by electricity utility Eskom, as it faces unplanned breakdowns, poses a heightened fire risk for homeowners and their families.
Read more...
---
FlameSpec flame detectors from Technoswitch
Technoswitch Fire Detection & Suppression Fire & Safety
The FM-approved FlameSpec detectors address slow-growing fires and fast eruptions of fire while maintaining high performance and reliable detection in all weather and light conditions.
Read more...
---
Improved hydraulic performance and efficiency
Johnson Controls Global Products Fire & Safety
Tyco 5.8K LFII sprinkler from Johnson Controls Global Products brings improved hydraulic performance and efficiency to residential fire protection.
Read more...
---
One-bolt coupling
Johnson Controls Global Products Fire & Safety
The G-Fire One-Bolt Figure 579A is a grooved, rigid coupling ready for out-of-the-box, push-on installation including self-lubricating gaskets for a smooth installation experience.
Read more...
---
Ensure your generator is fire-safe
Fire & Safety
A backup power supply such as a genset is critical during loadshedding, however, it is vital that such important equipment is maintained properly and serviced regularly to be able to cope with outages.
Read more...
---