printer friendly version
Wireless IP security system
October 2012 Integrated Solutions, Access Control & Identity Management, Industrial (Industry)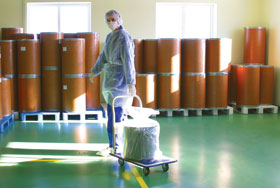 A BSIA member worked with Air Products, a leading global supplier of chemical products, services and solutions, which wanted to ensure the successful roll-out of a new security system across Europe following the successful implementation of an earlier security solution at 15 UK sites.
Air Products needed a single partner to manage the roll out of security upgrades to 25 sites across eight countries in mainland Europe. All the sites are operating facilities with live process systems, significant large vehicle traffic and, often, thousands of cylinder movements.
The UK programme had combined an integrated CCTV, access control, intruder and intercom solution with remote management. During the UK implementation, an exemplary health and safety record equating to over 14 000 hours of site activity without incident was maintained, an important consideration for Air Products' choice of provider.
The varied nature of Air Products' sites demanded a flexible approach. From the outset, the BSIA member was viewed as a key member of the project team and involved at all stages of the project. Security Vulnerability Assessments (SVAs) were carried on each location and appropriate solutions developed, from minimising risk from theft and attack to specific consideration of hazardous areas, operational concerns and access limitations.
The SVAs also identified opportunities to make security savings. In Spain, for example, a plan was conceived to integrate key sites within a new purpose-built management centre.
It was vital to consistently meet Air Products' global equipment and procedures standards across different site layouts. A traditional hard-wired approach would have been too disruptive and the costs prohibitive. The solution, therefore, was to design and deploy a secure wireless IP solution for all of the systems incorporating CCTV, intelligent video motion detection and access control. It was the first application of its type in mainland Europe.
Over five of the higher risk sites are now managed from the purpose-built security management centre. Having worked closely with Air Products to design and implement both the hardware and the procedures and policies necessary to run the operation, Air Products benefited from a range of additional benefits including:
* A working partnership with a single security supplier across Europe for equipment, installation and project management;
* Integration and installation work is carried out with minimal disruption to normal activity; and
* Smooth security management of multiple activities on each complies with strict safety standards.
"We have been very satisfied with our working partnership with the BSIA member company," commented John Wilson, Air Products project manager – European Security Upgrade. "The team has proved innovative, supportive of our safety requirements and flexible in overcoming the many obstacles that occur on complex sites and installations."
Further reading:
Managing staff effectively
September 2019, dormakaba South Africa, iPulse Systems , Integrated Solutions, Access Control & Identity Management
Workforce management solutions allow organisations to track the relationship between productivity and the cost of employment, incorporating issues such as health and safety, T&A, rostering and more.
Read more...
---
Hennie Lategan joins Centurion as head of exports
September 2019, Centurion Systems , News, Access Control & Identity Management
Centurion Systems has announced the appointment of Hennie Lategan as the head of the company's exports department.
Read more...
---
Rockwell Automation a founding member of ISA Global Cybersecurity Alliance
September 2019 , News, Industrial (Industry)
To better secure today's complex and often vulnerable production operations, the ISA Global Cybersecurity Alliance recently announced Rockwell Automation as a founding member.
Read more...
---
Increase security efficiency, decrease costs
September 2019 , Security Services & Risk Management, Integrated Solutions
Trackforce offers customisable mobile and web applications to increase security operational efficiency and lower costs.
Read more...
---
Becoming more cyber-savvy within the OT environment
September 2019 , Cyber Security, Industrial (Industry)
Organisations running operational technology (OT) have increasingly come under cyberattack, with malware sending shockwaves through these sectors.
Read more...
---
Dual energy X-ray inspection system
September 2019, Regal Distributors SA , Products, Access Control & Identity Management
The ZKX6550 X-ray inspection system increases the operator's ability to identify potential threats; the device is designed to scan briefcases, carry-on baggage, small cargo parcels.
Read more...
---
ZKTeco parking barrier
September 2019, Regal Distributors SA , Products, Access Control & Identity Management
The PB3000 parking barrier is an ideal automatic car park barrier for parking lot and security control; it can easily integrate with revenue collection and access control systems.
Read more...
---
ZKTeco automatic bollard
September 2019, Regal Distributors SA , Products, Access Control & Identity Management
The high-quality automatic bollard is used to protect security areas from vehicle intrusion; in case of power failure, the bollard can be lowered manually.
Read more...
---
Removable bollard
September 2019, Regal Distributors SA , Products, Access Control & Identity Management
ZKTeco?s removable bollard is a low-cost solution when the depth is not sufficient to install an automatic bollard.
Read more...
---
Walk-through metal detector
September 2019, Regal Distributors SA , Products, Access Control & Identity Management
The ZK-D3180S is recommended for exhibition centres, government offices, electronic factories, prisons, financial institutions and hotels.
Read more...
---