printer friendly version
Mining fire protection
August 2017 Fire & Safety, Mining (Industry)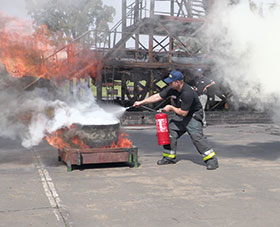 Recent tests conducted by Sasol and I-CAT have proven conclusively that dry chemical powder extinguishers are ineffective against rubber fires and conveyor belt and tyre fires, both encountered in underground mining. This means that many underground mines have little or no fire protection, posing a major health and safety risk to mineworkers.
In addition, activating a dry chemical powder extinguisher in a confined space underground can result in an inhalation risk for operators and bystanders. The dry chemical powder can also contaminate the air-circulation system underground, and further erode mechanical and electrical parts on machinery, causing long-term damage.
"To enhance the productivity of a mine, new technology is the main driver to make it more efficient at a lower total cost, which ultimately increases profitability. However, fire safety has lacked in technological advances, as it is mostly seen as a 'grudge purchase' that impacts on the bottom line," says Andro Gibhard from the I-CAT Fire Division.
"Fire protection should be the first port of call for any mining operation, as the main aim is to preserve human life, without even referring to the financial and economic impact when a fire results in production downtime. It is therefore imperative that fire risk should be a primary focus when it comes to mining safety."
The I-CAT Fire Division recently conducted a series of tests at a Sasol facility to determine the effectiveness of water and foam mist systems on underground conveyor belts on coal mines. Since most fire-fighting products deployed in the mining industry originate from Europe and the US, the question arises as to whether or not these have been tested for mining conditions in Africa.
"During the tests, it was discovered that widely-accepted equipment failed badly. What then is the effectiveness in an underground mining scenario, where conditions are less favourable?" Gibhard asks.
In terms of its ongoing contribution to improved fire-fighting methodologies for the mining industry, the I-CAT Fire Division has compiled a new protection protocol for underground conveyor belt protection, including redundancy protection. The protocol has been tested against various test scenarios identified in a risk assessment.
Solutions available from the I-CAT Fire Division include its TRT-LPS-FM system, an acronym for T-Rotor Technology – Local Protection System – Foam Mist. T-Rotor Technology is the internationally-patented low-pressure mist system.
This includes protection for conveyor belts (drive, take-up, and tail-end), hydraulic power packs, transformers, and generators. These are all stored-water pressure systems, which means that an external water connection is not needed in order for them to be operational.
For more information contact I-CAT, 0861 124 228, environmental@i-cat.co.za, www.i-cat.co.za
Further reading:
Intelligent and reliable fire detection
July 2019, Siemens Digital Industries , Fire & Safety, Industrial (Industry), Products
Due to advanced signal analysis and up to nine selectable parameter sets, ASA detectors ensure fast, highly reliable detection in demanding environments.
Read more...
---
High standard of safety at printing plant
July 2019, Bosch Building Technologies , Fire & Safety, CCTV, Surveillance & Remote Monitoring, Industrial (Industry)
Bosch implements a networked solution with video-based fire detection for the Mohn Media printing company.
Read more...
---
Aspirating smoke detectors from Securiton
July 2019 , Fire & Safety, Products
SecuriRAS aspirating smoke detectors from Securiton are reliable and robust. Thanks to their detection technology, they can detect incipient fires immediately.
Read more...
---
Focus on tenant safety
June 2019, Bosch Building Technologies , Fire & Safety, Commercial (Industry)
Bosch equips office buildings of Citibank Plaza and W City Centre in Manila with networked safety solution.
Read more...
---
Linear heat detection systems
June 2019, FDIA (Fire Detection Installers Association) , Fire & Safety
A linear heat detection system is a stand-alone fire detection system used for detecting heat from fires. The cable can be run from distances of up to 8 kilometres dependent on the type of cable installed.
Read more...
---
Fidelity Fire Solutions receives BSI accreditation
May 2019, Fidelity Security Group , Editor's Choice, Fire & Safety, News
Fidelity Fire Solutions is one of the first fire solutions providers in South Africa to be awarded the British Standards Institution (BSI) certification for portable fire products.
Read more...
---
Moisture detection and the dangers of digital disruption
May 2019 , Fire & Safety, Products
When it comes to protecting businesses against disruption, water damage poses a significant threat, especially in the modern age where electrical systems are ingrained in almost every aspect of daily life.
Read more...
---
Simplifying fire detection system installations
May 2019, Elvey Security Technologies , Editor's Choice, Fire & Safety, Security Services & Risk Management
A fire detection system needs to be selected with extreme care, as is selecting an installer that not only understands the various technologies employed in fire detection, but that also has the necessary accreditations and certifications.
Read more...
---
New operations director at Hochiki Europe
May 2019 , News, Fire & Safety
Hochiki Europe has appointed Roland Martin-Bessey as the company's new operations director to further enhance its production efficiency and supply chain capabilities across the business.
Read more...
---
Hochiki Europe to attend FIREX 2019
May 2019 , Fire & Safety, Products
Hochiki Europe is returning to FIREX at ExCeL London to showcase its most recent technological advancements and discuss best practice when it comes to safety in specialist environments.
Read more...
---