printer friendly version
Mining fire protection
August 2017 Fire & Safety, Mining (Industry)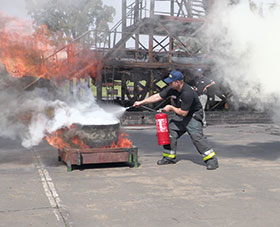 Recent tests conducted by Sasol and I-CAT have proven conclusively that dry chemical powder extinguishers are ineffective against rubber fires and conveyor belt and tyre fires, both encountered in underground mining. This means that many underground mines have little or no fire protection, posing a major health and safety risk to mineworkers.
In addition, activating a dry chemical powder extinguisher in a confined space underground can result in an inhalation risk for operators and bystanders. The dry chemical powder can also contaminate the air-circulation system underground, and further erode mechanical and electrical parts on machinery, causing long-term damage.
"To enhance the productivity of a mine, new technology is the main driver to make it more efficient at a lower total cost, which ultimately increases profitability. However, fire safety has lacked in technological advances, as it is mostly seen as a 'grudge purchase' that impacts on the bottom line," says Andro Gibhard from the I-CAT Fire Division.
"Fire protection should be the first port of call for any mining operation, as the main aim is to preserve human life, without even referring to the financial and economic impact when a fire results in production downtime. It is therefore imperative that fire risk should be a primary focus when it comes to mining safety."
The I-CAT Fire Division recently conducted a series of tests at a Sasol facility to determine the effectiveness of water and foam mist systems on underground conveyor belts on coal mines. Since most fire-fighting products deployed in the mining industry originate from Europe and the US, the question arises as to whether or not these have been tested for mining conditions in Africa.
"During the tests, it was discovered that widely-accepted equipment failed badly. What then is the effectiveness in an underground mining scenario, where conditions are less favourable?" Gibhard asks.
In terms of its ongoing contribution to improved fire-fighting methodologies for the mining industry, the I-CAT Fire Division has compiled a new protection protocol for underground conveyor belt protection, including redundancy protection. The protocol has been tested against various test scenarios identified in a risk assessment.
Solutions available from the I-CAT Fire Division include its TRT-LPS-FM system, an acronym for T-Rotor Technology – Local Protection System – Foam Mist. T-Rotor Technology is the internationally-patented low-pressure mist system.
This includes protection for conveyor belts (drive, take-up, and tail-end), hydraulic power packs, transformers, and generators. These are all stored-water pressure systems, which means that an external water connection is not needed in order for them to be operational.
For more information contact I-CAT, 0861 124 228, environmental@i-cat.co.za, www.i-cat.co.za
Further reading:
Maximum fire protection for the most dangerous places
Securiton Fire & Safety Mining (Industry) Products
Africa's heavy mining and resource processing industries are some of the continent's leading economic lights. They also present some of its toughest fire safety challenges on the planet.
Read more...
---
Preventing forest fires with digital intelligence
Dahua Technology South Africa Fire & Safety Products
Technologies such as dual-spectrum video monitoring, intelligent image analysis and recognition, and three-dimensional positioning, enable the smart system to detect a fire, quickly locate the fire source and automatically send alarm to on-duty personnel.
Read more...
---
The importance of the operator's frame of reference
Leaderware Editor's Choice CCTV, Surveillance & Remote Monitoring Security Services & Risk Management Mining (Industry)
The better the operator's frame of reference and situational awareness, and the more informed they are in dealing with CCTV surveillance in the mining industry, the more successful they are likely to be in surveillance.
Read more...
---
The art of drive and focus
Technews Publishing Editor's Choice Mining (Industry)
Riette Smeda did not find security, security found her. In doing so, she found an environment where grit and determination make all the difference in a country where crime pays.
Read more...
---
AI, risk management, and frameworks
Blacklight Group Technews Publishing Editor's Choice Security Services & Risk Management Mining (Industry)
A risk management framework is a basic necessity to meet the always-evolving criminal war against mines, perpetrated by ruthless organised crime gangs that often are better informed and resourced than their targets.
Read more...
---
Complex, but critical partner in security
Technews Publishing Bidvest Protea Coin Editor's Choice Integrated Solutions IT infrastructure Mining (Industry)
Smart Security looks at how drones can be applied effectively in mine security operations. The ability to quickly gain a birds-eye view of a situation, whether security, safety or operational in nature, makes drones a significant value-add to mines.
Read more...
---
The data must flow
Technews Publishing IT infrastructure Mining (Industry)
Amidst the dirt and dust, the data packets must always be moving in order for mines to remain on top of their environments, their people, their processes and equipment, and most importantly, the safety of everyone on site.
Read more...
---
Underground/overground low latency communication
IT infrastructure Mining (Industry)
From 5G networks to secure and reliable underground and open cast (M2M) communications, the mining industry is embracing digital transformation to improve the flow of information across sites, streamline decision-making, and enable safe, secure remote operations.
Read more...
---
Enhancing surveillance on mines
Avigilon Technews Publishing Axis Communications SA Forbatt SA Hikvision South Africa Bosch Building Technologies Editor's Choice CCTV, Surveillance & Remote Monitoring Integrated Solutions Mining (Industry)
Smart Security approached a number of surveillance vendors to find out what the latest in surveillance technology is that can make a difference to security operations in mines, as well as general operations.
Read more...
---
'Unlosable' identity
Technews Publishing IDEMIA neaMetrics Suprema Access Control & Identity Management Mining (Industry) Products
Far from the days when clocking in with cards was the norm, along with buddy clocking and the easy ways in which these systems could be scammed, biometrics has changed the game with respect to identification.
Read more...
---