printer friendly version
Mining fire protection
August 2017 Fire & Safety, Mining (Industry)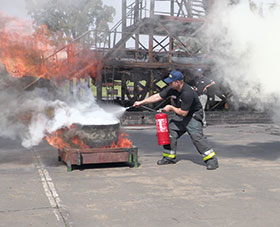 Recent tests conducted by Sasol and I-CAT have proven conclusively that dry chemical powder extinguishers are ineffective against rubber fires and conveyor belt and tyre fires, both encountered in underground mining. This means that many underground mines have little or no fire protection, posing a major health and safety risk to mineworkers.
In addition, activating a dry chemical powder extinguisher in a confined space underground can result in an inhalation risk for operators and bystanders. The dry chemical powder can also contaminate the air-circulation system underground, and further erode mechanical and electrical parts on machinery, causing long-term damage.
"To enhance the productivity of a mine, new technology is the main driver to make it more efficient at a lower total cost, which ultimately increases profitability. However, fire safety has lacked in technological advances, as it is mostly seen as a 'grudge purchase' that impacts on the bottom line," says Andro Gibhard from the I-CAT Fire Division.
"Fire protection should be the first port of call for any mining operation, as the main aim is to preserve human life, without even referring to the financial and economic impact when a fire results in production downtime. It is therefore imperative that fire risk should be a primary focus when it comes to mining safety."
The I-CAT Fire Division recently conducted a series of tests at a Sasol facility to determine the effectiveness of water and foam mist systems on underground conveyor belts on coal mines. Since most fire-fighting products deployed in the mining industry originate from Europe and the US, the question arises as to whether or not these have been tested for mining conditions in Africa.
"During the tests, it was discovered that widely-accepted equipment failed badly. What then is the effectiveness in an underground mining scenario, where conditions are less favourable?" Gibhard asks.
In terms of its ongoing contribution to improved fire-fighting methodologies for the mining industry, the I-CAT Fire Division has compiled a new protection protocol for underground conveyor belt protection, including redundancy protection. The protocol has been tested against various test scenarios identified in a risk assessment.
Solutions available from the I-CAT Fire Division include its TRT-LPS-FM system, an acronym for T-Rotor Technology – Local Protection System – Foam Mist. T-Rotor Technology is the internationally-patented low-pressure mist system.
This includes protection for conveyor belts (drive, take-up, and tail-end), hydraulic power packs, transformers, and generators. These are all stored-water pressure systems, which means that an external water connection is not needed in order for them to be operational.
For more information contact I-CAT, 0861 124 228, environmental@i-cat.co.za, www.i-cat.co.za
Further reading:
Managing the fire risk of transformer explosions
Issue 2 2020 , Fire & Safety
While a simple solution is to install adequate fire detection and suppression systems, this is hampered by the lack of necessary funding.
Read more...
---
Fire safety critical in healthcare
Issue 2 2020, Spero Sensors & Instruments, Technews Publishing , Fire & Safety
Healthcare organisations have a lot on their collective plates and it can be easy to overlook security issues in favour of more pressing demands.
Read more...
---
Fire alarms at sea
Issue 2 2020, Technoswitch , Fire & Safety
Technoswitch now offers marine approved conventional control panels from Haes, aimed at fire safety for all small to medium seafaring vessels.
Read more...
---
Kitchen fire suppression systems
Issue 2 2020, Technoswitch , Fire & Safety
Technoswitch has announced the addition of new 16 litre and 25 litre systems to its range of automatic kitchen fire detection and suppression systems.
Read more...
---
Fire detection for battery charging rooms
Issue 2 2020, FDIA (Fire Detection Installers Association) , Fire & Safety
Battery charging rooms pose fire explosion risks due to the presence of hydrogen gas produced when lead-acid batteries are being charged.
Read more...
---
Technology can help people in high-risk evacuations
Issue 2 2020 , Fire & Safety
Commercial buildings must not only be prepared for the possibility of a fire because they face newer threats - including terrorism, civil unrest and extreme weather.
Read more...
---
Effectively securing large mines
October 2019, Veracitech, Technews Publishing, Dallmeier Electronic Southern Africa , Mining (Industry), Integrated Solutions
The vast areas covered by mining operations present security challenges such as the ability to provide effective perimeter protection and surveillance, while maintaining reliable communications between remote areas and control rooms.
Read more...
---
Fire Beam Xtra covers up to 160 metres
October 2019, Technoswitch , Products, Fire & Safety
The Fire Beam overcomes traditional beam detection challenges where building movement and accessibility made beam detection unreliable and laborious to commission and maintain.
Read more...
---
Emergency voice communication system
October 2019, Technoswitch , Products, Fire & Safety
The Technoswitch Emergency Voice Communication Systems concept offers fire telephone and disabled refuge systems, as well as integrating emergency assist alarm systems in a single solution.
Read more...
---
Fast detection of smoke and flames
October 2019, Bosch Building Technologies , Editor's Choice, CCTV, Surveillance & Remote Monitoring, Fire & Safety
Video-based fire detection AVIOTEC from Bosch has been optimised for tunnels to provide early and reliable detection of smoke and flames in these dark environments.
Read more...
---