printer friendly version
A new approach to people management
October 2012
Products
Industrial, petrochemical, manufacturing and mining operations globally are facing increasing pressure to strictly apply and comply with a myriad of policies with regards to health and safety and monitoring of individuals, as well as service providers' compliance, time and exposure on-site.
Zero harm initiatives and standardisation of company policy across all operations are key internal drivers while increasing statutory requirements are placing a larger focus and onus on organisations to account to external legislators and industry regulators.
This has resulted in an increased direct cost of compliance as additional resources and systems are put in place. In many cases the impact of indirect costs resulting from additional fees charged by contractors and vendors to meet enhanced compliance requirements is significant.
This tension between enforcement of best practice safety policies and increased pressure to operate in a competitive and cost effective manner is a perfect environment for companies to re-assess their approach to compliance enforcement and reduce the risks associated with non-compliance.
Moving beyond security compliance
With the focus on governance, risk, and compliance (GRC), all aspects of an organisation are directly or indirectly impacted by any heightened security policies and procedures. These new business requirements demand that non-security functions (HR/IT/finance/facility/wellness and even production, logistics, etc,) become directly accountable for identity management and policy enforcement on site. Ownership of source data input, for example:
* Physical security systems that are seamlessly provisioned from HR system data.
* Logical security to work areas that are driven by a workflow approval process has effectively transferred accountability from the security function to whoever is accountable for the relevant business process and mandated for the correct capture of the source data.
Streamlined business processes and deployment of technology can be used as an enabler to streamline the administration of policy, but the real value and challenge exists in the creation of an holistic view of all people and related assets interacting on your sites. Traditional security functions and use of manned guard services in conjunction with electronic security solutions still plays a vital part in an integrated people management solution (IPMS) but, with all business processes around security being streamlined and manual processes automated, these resources can be focused and vigilant as all mundane, labour intensive functions are automated.
Towards enhanced compliance
A sustainable compliance solution is 90% to do with proper up-front blueprinting, systems integration and process optimisation and 10% about implementing a PAC Solution/new technology. Knowledge is the key. This does not necessarily mean becoming a subject matter expert on integrated security solutions, but of vital importance is to understand the business requirements and unique needs of the various individual stakeholders in your organisation and be able to translate that into meaningful output during a facilitated Blueprinting process.
Key to success is to partner with a company/systems integrator that adds value to your business processes and facilitates delivery of the process using technology as an enabler. This is far more preferable to a company promulgating technology (features and benefits) to solve people related process issues. The focus should be on consideration of all aspects and effected stakeholders with regards to compliance and a full understanding of the technical and functional requirements that any technology selection (whether modernising existing or replacing with new) will need to fulfil.
Dynamic impact of various inputs
InnoVIZION's iPfuzion Framework (Figure 1) highlights the impact of various systems and people types on an integrated access control framework. A framework approach enables organisations to effectively manage compliance by eliminating silos of data and utilising people information to integrate and streamline business processes whilst providing a single view of multiple people types.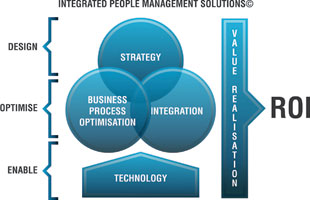 Figure 1
Integration and technology are key enablers for change towards automation, whilst business process optimisation (BPO) is the key value driver for businesses looking towards integrated solutions that enhance productivity and automate manual and regulatory processes.
innoVIZION's People Fuzion proprietary software solution is a single platform, process driven, Web framework that seamlessly integrates to your business systems:
* seamlessly manage data and integrates multiple systems;
* makes use of your physical access control (PAC) system to enable your organisation to effectively manage people processes;
* provides a single holistic view of multiple people types (visitors/contractors/vendors/employees, students, parents, etc,) and asset types (vehicles/laptops/PPE/valuable Items/issued equipment etc.) within an organisation.
Key features
* Increased return on investment/benefit realisation – leverage on all your existing and future technology investments.
* Single common user interface/front-end for all interactions irrespective of technology utilised.
* Single integration point – to business management systems and all other systems linked to access control/time and attendance/digital surveillance/building management systems, etc.
* Applied intelligence – policies and legislation automatically enforced from multiple data sources (Medicals/Training/Inductions/Licences, etc).
* Simplifies management of people and assets – provides a single view of all people types and assets or equipment linked to them.
* Contractor management including:
- Dashboards (with trends and live drill-down of attendance).
- Attendance recording.
- Departmental scheduling and location costing for contractors.
- Costing of all contractor hours to correct departments/cost centres.
- Detailed Time/Activity hours reports.
- Headcount Management Widget (displays live data on managers' desktops with regards to attendance of Students, Staff and Contractors).
* Web reporting that gives you control over all the people movement in your organisation.
* Real-time messaging – is a smart messaging service that monitors multiple access control transactions/events in real-time from any access control system or directly from access control hardware.
* Reception management.
* Allows detailed real-time control over people activities, access validation, movement and any processes that people interact with.
* Facilitates phased implementations or roll-outs of new technology.
* Scalable – future technology inclusion.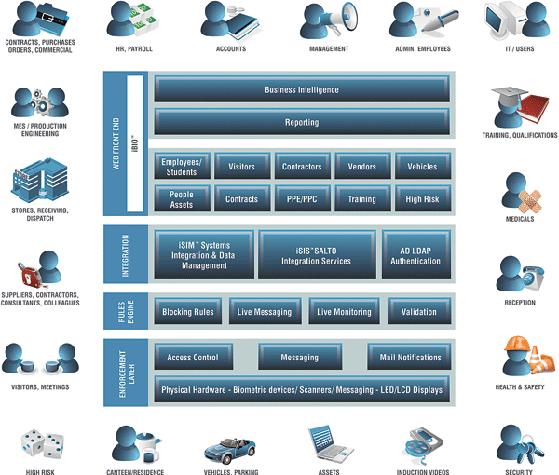 The need of the industrial, petrochemical, manufacturing and mining industry for security technology to positively impact on their operations and reduce risk is unquestionable. The unique challenges presented in these environments from harsh environments to legislative compliance require comprehensive compliance, security and safety solutions.
Integration of identity and security management to deliver on compliance enforcement is inevitable. This, together with rising compliance enforcement requirements create an opportunity for enterprises to gain a competitive advantage and streamline operations through the implementation of a compliance enforcement framework.
Companies that recognise this reality soon and address current gaps in business processes and disparate silos of information can utilise existing/new physical access control solutions to significantly improve compliance and increase safety in operations. Removal of any human intervention (and often subsequent dangerous practices) in the application of policies and rules regarding HSE can have a significant effect on zero harm initiatives.
For more information contact Innovizion, 0861 849 466, info@innovizion.co.za, www.innovizion.co.za
Further reading:
Emergency lighting and fire detection combination
August 2019 , Fire & Safety, Products
Hochiki Europe has launched FIREscape+, a system which combines emergency lighting, fire detection and wayfinding technology.
Read more...
---
Licence plate recognition camera
August 2019 , Products, CCTV, Surveillance & Remote Monitoring
VIVOTEK has introduced a new licence plate recognition camera featuring built-in licence plate recognition software and edge-computing capability.
Read more...
---
Double dose of storage security
August 2019 , Products, IT infrastructure
The integration of InfiniBox and SafeNet KeySecure platforms brings data-at-rest encryption together with centralised logging, auditing capability.
Read more...
---
CathexisVision video management software
August 2019, Cathexis Technologies , Products, CCTV, Surveillance & Remote Monitoring
The CathexisVision IP video management software (VMS) helps clients get the most out of their surveillance investment and reap rewards for their companies.
Read more...
---
Extended two-way radio communications
August 2019 , Security Services & Risk Management, Residential Estate (Industry), Products
The two-way radio communication industry has been enhanced by the introduction of Halo PTT radio networks, which are GSM based.
Read more...
---
MorphoAccess Sigma Extreme
August 2019, IDEMIA , Products, Access Control & Identity Management
MorphoAccess Sigma Extreme from IDEMIA is a touchscreen device with multiple recognition device interfaces (NFC chip reader, PIN and BioPIN codes, contactless card readers).
Read more...
---
Range of grid-independent power systems
August 2019, Specialised Battery Systems , Products, Residential Estate (Industry)
SBS Solar has a range of solutions to provide power, save on costs and above all provide peace of mind.
Read more...
---
Outdoor access terminals
August 2019, Suprema , Access Control & Identity Management, Residential Estate (Industry), Products
Rugged, dust- and weather-proof access control solutions that provide exceptional durability in extreme conditions is a strong requirement for many residential estates.
Read more...
---
Future-facing cameras
August 2019, Bosch Building Technologies , Products, CCTV, Surveillance & Remote Monitoring
All FLEXIDOME IP starlight 8000i cameras feature built-in Intelligent Video Analytics, making them intuitive, and elevates their importance far beyond security alone.
Read more...
---
MorphoWave Compact
August 2019, IDEMIA , Products, Access Control & Identity Management
The MorphoWave Compact captures and matches four fingerprints on either the right or left hand in any direction. It is robust to environmental factors such as extreme light or dust.
Read more...
---