printer friendly version
Storage for surveillance considerations
July 2017 CCTV, Surveillance & Remote Monitoring, IT infrastructure
When you need to provide evidence for an incident or use your recordings for video analytics, the last thing you want to see is an error message from the storage subsystem. Storage is not only a matter of capacity; it is also a question of quality and design.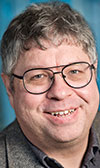 Jos Svendsen, corporate communications manager – EMEA, Milestone Systems.
Enterprise-grade surveillance solutions with sophisticated and intelligent functionality such as motion detection, real time access to recordings and instant alerts to extraordinary events need to have storage systems that meet the highest demands as video safety and business solutions are becoming more essential in our world.
Keven Marier, director, technology business development at Milestone Systems, explains one of the most important components of a surveillance solution: the storage of video recordings and how to ensure that they are retrievable and fit for purpose.
You can't simply grab a few disks
Video surveillance data differs from other business data because it is streamed in real time and multiple streams are stored in parallel. To put the scale of this into context, consider a surveillance installation with 700 cameras, where video recordings have to be legally kept for three months.
This system could easily generate 6 Terabytes of video recordings per day, which would equate to 550 Terabytes of video data over a three-month period (based on the assumption that 200 cameras run HD H.264, and 500 cameras run 4CIF JPEG with 5 frames per second, and with an average motion/recording rate of 15%).
Storing video recordings is very different from storing data in an ERP system. You can't simply grab a few disks and put them in a cabinet. This is because video from all cameras has to be written at the same time. The video files are mission-critical to the company and storage failure could result in important evidence being lost. "Storage for a video management system has to be designed with these issues in mind," says Marier.
Get to grips with storage requirements
There are a multitude of storage solutions out there. Before you buy one, it is important to understand the nature of the surveillance system, the scale of the data output, how and why it will need to be retrieved. Consider what type of cameras are in use. Are they analog or IP? How many? Is the number likely to increase? What is the purpose of the video being recorded? In terms of quality, is it high-resolution designed for evidentiary purposes? Is it continuous recording or on motion-detection?
The higher the resolution of the recordings and the more recordings captured, the faster storage capacity will run out. There are ways to overcome this, including data compression and establishing settings to overwrite the oldest recordings once the storage solution has reached its full capacity. However, there are inevitably compromises as with both these techniques: you risk ending up with either lower quality, inadmissible recordings, or no recordings at all.
When it comes to storing video there should be no compromise. The whole point of storing recordings is to be able to retrieve it easily, quickly, and in a format that is easy to use. Of course, cost is a significant parameter that will also influence the type of solution you choose, notes Marier.
The changing role of surveillance impacts storage needs
There was a time when surveillance was only designed for security. Now, more organisations are using video for marketing information. This, coupled with the Internet of Things (IoT), means it is critical that storage solutions are cost-effective, efficient, available and delivered to the right places. There are a variety of solutions available to organisations. The important thing is to deliver a solution that considers all customer assets.
Readers can calculate approximate storage requirements at https://www.milestonesys.com/support/let-us-help-you/presales-support/Storage-Calculator/
Credit(s)
Further reading:
Shorten your checkout lines to enhance customer experience
September 2019, Hikvision South Africa , Retail (Industry), CCTV, Surveillance & Remote Monitoring
Hikvision's queue detection technology is purpose-built to offer cutting-edge flow analysis to retail outlets and any situation where waiting to pay is required.
Read more...
---
Constructive CCTV contributions to research
September 2019, Leaderware , Editor's Choice, CCTV, Surveillance & Remote Monitoring
Study leads to understanding that we need more recognition and reward for constructive participation in society.
Read more...
---
Ensuring a seamless ultra-wideband ecosystem
September 2019 , Editor's Choice, IT infrastructure
FiRa consortium ensures an interoperable ultra-wideband technology ecosystem across chipset, device and service infrastructure through standards and certifications.
Read more...
---
New Africa sales manager for Axis Communications
September 2019, Axis Communications SA , News, CCTV, Surveillance & Remote Monitoring
Axis Communications has appointed Brendon Hall, previously the founder and MD of Pentagon, as its new sales manager, Africa.
Read more...
---
Hikvision helps secure African Union Summit
September 2019, Hikvision South Africa , News, CCTV, Surveillance & Remote Monitoring
Hikvision established a complete intelligent video solution to ensure the security of the thirty-third African Union (AU) Summit held on 7 July in Niamey, the capital of Niger.
Read more...
---
Genetec to integrate CylancePROTECT
September 2019, Genetec , Editor's Choice, CCTV, Surveillance & Remote Monitoring, News
Genetec has announced it is partnering with Cylance, a business unit of Blackberry, to bring AI-based antivirus protection to its appliance customers.
Read more...
---
Dashcams useful for more than social media
September 2019, Graphic Image Technologies , CCTV, Surveillance & Remote Monitoring, Transport (Industry)
Logistics companies need to make sure that they have a complete solution that allows real-time driver monitoring and event notifications as they happen.
Read more...
---
Best in class at sea and ashore
September 2019, Axis Communications SA , Transport (Industry), CCTV, Surveillance & Remote Monitoring
Thermal network cameras support the guard tour function that can be used for continuous monitoring of a particular area according to the pre-set guard tour.
Read more...
---
Highly adaptable wireless mesh network solution
September 2019, Duxbury Networking , Products, IT infrastructure, Residential Estate (Industry)
Rajant's Living Network infrastructure evolves and adapts to your growing and changing connectivity requirements.
Read more...
---
Modular fibre-optic patch panel
September 2019, Jasco Trading t/a Webb Industries , Products, IT infrastructure
Telegärtner's Fibre Termination Box facilitates customised cabling in locations where large numbers of apartments or buildings have fibre-optic outlets installed.
Read more...
---