printer friendly version
Access control fingerprint management with Unis
October 2012
Products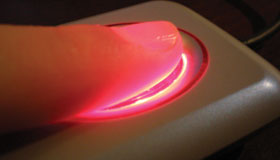 Trac-Tech's Unis access control fingerprint management software allows users to maximise the functionality of their access control hardware. The software has a number of value added management features and provides real-time storage of a user's fingerprints in conjunction with a clocking device. An optional time and attendance (T&A) module is available as a USB dongle.
"Preceded by Trac-Tech's Access Manager, Unis was developed after requests from our customers for further management, flexibility and functionality of the terminals on a high end basis," Trac-Tech's Ian Kellerman explained.
The software has a number of special features such as meal ticket management. "This is ideal for organisations that have canteens and allows management to allocate vouchers based on predetermined time periods. The vouchers will be invalidated should the user attempt to use them outside the specified time zone. In addition, vouchers for specific meals, such as breakfast, would not be available outside a specified 'breakfast time' range," said Kellerman.
The system has SQL or Access database capabilities and can export information to other T&A packages, which in turn will export to all the proprietary payroll systems. Clocking terminals can be added internally and the system is based on either individual workstations or is server-based across WAN or LAN.
"There is no limit to the number of users who can be added to the system and there is no extra charge for adding extra users, making it quite unique in industry," said Kellerman.
"Once the terminal has scanned your fingerprint it matches it to records in the database. You can add further security elements to the system by having a 1:1 which would mean a check against your fingerprint plus a check against either a PIN code or a user card. This then in essence becomes an individual security system which allows it to check only that one particular person without having to access a large database," said Kellerman. The anti-passback feature means that if someone has entered the building without clocking in, they will not be allowed to clock out at a valid terminal.
Based on feedback from previous users of Access Manager, the software is designed around ease of use and enhanced management with extended reporting capabilities. "The basic reporting facility is per user, per department, per terminal, per access group and per date range. Records are stored on both the terminal and the software with information of the user and their clocking history," Kellerman explained.
Superior access management
Unis has evolved into a superior management tool with a number of specialised features including a blacklist manager. "This feature is ideal for use in scenarios where multiple contractors access site on a daily basis. If someone is dismissed by a contractor they will be blacklisted on the system so if they try to register with a new contractor (employer) the system will automatically alert management as to their blacklisted status and disallow their entry on to site," said Kellerman.
Various access groups and areas can be configured in Unis:
* Access times for particular, predetermined zones (06:00 to 22:00 for example).
* Access times for access zones for specific days (administration and reception areas only on weekdays for administration and management staff, for example).
* Access areas, for example, 'front door for administration'; or 'factory entrance for administration and factory workers' with specific links to the time periods each group can have access to these areas.
* Visitor management module for allocated access periods and areas.
"Site map monitoring shows the global layout of the site and terminal position in relation to entrance and exit points and will indicate if a door is opened or a terminal is disconnected," said Kellerman.
"You can manage I/O information, for example when an access door remains open for a predetermined time, a pop-up will appear on the user's PC screen to inform them of their action. The software can broadcast messages when people clock in, for example, 'report to the manager's office'. An e-mail can also be sent to alert management when specific people clock in," explained Kellerman.
In order to minimise network traffic and provide a real-time update of transactions, the devices will push their transactions to the server as they occur. While templates are being sent to the Virdi biometric readers, users can continue to transact.
The software is also designed with safety and security in mind. "You can enable panic control in the software such that if a panic button is pressed at a terminal, it will send an e-mail alert plus audibly emit a siren. This is ideal for fire warnings and can also be linked to a fire/smoke monitoring system for automatic alerts," said Kellerman.
For more information contact Trac-Tech, 0861 100 199, info@trac-tech.co.za, www.trac-tech.co.za
Further reading:
Arteco launches new management platform
September 2019, Arteco Global, Technews Publishing , CCTV, Surveillance & Remote Monitoring, Products
Arteco has released its latest management platform, Omnia, designed to be faster and more responsive to operators? needs.
Read more...
---
TruVision licence plate cameras
September 2019, UTC Fire & Security SSA , Products, CCTV, Surveillance & Remote Monitoring
TruVision ANPR cameras offer functionality for applications where vehicle access management is required based on licence plate.
Read more...
---
Edwards Public Address & Voice Alarm System
October 2019 , Security Services & Risk Management, Products
Carrier has added the Public Address & Voice Alarm (PAVA) range to its fire product offerings.
Read more...
---
Your business needs synchronised security
September 2019 , Cyber Security, Products
This complete security portfolio from Sophos offers endpoint, servers, firewall, Wi-Fi, mobile, email and encryption that is fully scalable to grow as your business does.
Read more...
---
Sarix Professional Series 3 IP cameras
September 2019, Pelco by Schneider Electric , CCTV, Surveillance & Remote Monitoring, Products
Offered in mini-dome, bullet, box, and wedge configurations, the Sarix Professional (Pro) Series 3 Fixed IP cameras deliver a set of features and performance at affordable price points.
Read more...
---
The future of connectivity in South Africa
September 2019 , IT infrastructure, Products
Next-generation technologies will drive real transformation in companies. Organisations across all industries must prepare to enter the next phase of the digital future, says Matthew Hall, product director at Rectron.
Read more...
---
Uniview LPR camera
September 2019 , Products, CCTV, Surveillance & Remote Monitoring
Uniview has released a new LPR (licence plate recognition) camera in South Africa with high capture and recognition rates.
Read more...
---
Improving access in mines
October 2019, Astra Fasteners , Mining (Industry), Access Control & Identity Management, Products
The VP1 controller provides full access control and remote monitoring of intelligent locks without having to wire into a network or install, manage and maintain software.
Read more...
---
Fire Beam Xtra covers up to 160 metres
October 2019, Technoswitch , Products, Fire & Safety
The Fire Beam overcomes traditional beam detection challenges where building movement and accessibility made beam detection unreliable and laborious to commission and maintain.
Read more...
---
Emergency voice communication system
October 2019, Technoswitch , Products, Fire & Safety
The Technoswitch Emergency Voice Communication Systems concept offers fire telephone and disabled refuge systems, as well as integrating emergency assist alarm systems in a single solution.
Read more...
---