Flat panel radar detection
July 2017, Products, CCTV, Surveillance & Remote Monitoring, Perimeter Security, Alarms & Intruder Detection
The Athena intelligent video detection system combines Spotter RF flat panel radar with the Silent Sentinel compact PTZ to provide early warning of activity along the perimeter or within an open space. Athena is able to detect activity within the preconfigured field of detection, issue notification and automatically position and track the target, providing visual identification through either the Oculus or Aeron surveillance platforms.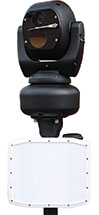 The Athena system offers a modular solution to open space detection without the need for extensive infrastructure installation, enabling the solution to be quickly deployed. Available in four range options from 130 to 1350 metres, the panels can be combined to provide up to 360-degree coverage with four panels. Each panel can be configured to provide detection zones with increasing levels of sensitivity. For example, where a footpath passes near a secure boundary there may be a zone where alarms are not triggered, then a zone warning that someone is straying near the boundary, and then another to say the boundary has been penetrated is triggered, with escalating responses to each zone.
Silent Sentinel offers an extensive range of camera and lens configurations to meet your exact surveillance requirements.
For more information contact Management and Supply of Security Solutions (MASS), +27 (0)12 142 0000, info@mass-solutions.co.za, www mass-solutions.co.za