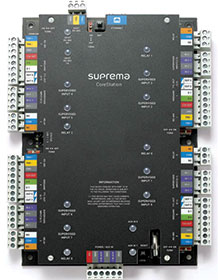 Biometrics-based intelligent controller
July 2017, Access Control & Identity Management, Products
Suprema showcased the new CoreStation, unique to the industry, and the most advanced biometrics-based intelligent access controller at IFSEC 2017.
The new Suprema CoreStation is an intelligent door controller that provides the advantages of biometric-enabled security over centralised access control systems. Designed for mid to enterprise-level systems, CoreStation handles up to 500 000 users with a fingerprint matching speed of 400 000 match/sec. With the provision of high-performance, biometric readiness and Ethernet communication, CoreStation is capable of offering comprehensive access control features in conjunction with the company's BioStar 2 platform. The device also provides centralised biometric template management and also interfaces with the complete set of reader technologies including RS-485 (OSDP) and Wiegand.
"The new CoreStation is designed to fulfil the demand of biometric technology within the more secure, larger scale access control applications with centralised topology. While providing intelligent controller functionalities, the device also manages fingerprint matching and biometric data storage under the hood. With the addition of this intelligent biometric controller to Suprema's existing access control portfolio, our customers will have more choices and flexibility in designing their security systems," said Hanchul Kim, director of global business at Suprema. "With its versatility in application, CoreStation will provide perfect access control solutions for both new installations as well as a replacement of existing systems."
Along with CoreStation, Suprema also presented its second generation fingerprint and facial recognition technologies. In the field of fingerprint biometrics, Suprema demonstrated the industry's most secure anti-spoofing live finger detection technology. Suprema's patented live fingerprint detection technology blends its advancements of image analysis techniques and optical engineering well, to effectively eliminate possible fraud using various fake fingerprint materials including clay, rubber, silicon, paper and film.
Suprema also showcased BioStar 2 Mobile Card, the latest addition to the BioStar 2 security platform with a major update in mobile credential. BioStar 2 Mobile Card now offers the secure biometric mobile credential by storing user information and sensitive biometric data on the user's smartphone. Supporting both BLE and NFC communication, BioStar 2 Mobile Card is compatible with most smartphones on the market today.