printer friendly version
Automotive key control
July 2017 Security Services & Risk Management, Products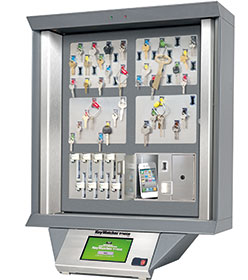 Scania AB is known the world over as a premier manufacturer for the automotive industry with products ranging from engines for use in aircraft rescue and firefighting (ARFF) vehicles to a hybrid truck that can make deliveries to downtown Copenhagen during the period when deliveries are restricted. The company is headquartered in Södertälje, Sweden, where more than 5600 employees work in business operations, manufacturing and research and development.
The company adheres to a philosophy of continuous improvement which helps increase efficiency, raise productivity and ensure high quality. This approach goes beyond the manufacturing process, policies and operational procedures to include security systems such as the Morse Watchmans key control and management system. Having originally installed it more than 15 years ago, the company recently upgraded the KeyWatcher system to the new KeyWatcher Touch series complete with KeyWatcher TrueTouch software.
"Having experienced the reliability of the original KeyWatcher system, we didn't have any hesitation in moving forward with the new KeyWatcher Touch system," said Pentti Heikkinen, From Securitas AB that handles all the administration and service of the Key Watchers for Scania. "The decision was also supported by our trust in and relationship with Key-Control Sweden who was the integrator of record for this installation."
The new system is networked so that all 17 key cabinets located throughout the facility are connected. At any time, management can see live information detailing the status of the more than 600 keys held in the system – who has keys out, which keys are out, when keys are to be returned and so on. Live information can also be accessed via mobile devices for added convenience. And because the system is on the company network, authorised individuals can be notified by automated alerts in the form of emails or SMS texts if a key is not returned as scheduled for example, or if a high value key is accessed.
There are several other innovative features included with the KeyWatcher Touch series that contribute to Scania AB's continuous improvement measures. For example, audio prompts for the key remove and return process include instructions for door opening and closing and key removal and return. Additional time-saving features include fast KeyAnywhere and KeyFind capability.
The TrueTouch software runs all programming, remote functions and reports for all KeyWatcher Touch locations while the server performs synchronisations of transactions and maintains the SQL database. Both access control systems and customised client control software interface with the server application.
For more information, contact Morse Watchmans, +1 203 264 4949, morse@morsewatchman.com, www.morsewatchmans.com
Further reading:
Ransomware predictions
Issue 1 2020 , Security Services & Risk Management
As we enter a new decade, Simon Jelley, VP of product management at Veritas, explores how ransomware is likely to continue evolving in the year ahead.
Read more...
---
The HR environment in 2020
Issue 1 2020, iFacts , Security Services & Risk Management
As 2020 grabs hold of every one of us with great intent, we need to know what to be aware of when employing people or appointing vendors for our business.
Read more...
---
The instruments for investigation
Issue 1 2020, Technews Publishing , Security Services & Risk Management
Regardless of the reason for investigation, the investigation is only as good as the investigators.
Read more...
---
Nothing holds Eudricht back
Issue 1 2020, Sensor Security Systems , Security Services & Risk Management
In this personality profile, Eudricht Kotze talks of his journey overcoming adversity in the security industry.
Read more...
---
Leaders in risk and security: You have to know it to manage it
Issue 1 2020, Technews Publishing , Security Services & Risk Management
Hi-Tech Security Solutions profiles Nash Lutchman, Senior Vice President and Head of Protection Services at Sibanye-Stillwater.
Read more...
---
Drilling deeper into essential building management systems
Issue 1 2020 , Security Services & Risk Management
As the demand for the automation of security and other systems in buildings and large construction sites around the world grows, we are seeing an increase in the demand for building management systems.
Read more...
---
From physical security to cybersecurity
Access & Identity Management Handbook 2020, Genetec , Cyber Security, Security Services & Risk Management
Genetec discusses the security-of-security concept as a means to protect cameras, door controllers and other physical security devices and systems against cybercriminal activity.
Read more...
---
Biometrics in identity
Access & Identity Management Handbook 2020 , Access Control & Identity Management, Security Services & Risk Management
With multiple identity providers offering to manage digital identities for the general public, the root identity – the single sovereign trusted identity upon which all others are based – must start with government.
Read more...
---
Success lies in planning
November 2019, Vox Telecom , Security Services & Risk Management
A safe and smart city will only be successful if it is planned properly, if there is buy-in from all the stakeholders and if it is managed efficiently.
Read more...
---
Matching governance to context
November 2019, ContinuitySA , Security Services & Risk Management
When building resilience and planning for business continuity, take proportionality to heart, advises Michael Davies, CEO of ContinuitySA.
Read more...
---