printer friendly version
Automotive key control
July 2017 Security Services & Risk Management, Products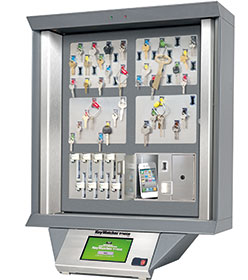 Scania AB is known the world over as a premier manufacturer for the automotive industry with products ranging from engines for use in aircraft rescue and firefighting (ARFF) vehicles to a hybrid truck that can make deliveries to downtown Copenhagen during the period when deliveries are restricted. The company is headquartered in Södertälje, Sweden, where more than 5600 employees work in business operations, manufacturing and research and development.
The company adheres to a philosophy of continuous improvement which helps increase efficiency, raise productivity and ensure high quality. This approach goes beyond the manufacturing process, policies and operational procedures to include security systems such as the Morse Watchmans key control and management system. Having originally installed it more than 15 years ago, the company recently upgraded the KeyWatcher system to the new KeyWatcher Touch series complete with KeyWatcher TrueTouch software.
"Having experienced the reliability of the original KeyWatcher system, we didn't have any hesitation in moving forward with the new KeyWatcher Touch system," said Pentti Heikkinen, From Securitas AB that handles all the administration and service of the Key Watchers for Scania. "The decision was also supported by our trust in and relationship with Key-Control Sweden who was the integrator of record for this installation."
The new system is networked so that all 17 key cabinets located throughout the facility are connected. At any time, management can see live information detailing the status of the more than 600 keys held in the system – who has keys out, which keys are out, when keys are to be returned and so on. Live information can also be accessed via mobile devices for added convenience. And because the system is on the company network, authorised individuals can be notified by automated alerts in the form of emails or SMS texts if a key is not returned as scheduled for example, or if a high value key is accessed.
There are several other innovative features included with the KeyWatcher Touch series that contribute to Scania AB's continuous improvement measures. For example, audio prompts for the key remove and return process include instructions for door opening and closing and key removal and return. Additional time-saving features include fast KeyAnywhere and KeyFind capability.
The TrueTouch software runs all programming, remote functions and reports for all KeyWatcher Touch locations while the server performs synchronisations of transactions and maintains the SQL database. Both access control systems and customised client control software interface with the server application.
For more information, contact Morse Watchmans, +1 203 264 4949, morse@morsewatchman.com, www.morsewatchmans.com
Further reading:
Communication in any situation
Issue 8 2020, Elvey Security Technologies , Global Communications , Security Services & Risk Management
Global Communications offers an industry-first with five-year warranty on select Kenwood two-way radios.
Read more...
---
The year resilience paid off
Issue 8 2020 , Editor's Choice, Security Services & Risk Management
Hi-Tech Security Solutions spoke to Michael Davies about business continuity and resilience in a year when everything was put to the test.
Read more...
---
A 'step-change' in tracking and monitoring
Issue 8 2020, Dahua Technology South Africa , CCTV, Surveillance & Remote Monitoring, Products
View an overall scene while monitoring a specific person or vehicle, or obtain a panoramic view while being able to zoom in and track particular targets.
Read more...
---
AX PRO wireless alarm solutions
Issue 8 2020, Hikvision South Africa , Perimeter Security, Alarms & Intruder Detection, Products
Hikvision announced its new generation of wireless alarm systems – the AX PRO – delivering comprehensive alarm solutions for both residential and commercial applications.
Read more...
---
Scanning for gold
Issue 8 2020, Saflec , Asset Management, EAS, RFID, Products
The metal detection market is such that customers looking for a specific point solution are becoming a rarity and the primary desire is for a solution.
Read more...
---
Data generated from smart buildings must be PoPIA-compliant
Issue 4 2021 , Security Services & Risk Management
The Covid-19 pandemic has irrevocably changed the way buildings are being designed, constructed and managed and the amount of data collected on a daily basis.
Read more...
---
Home-grown battery manufacturer secures R20 million investment
Issue 4 2021 , Security Services & Risk Management
I-G3N, the only black empowered female-owned SME to successfully develop lithium-ion batteries specifically for the African continent, has successfully raised R20 million from Edge Growth and the ASISA ESD initiative.
Read more...
---
Top ten reasons to go to the cloud
Issue 4 2021 , Security Services & Risk Management
Streamline operational complexities with modern cloud solutions that have best practices built in to offer a better way of simplifying workflows and process.
Read more...
---
How to avoid false alarms with PIDS
Residential Security Handbook 2021: Secure Living , Residential Estate (Industry), Perimeter Security, Alarms & Intruder Detection, Products
If you have installed a perimeter intrusion detection system around your property, you have taken the first step in protecting your most valuable asset, says Tiaan Janse van Rensburg.
Read more...
---
Preparing for the unexpected
Residential Security Handbook 2021: Secure Living, Mantis Security , Residential Estate (Industry), Security Services & Risk Management
In most cases, security is one of our last agenda/strategy items and thoughts, it gets the short stick of the budget.
Read more...
---