printer friendly version
Automotive key control
July 2017 Security Services & Risk Management, Products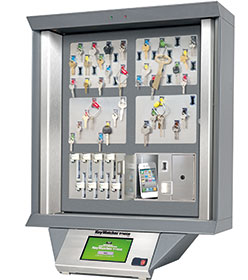 Scania AB is known the world over as a premier manufacturer for the automotive industry with products ranging from engines for use in aircraft rescue and firefighting (ARFF) vehicles to a hybrid truck that can make deliveries to downtown Copenhagen during the period when deliveries are restricted. The company is headquartered in Södertälje, Sweden, where more than 5600 employees work in business operations, manufacturing and research and development.
The company adheres to a philosophy of continuous improvement which helps increase efficiency, raise productivity and ensure high quality. This approach goes beyond the manufacturing process, policies and operational procedures to include security systems such as the Morse Watchmans key control and management system. Having originally installed it more than 15 years ago, the company recently upgraded the KeyWatcher system to the new KeyWatcher Touch series complete with KeyWatcher TrueTouch software.
"Having experienced the reliability of the original KeyWatcher system, we didn't have any hesitation in moving forward with the new KeyWatcher Touch system," said Pentti Heikkinen, From Securitas AB that handles all the administration and service of the Key Watchers for Scania. "The decision was also supported by our trust in and relationship with Key-Control Sweden who was the integrator of record for this installation."
The new system is networked so that all 17 key cabinets located throughout the facility are connected. At any time, management can see live information detailing the status of the more than 600 keys held in the system – who has keys out, which keys are out, when keys are to be returned and so on. Live information can also be accessed via mobile devices for added convenience. And because the system is on the company network, authorised individuals can be notified by automated alerts in the form of emails or SMS texts if a key is not returned as scheduled for example, or if a high value key is accessed.
There are several other innovative features included with the KeyWatcher Touch series that contribute to Scania AB's continuous improvement measures. For example, audio prompts for the key remove and return process include instructions for door opening and closing and key removal and return. Additional time-saving features include fast KeyAnywhere and KeyFind capability.
The TrueTouch software runs all programming, remote functions and reports for all KeyWatcher Touch locations while the server performs synchronisations of transactions and maintains the SQL database. Both access control systems and customised client control software interface with the server application.
For more information, contact Morse Watchmans, +1 203 264 4949, morse@morsewatchman.com, www.morsewatchmans.com
Further reading:
BT launches new security platform
Security Services & Risk Management
Relentless growth and ever-changing nature of the threat landscape dictates a new, proactive approach to cybersecurity. Eagle-i addresses the more than 50% increase in malware traffic over the last six months.
Read more...
---
The crucial double check
Security Services & Risk Management
Andrea Babbs, UK general manager, VIPRE SafeSend, emphasises the importance of implementing a crucial double check to improve email security culture.
Read more...
---
Turnstar ramps up countermeasures
Turnstar Systems Editor's Choice Access Control & Identity Management News Products
Turnstar has developed and patented an early warning and deterrent system which will alert security, and anyone nearby, of any attempt to place ramps over the raised spikes.
Read more...
---
The state of the distribution market
ESDA (Electronic Security Distributors Association Bosch Building Technologies Dark Horse Distribution Elvey Security Technologies Regal Distributors SA G4S Secure Solutions SA Editor's Choice Security Services & Risk Management
The distribution industry has evolved over the years and its current challenges simply mean another change is in the wind, for those who can take the next step.
Read more...
---
Training that delivers
Technews Publishing Leaderware ESDA (Electronic Security Distributors Association BTC Training Africa Editor's Choice Security Services & Risk Management Conferences & Events Training & Education
Hi-Tech Security Solutions hosted a virtual conversation to address the challenges and solutions related to effective and measurable training and education in the security industry.
Read more...
---
The importance of traceable records
Technews Publishing Editor's Choice Security Services & Risk Management
Traceable records streamline performance management, training, evidence records and reduce fraud, corruption and criminal activities.
Read more...
---
Creating the district ID database
Technews Publishing Agriculture (Industry) Security Services & Risk Management
Continuing his series on preparing for and preventing farm attacks, Laurence Palmer discusses developing an identity system for districts at risk.
Read more...
---
The Genius electronic advertising barrier
BoomGate Systems Access Control & Identity Management Products
The Genius Electronic Advertising Vehicle Barrier does not only protect and control access of shopping centres across South Africa, but it also offers advertising space for the retail sector.
Read more...
---
Object monitoring technology
Dahua Technology South Africa Government and Parastatal (Industry) CCTV, Surveillance & Remote Monitoring Integrated Solutions Products
Powered by deep learning algorithms, the WizMind 5 Series can accurately detect six types of objects: luggage bag, backpack, box, shopping bag, bicycle and motorbike.
Read more...
---
Expand your security company offering with mySOS
Security Services & Risk Management
Expand your existing security solutions with a mobile, branded panic button from mySOS. You can now protect your existing client base beyond the perimeter of their property and add real value.
Read more...
---