printer friendly version
Controlled access for 15 000 people each day
October 2012 Industrial (Industry), Industrial (Industry)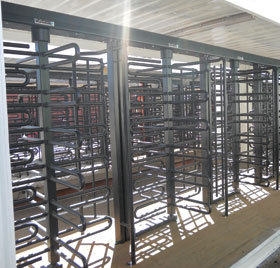 Construction of the Kusile coal-fired power station in Mpumalanga is well under way and work is being carried out at a furious pace. The first power generating unit is expected to go online in 2014 and this additional capacity is desperately needed to relieve the Eskom grid, which is currently under tremendous strain. All six power generating units are planned to be operational by the end of 2018 with a total capacity of 4800 megawatts.
The Kusile site is approximately 5200 hectares and clearing of the site began in April 2008. The power station is expected to use up to 17 million tons of coal per annum for a period of 47 years. This makes Kusile one of the biggest coal fired power stations in the world.
A number of issues had to be catered for in the construction of the plant:
* A consortium of large construction companies is working on the Kusile project: Stefanutti Stocks, Basil Read, Group Five and WBHO were jointly awarded the civil works contract. Securing a site of this magnitude has been a major challenge.
* Over 15 000 workers arrive at the main gate every day. Any turnstile solution must not become a bottleneck where unproductive time is wasted while waiting to enter the construction site.
* Administratively, there is the challenge of accurately managing employee clocking and avoiding time and attendance fraud.
* Occupational health and safety is a serious legal requirement and no worker can be allowed onto the site if intoxicated and without the correct PPE.
* Opportunities for industrial espionage must be limited. The power generation industry is dominated by American, French and Japanese firms. Each firm has its own industrial secrets and technologies which give it a competitive advantage. No cameras can be allowed into the construction site.
* A construction site, by its very nature, is a fluid and temporary arrangement. An area which is a convenient entrance one day can become an obstacle on another day. A temporary access controlled solution would be required which can be easily moved and positioned.
The preparation
Turnstar worked closely with the Eskom management at Kusile to find the right temporary access controlled solution. Turnstar suggested that a bank of turnstiles be installed in converted shipping containers. Recently, Turnstar supplied 48 Titan half height turnstiles which were installed in containers to the construction site of the London Olympic Stadium. The containers would be fitted with their own DB board and all access control paraphernalia required for time & attendance.
The solution
Eskom placed an order with Turnstar for 56 Triumph 4 full height single turnstiles and seven forty-foot shipping containers. The Triumph was chosen due to its durability in harsh and dusty environments. It is also supplied with a 5-year guarantee. Each container would be fitted with eight turnstiles. 15 000 employees will be using these turnstiles, which means ±270 employees per turnstile. On average, it would take 30 minutes for all employees to enter the construction site, which is within Eksom's requirements. Before entry through the turnstile, all employees are checked for intoxication by means of an alcohol sniffer and are checked for cameras.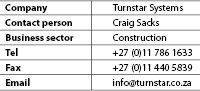 The shipping containers were waterproofed, painted and converted by removing the side panels. The removal of the side panels creates a large entrance through which the employees can pass through the eight turnstiles. Lighting and an Eskom approved DB board were fitted. The turnstiles were bolted to the wooden floor. Once completed, the containers were taken from the depot through to Kusile by means of a crane truck. The crane then placed the container at the area to be access controlled.
The project took a total of eight weeks from date of order to final delivery to complete.
Credit(s)
Further reading:
Rockwell Automation a founding member of ISA Global Cybersecurity Alliance
September 2019 , News, Industrial (Industry)
To better secure today's complex and often vulnerable production operations, the ISA Global Cybersecurity Alliance recently announced Rockwell Automation as a founding member.
Read more...
---
Becoming more cyber-savvy within the OT environment
September 2019 , Cyber Security, Industrial (Industry)
Organisations running operational technology (OT) have increasingly come under cyberattack, with malware sending shockwaves through these sectors.
Read more...
---
Corporate SA not in love with 4IR
July 2019 , Industrial (Industry), Integrated Solutions
The technologies that make up the so-called fourth industrial revolution (4IR) have yet to be adopted with any enthusiasm by South African enterprises.
Read more...
---
Going safely into the brave new world of 4IR
July 2019 , Industrial (Industry), Cyber Security
Put cybersecurity at the heart of industrial digitisation on the journey to 4IR.
Read more...
---
Integrated risk management essential
August 2019, AVeS Cyber Security , IT infrastructure, Security Services & Risk Management, Industrial (Industry)
With manufacturing focused intensively on innovation, combined with a reliance on connected networks and products, it is highly vulnerable to cyberattacks.
Read more...
---
Fit and forget Titan turnstile is Africa's favourite
August 2019, Turnstar Systems , News, Access Control & Identity Management
Turnstar offers free factory tour and training session on the Titan turnstile, valued at R 350, between 9:30 and 11:30 on Friday 27 September.
Read more...
---
The 4th Industrial Revolution
July 2019, Wolfpack Information Risk , Editor's Choice, Cyber Security, Security Services & Risk Management, Industrial (Industry)
Most major industries have turned to and are reliant on technology to run their operations. This is a time of great promise, but also one of frightening peril.
Read more...
---
You can't isolate, so integrate
July 2019, Axis Communications SA , Industrial (Industry), Integrated Solutions
One of the most exciting trends to emerge from the Industry 4.0 revolution is that technologies and hardware that were originally developed for the security market are increasingly being co-opted to enhance organisational productivity.
Read more...
---
Cyber-attacks target operational technology
July 2019 , Editor's Choice, Cyber Security, Industrial (Industry)
Focus on operational technology security increasing as around 74% of OT organisations come under attack in the past year, finds a new Fortinet report.
Read more...
---
Controlled intelligence
July 2019 , Industrial (Industry), Integrated Solutions
Connected intelligence and 5G technology are set to profoundly impact the way the industrial sector approaches quality control.
Read more...
---