ASSA ABLOY acquires Inhep
July 2017, This Week's Editor's Pick, Perimeter Security, Alarms & Intruder Detection, News
ASSA ABLOY has signed an agreement to acquire Inhep Electronics Holdings, trading as Inhep Digital Security (IDS), a manufacturer and distributor of intrusion detection and access control products in sub-Saharan Africa. IDS was formed in 1985, has sales of over R250 million a year and employs 189 people in its facilities in Pinetown, in KwaZulu-Natal. The deal has been signed and will become effective as soon as it is approved by the South African Competition Commission.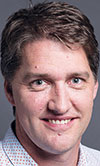 Bryan Watson, managing director, IDS.
Speaking to Hi-Tech Security Solutions, Bryan Watson, MD of IDS says the deal came about as a result of IDS's majority shareholder, Metier, an African private equity fund manager, reaching the end of its fund and looking for an exit. IDS therefore searched for a buyer that would match its commitment to innovation and prove beneficial to its clients and employees.
ASSA ABLOY proved to be the right fit as Watson says the two companies are committed to innovation and growing their market share, and the commitment from ASSA ABLOY met IDS's requirements for its long-term growth strategy. ASSA ABLOY has made hundreds of acquisitions since 1994 and has mastered the art of growth through acquisitions, again making it the right fit for IDS.

John Middleton, ASSA ABLOY market region manager: Africa & Middle East.
Announcing the acquisition, John Middleton, market region manager of ASSA ABLOY Africa & Middle East, said: "I am very pleased to welcome IDS. IDS has a strong track record of growth and innovative product development. It offers an exciting new range of products in intrusion detection and security, expanding ASSA ABLOY's range from door opening solutions to a broader array of security and access control solutions for our customers in Africa".
Watson says the acquisition will follow ASSA ABLOY's normal approach and IDS partners and customers will not see much change in the short term. "It's business as usual right now, although the benefits of the acquisition will become evident as we move forward." One of the primary benefits Watson sees is that IDS now has access to research and development from ASSA's global base of over a thousand engineers to boost its product design and innovation. ASSA ABLOY's global reach will also open doors to getting IDS products to new customers and markets. "Our medium-term strategy is to significantly increase our sales into Africa, and the backing and global reach of ASSA ABLOY will ensure we meet these targets," Watson says.
"The deal will also boost our focus on the smart home market, again in terms of innovative technology as well as market reach." IDS is already working in this market and its mobile HYYP app is rated the highest of all similar apps in the global Playstore (at the time of writing).
The market relevance and positioning of IDS in Africa was particularly important to ASSA ABLOY. Since it sees Africa as an important future growth market, ASSA ABLOY wants to be sure it has the right product and the people on the ground that will be able to capitalise on this growth.
And while it may be owned by a global enterprise, IDS will continue to operate as an autonomous business unit, retaining the existing commercial and operational team that has made the business successful. And while ASSA ABLOY also bought Impro about one year ago, Watson says the two companies will continue to operate independently, but does not rule out collaboration in the future.
For more information contact IDS (Inhep Digital Security), +27 (0)31 705 1373, marketing@idsprotect.com, www.idsprotect.com