printer friendly version
Biometrics: returns beyond access
October 2012 Industrial (Industry), Industrial (Industry)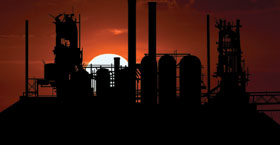 Jarrison Systems worked with one of SA's leading fertiliser manufacturers, Omnia Fertiliser, to implement a fingerprint-based solution that has been cutting costs and accelerating business processes from day one.
Leon Leimecke, senior systems analyst at Omnia's plant in Sasolburg is delighted with the commercial results that have been delivered by the Jarrison solution. "We achieved everything we hoped to achieve and much more. The fingerprint readers are amazing, we do not have problems."
Over the years, Omnia has implemented a number of on-going upgrades to their access control systems. Prior to introducing the system from Jarrison, the last of these upgrades was based on using hand-geometry scanners to identify employees.
Jason Matthews of Jarrison Systems says that although biometrics can offer significant advantages in comparison to card-based access and time and attendance (T&A) systems, it is important to recognise that not all biometric technology offers the same level of performance. "First of all, one needs to select the right biometric methodology. Based on our practical experience of working with biometrics over the past six or so years, fingerprint is clearly the right choice. All our operational experience of on-site performance means that we only recommend the Morpho range of fingerprint scanners."
Employee identification in a manufacturing facility
Leimecke says that the hand-geometry scanners consistently failed to meet the challenges of working in an industrial environment. "Maintenance on the scanners was high and the sensors had to be cleaned almost weekly. The guide pins on the platens of the hand-geometry units were also very susceptible to electro-static discharge, or ESD, which kept causing the units to fail.
"These problems resulted in high false rejection rates which meant that access was repeatedly denied to properly authorised employees, undermining the whole purpose of trying to achieve consistently accurate identification."
Before hand-geometry readers were implemented, Omnia Sasolburg used an HID card-based access control system. Leimecke says that the HID card-based system was also problematic because the dusty environment meant that the exit drop-boxes kept jamming and also created the administrative task of being emptied of their cards each day. "Aside from the security concerns relating to controlling access, we knew that buddy clocking was causing us big problems.
"What was needed was a proven, robust solution that could address all the access control aggravations with a single identification technology."
Accurate identification in a large enterprise
Leimecke says that Omnia's first priority was to sort out all the access control issues, followed by resolving the attendance management challenges. "We first needed to install a solution that would provide us with a consistently reliable way to identify our employees and all the people visiting our site. Having sorted that out, we then intended to use that as the foundation for our time management and payroll systems."
Matthews' view concerning the choice of biometric technology is supported by Leimecke who says that Omnia did consider alternatives to fingerprint-based identification – including solutions like iris recognition – but their choice was heavily influenced by the fact that they needed a robust identification solution that would work first time, every time for all employees and visitors.
Matthews says, "From past experience, we were certain that Morpho fingerprint readers would provide the necessary levels of performance in the various working environments across Omnia's site. This gave us the starting point for identification, providing a solid foundation for building a multi-purpose solution."
Having established a clear understanding of the outcomes required, Jarrison ran an on-site proof-of-concept that lasted for a month. Leimecke says, "While we accepted Jarrison's recommendations, we needed to see for ourselves that the key elements of the solution could deliver on expectations. The success of the trial meant we were confident to rollout the full solution.
"What was even better is that within a month of beginning work on site, Jarrison's solution was operational. We needed to resolve some of our network issues to cope with the distances between some readers because of the size of our plant. Other than that, I am delighted with the solutions' performance and the results it is delivering."
Multiple business rewards from a single identity solution
In addition to providing accurate identification of Omnia employees for access control, the Jarrison system can also process and export data for payroll management which means that problems and costs relating to buddy-clocking are now a thing of the past.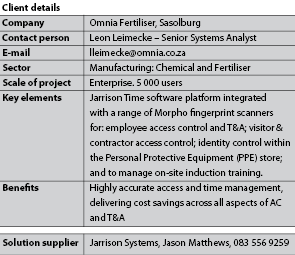 The solution is also leveraging accurate identification within Omnia's systems that manage their personal protective equipment store, tracking what items were issued and to whom they were issued. Finally, the Morpho-based solution is also providing identity control within Omnia's on-site induction process, ensuring that all the necessary compliances are met for visitors entering certain areas of the Sasolburg plant.
Further reading:
Corporate SA not in love with 4IR
July 2019 , Industrial (Industry), Integrated Solutions
The technologies that make up the so-called fourth industrial revolution (4IR) have yet to be adopted with any enthusiasm by South African enterprises.
Read more...
---
Going safely into the brave new world of 4IR
July 2019 , Industrial (Industry), Cyber Security
Put cybersecurity at the heart of industrial digitisation on the journey to 4IR.
Read more...
---
Integrated risk management essential
August 2019, AVeS Cyber Security , IT infrastructure, Security Services & Risk Management, Industrial (Industry)
With manufacturing focused intensively on innovation, combined with a reliance on connected networks and products, it is highly vulnerable to cyberattacks.
Read more...
---
The 4th Industrial Revolution
July 2019, Wolfpack Information Risk , Editor's Choice, Cyber Security, Security Services & Risk Management, Industrial (Industry)
Most major industries have turned to and are reliant on technology to run their operations. This is a time of great promise, but also one of frightening peril.
Read more...
---
You can't isolate, so integrate
July 2019, Axis Communications SA , Industrial (Industry), Integrated Solutions
One of the most exciting trends to emerge from the Industry 4.0 revolution is that technologies and hardware that were originally developed for the security market are increasingly being co-opted to enhance organisational productivity.
Read more...
---
Cyber-attacks target operational technology
July 2019 , Editor's Choice, Cyber Security, Industrial (Industry)
Focus on operational technology security increasing as around 74% of OT organisations come under attack in the past year, finds a new Fortinet report.
Read more...
---
Controlled intelligence
July 2019 , Industrial (Industry), Integrated Solutions
Connected intelligence and 5G technology are set to profoundly impact the way the industrial sector approaches quality control.
Read more...
---
The world's tiniest TPM
July 2019 , IT infrastructure, Industrial (Industry)
The Trusted Computing Group (TCG) launched a new project to create the 'world's tiniest Trusted Platform Module (TPM)'.
Read more...
---
Industrial cybersecurity delivers ROI
July 2019, Kaspersky Lab , Industrial (Industry), Cyber Security
Industrial company achieves 368% ROI with Kaspersky Industrial CyberSecurity reveals global research and advisory firm.
Read more...
---
SA industrial facilities at risk of cyber attacks
July 2019 , Industrial (Industry), Cyber Security
With international analysts warning of a growing risk of cyber war, sabotage and espionage impacting industrial and mining facilities, South African stakeholders must step up their efforts to mitigate risk.
Read more...
---