printer friendly version
Pepkor opts for turnstile access
October 2012 Access Control & Identity Management, Industrial (Industry)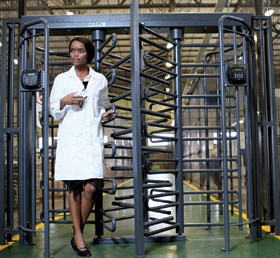 The Pepkor Group, established in 1965, manages a portfolio of retail chains focused on the selling of clothing, footwear and textiles. Its main operating subsidiaries are Pep, Ackermans and Dunns, among others. The group trades from more than 2800 stores and employs over 28 000 people.
Pepkor is currently undertaking a major expansion of its warehouse facility in Isando and has constructed a 66 475-square-metre premises. The warehouse, which is customised to meet Peps' operational requirements, has been developed in line with international warehousing standards and trends. The warehouse will provide a state-of-the-art backbone for the entire Pepkor distribution network.
A number of difficulties had to be overcome in order to ensure the successful operation of the new warehouse.
* Safe storage of high value goods.
* Prevention of internal theft.
* Accurate employee time and attendance monitoring.
* Securing the canteen and ablution facilities and preventing time and attendance fraud related to those areas.
The ultimate goal was to create a secure solution which took into account the unique requirements of Pep's situation. Theft and time and attendance fraud had to be limited. However, the access control solution should not hinder the day-to-day operations of the warehouse, nor the flow of goods through the distribution centre.
The warehouse solution
The sheer size of the warehouse with its different distribution channels had to be analysed in terms of stock control as well as employee access. It was also necessary to carefully plan the turnstile installation according to the building programme of the contractor.
Turnstar was the choice when it came to the turnstile installation. Turnstar has a proven track record when it comes to large scale projects and its products are particularly suited for warehouse applications. A number of turnstiles were manufactured and installed at various pedestrian entrances around the warehouse.
Six Triumph 3 full height turnstiles were installed at the employee entrance from the street. The installation represents the first line of security for the warehouse. As these turnstiles were installed outdoors, Turnstar recommended supplying them with a hot dip galvanised finish. A hot dip galvanised finish provides a high level corrosion resistance and is suitable for external environmental conditions.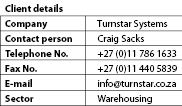 Another six Triumph 3 full height turnstiles were installed at the entrance to the warehouse canteen and the ablution areas. These turnstiles were supplied with an aesthetically pleasing charcoal blue powder coated finish.
The Triumph 3 full height turnstile is fitted with both the Turnstar Rotalok rotation locking mechanism and Rotarun perpetual base bearing which are guaranteed for a period of five years and are designed to provide maintenance free operation. All wearing parts are case hardened and self lubricating industrial plastics are incorporated into the turnstile mechanism for longevity.
The manufacture of the turnstiles was complete within three weeks of receipt of the order and installation was carried out over a period of two weeks.
Credit(s)
Further reading:
Managing staff effectively
September 2019, dormakaba South Africa, iPulse Systems , Integrated Solutions, Access Control & Identity Management
Workforce management solutions allow organisations to track the relationship between productivity and the cost of employment, incorporating issues such as health and safety, T&A, rostering and more.
Read more...
---
Hennie Lategan joins Centurion as head of exports
September 2019, Centurion Systems , News, Access Control & Identity Management
Centurion Systems has announced the appointment of Hennie Lategan as the head of the company's exports department.
Read more...
---
Rockwell Automation a founding member of ISA Global Cybersecurity Alliance
September 2019 , News, Industrial (Industry)
To better secure today's complex and often vulnerable production operations, the ISA Global Cybersecurity Alliance recently announced Rockwell Automation as a founding member.
Read more...
---
New AlproMAX7 secures maximum rating
September 2019 , Access Control & Identity Management, Products
Alpro has launched a new range of ultra-secure mechanical mortice deadlocks, the AlproMAX7 which comply with BS EN 12209.
Read more...
---
ViRDI UBio Tab 5
September 2019 , Access Control & Identity Management, Products
ViRDI Distribution SA (ViRDI Africa) has announced the release of its long-awaited UBio Tablet to the South African market.
Read more...
---
Visitor access control at Ruimsig Country Club
September 2019, Elvey Security Technologies , Access Control & Identity Management, Products
Cost-effective access control solution that would control the ingress and egress of people, without hindering the traffic throughput of members.
Read more...
---
Estate-focused visitor management solution
September 2019, Vox Telecom , Access Control & Identity Management, Residential Estate (Industry)
Vox has expanded its cloud-based visitor management solution to cater specifically for the needs of small multi-dwelling unit estates and large residential estates.
Read more...
---
Biometrics control airport railroad
September 2019, Suprema , Access Control & Identity Management
63 km railroad to Incheon Airport is centrally controlled and secured by Suprema biometric hardware and software.
Read more...
---
Becoming more cyber-savvy within the OT environment
September 2019 , Cyber Security, Industrial (Industry)
Organisations running operational technology (OT) have increasingly come under cyberattack, with malware sending shockwaves through these sectors.
Read more...
---
Dual energy X-ray inspection system
September 2019, Regal Distributors SA , Products, Access Control & Identity Management
The ZKX6550 X-ray inspection system increases the operator's ability to identify potential threats; the device is designed to scan briefcases, carry-on baggage, small cargo parcels.
Read more...
---